GM Rick Spielman has it right: Christian Ponder should take a big step forward in 2012.
Spielman is aiming high for Ponder, comparing him favorably to guys like Drew Brees and Eli Manning in their first two seasons, via the Pioneer Press.
I like Ponder, and as I said, he'll take a big step forward. But are the expectations too high?
Is this a fair expectation? Let's look at the situations of both Brees and Lil Manning when they entered year two, compared to Ponder.
Targets
In terms of wide receivers, Manning had the best group, with a cast including Plaxico Burress and Amani Toomer. Brees was not so fortunate, for while Curtis Conway was a serviceable wide receiver, Tim Dwight and Reche Caldwell were less so.
Ponder enters the season with a group better than Brees had, but one not quite as spiffy as Manning's.
Percy Harvin (assuming he shows up and plays) is a tremendous athlete who needs to be more involved by the offense. That only helps Ponder.
Jerome Simpson, as I have said before, isn't the guy we saw last year, but he's also not the guy we saw in years prior. He's also hamstrung by a two-game suspension. But being able to attend training camp will help a lot. I do like the rookies as well—Greg Childs and Jarius Wright—quite a bit, though it's hard to say how much impact they will have.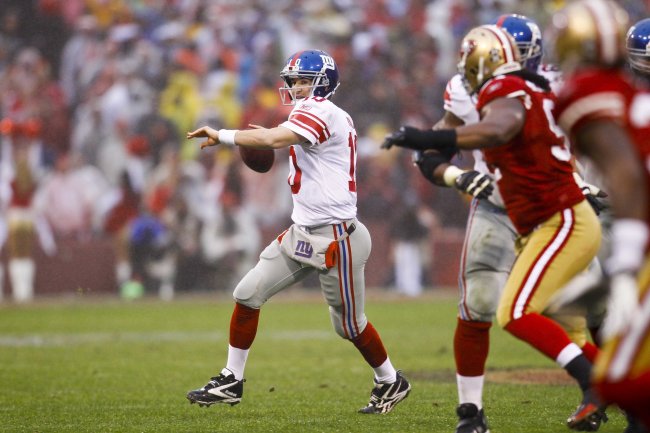 Jason O. Watson-US PRESSWIRE
Manning also had Jeremy Shockey in what would be his last year of really being effective as a receiver. Brees was pre-Antonio Gates.
Ponder has an interesting combination. Kyle Rudolph had a decent season, though one that was far from noteworthy. And Visanthe Shiancoe, who had been the go-to guy at tight end, is gone, replaced by John Carlson. Carlson had a great rookie season, followed by injury and a perpetual need to keep him in and blocking, not catching passes.
I'm more of a believer in Rudolph than Carlson, and that's the guy who will stand out for Ponder at the position.
So, target-wise, Ponder has a lot to work with—certainly more than Drew Brees did his second season, if not quite the tools Manning had.
It will be up to him to use them, but it's a good start and a fair comparison by Spielman.
Running Back

All three players had/will have tremendous backs at their disposal to help them keep the defense honest and put the offense in position to have a manageable third down.
LaDainian Tomlinson was in good form for Brees, and Tiki Barber (remember him?) had 1800 yards on the ground.
Adrian Peterson is coming off a serious injury, but even if he misses the first few games, I expect numbers in the neighborhood of the 1600 that Tomlinson did.
Even a little short, Ponder won't lack for help, just as Manning and Brees didn't.
Defense

It's interesting to look at where the defenses were during Brees and Manning's sophomore seasons. Brees' defense was decent (11th ranked overall), Manning's much less so (24th ranked).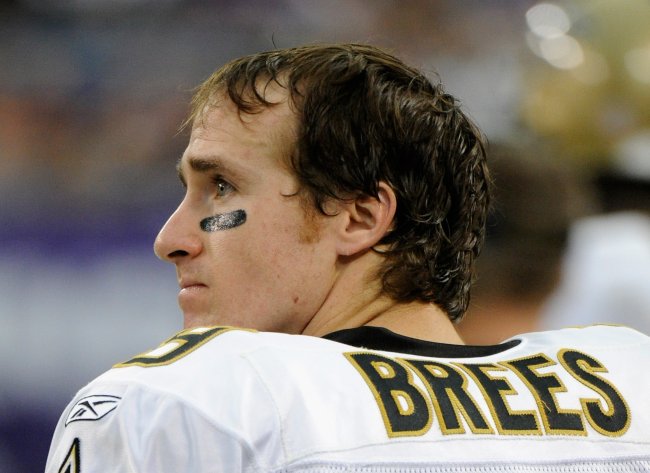 Hannah Foslien/Getty Images
Both units gave up more than 320 yards a game and over 300 points total.
Last year, the Vikings were ranked 21st in total defense with 358 yards per game and 449 points total. I expect both to come down a bit, but it certainly leaves opportunities to throw.
Pass Attempts
Both Brees and Manning threw the ball a ton their sophomore years—Brees a whopping 526 times, while Manning threw an even greater 557 times.
Those are both high numbers.
Ponder threw the ball 291 times in 11 games, which works out to about 26 passes a game. Brees threw 32 times a game during his second season (and his first full) and Manning threw 34 in his.
If you look at the last few years, the Vikings can absolutely throw the ball that much.
It's not outside the realm of possibility that, at least attempts-wise, Ponder will have the chance to reach the seasons both other quarterbacks had.
Looking at the whole picture, it's not hard to see why Spielman is bullish on Ponder's possibilities in 2012. The expectations are high, but they should be. Ponder certainly will get every chance to meet them.
Check out the B/R NFC North Facebook page—like us and keep up with everything NFC North on Bleacher Report! Follow me on Twitter at @andrew_garda.