Breaking Down Which MLB Sleepers Are Contenders and Which Are Pretenders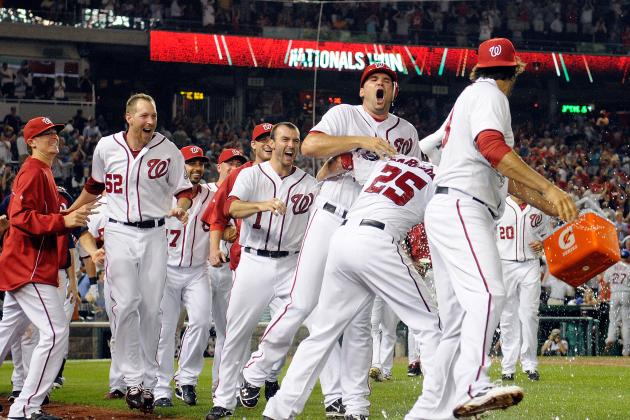 Greg Fiume/Getty Images

Every year, there are teams that surprise everyone.
Last year, the D-Backs and the Pirates surprised everyone in the first half. While it was interesting to watch those two shock the world, it will be even more interesting to watch some of the teams surprising people this year.
There are lots of teams that are surprising people this year, and some will continue their dominance and make the playoffs. However, not every team can make the playoffs. Some will fold and fall out of the division race.
Who will continue to dominate and who will struggle in the second half? Read on to find out.
Begin Slideshow

»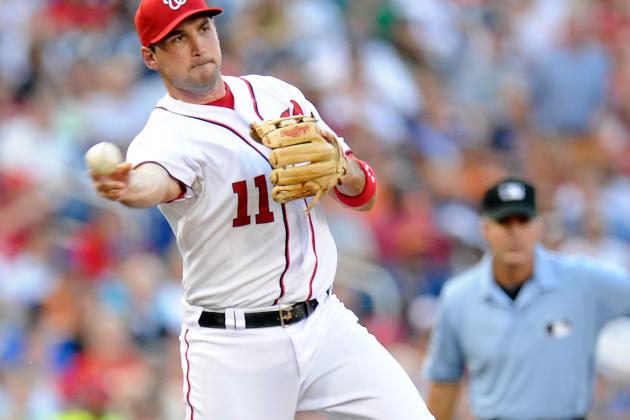 Greg Fiume/Getty Images

Some people expected the Nationals to be good, but no one expected them to be this good.
Washington leads the NL East by four games with the best record in the NL. Stephen Strasburg, Jordan Zimmermann and Gio Gonzalez anchor a pitching staff that many consider to be the best in baseball, and Tyler Clippard anchors a young bullpen considered to be one of the best in baseball.
Oh, and teenage phenom Bryce Harper hasn't been too bad either.
The young Nats did a lot to get to this stage. They drafted Stephen Strasburg, Bryce Harper, Ian Desmond, Ryan Zimmerman, Jordan Zimmermann, Tyler Moore and a lot of other young stars; and they traded for Gio Gonzalez.
Thanks to those great moves, Washington has their "dream team" assembled.
Washington doesn't have a great offense, but they have the lowest team ERA in baseball. Jordan Zimmerman has the fourth-lowest ERA in the NL (2.35), and he, Strasburg and Gonzalez both have ERAs under 3. Strasburg and Gonzalez have struck out tons of hitters this year, and they will continue to do so.
Since the Nats are inexperienced, they may have trouble winning in the playoffs. However, they are very well-rounded and can't be taken lightly. Unless the injury bug hits the Nats, they will definitely be contenders this year and for years to come.
Verdict: Contenders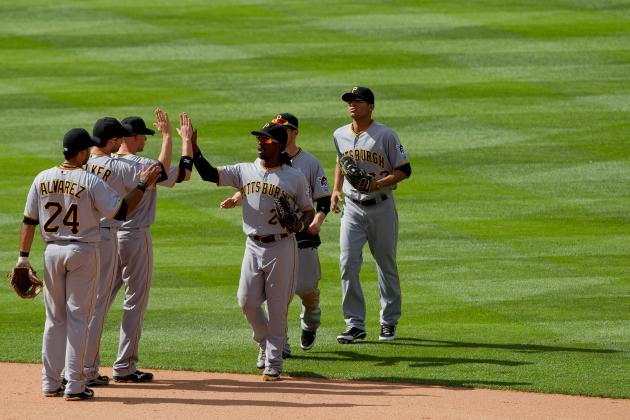 Justin Edmonds/Getty Images

Pittsburgh surprised everyone in the first half last year...but then they struggled in the second half.
This year, they've repeated the pattern in the first half, and they're trying not to repeat it in the second half.
Andrew McCutchen has been absolutely dominant for the Pirates this year. He has 22 homers, 65 RBI, a .423 OBP and the best batting average (.369) in major league baseball. He has been phenomenal this year, and he's carrying his team with him.
The Pirates are currently just a half game behind the Reds for first place in the NL Central, despite having a sub-par offense and a pitching staff with some names the average baseball fan might not recognize. James McDonald is 10-3 with a 2.93 ERA, A.J Burnett is 10-3, and Joel Hanrahan has 26 saves.
On offense, some players have struggled. Despite hitting 19 home runs, Pedro Alvarez has a .228 batting average and 99 strikeouts in 278 at-bats. Clint Barmes and Rod Barajas are hitting just over .200, and McCutchen is the only player with 4-plus at-bats who is hitting .300 or better.
Pittsburgh's offense has struggled, but I think some hitters will pick up the slack. The pitching staff has been strong, and I think they will keep it up. The Pirates now have experience in a division race, and I don't think they will fold.
Verdict: Contenders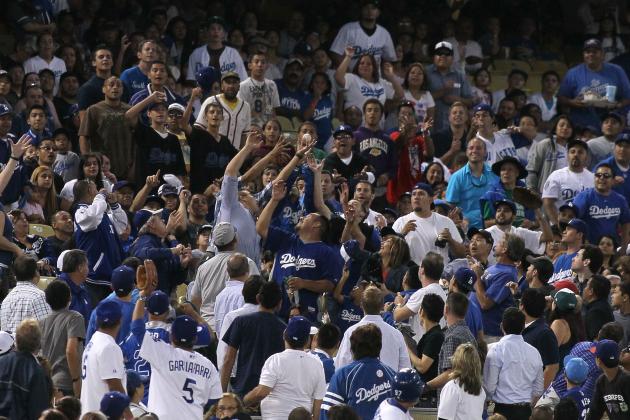 Victor Decolongon/Getty Images

Much like the 2010 Padres and 2011 D-Backs, the Dodgers have surprised out of the NL West.
LA is just 2.5 games behind the first place Giants, despite injuries to Matt Kemp, Andre Ethier, Mark Ellis and Dee Gordon. A.J Ellis, Ethier and Kemp have all been great; and the Dodgers have received some nice performances from their pitching staff.
The Dodgers' ace, Clayton Kershaw, is 7-5 with a 2.74 ERA. Kershaw has struck out 132 batters this year, and he has been very consistent. Aaron Harang has been inconsistent, but he has done a nice job getting out of jams. Kenley Jansen has done a nice job filling in at closer; he has 16 saves and a 2.06 ERA.
Matt Kemp is hitting .354 in 144 at-bats, and Ethier is hitting .298. Both have hit the ball very well, but I doubt that they'll keep it up at this pace. Jerry Hairston Jr, Mark Ellis and A.J Ellis have posted nice numbers, but I expect them and the team to fold.
Like I said, I don't see this team contending. A lot of luck went their way in the first half, and that's why they had success without Kemp. However, they have struggled recently, and I don't think Kemp can save the team. Andre Either will cool off as well, and by season's end, the Dodgers will be at least a few games back of first place.
Verdict: Pretenders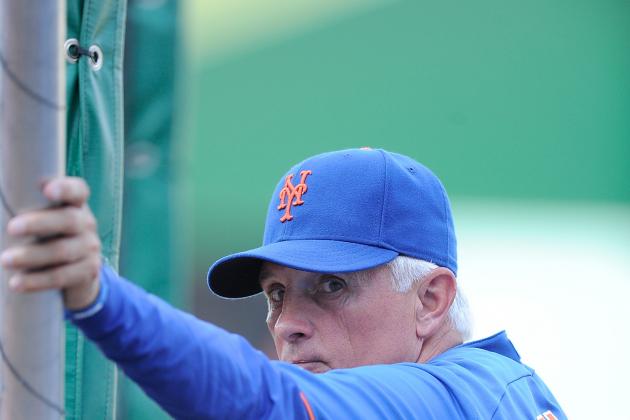 Greg Fiume/Getty Images

The Mets are very thin at some positions, and it was hard for anyone to see them contending.
However, David Wright had an amazing first half, and now the Mets are in third place in the NL East.
New York was right in the thick of the NL East race until they lost six games, and they now trail the first place Nationals by 8.5 games. Last night, the Mets lost a heartbreaker where Bobby Parnell and Tim Byrdak both blew saves, adding to the team's league-worst bullpen ERA.
And it's not just the bullpen. New York is very thin in the outfield, and they often have to start Andres Torres (who is hitting in the low .200s).
The Mets think that they can contend in the NL East, and they can definitely contend. To increase their chances, they could make a big move. GM Sandy Alderson said the team will be buyers, but he also said something else.
Huston Street and Francisco Rodriguez—probably the most intriguing relievers on the trade market—have been deemed too pricey by the Mets. The Mets don't want to part with some of their top prospects, like Matt Harvey, Zach Wheeler and Wilmer Flores.
That means they'll probably make some minor moves to patch up some issues at the deadline. I think the Mets can and probably will fight to the finish, but I don't think they can make the playoffs.
Verdict: Pretenders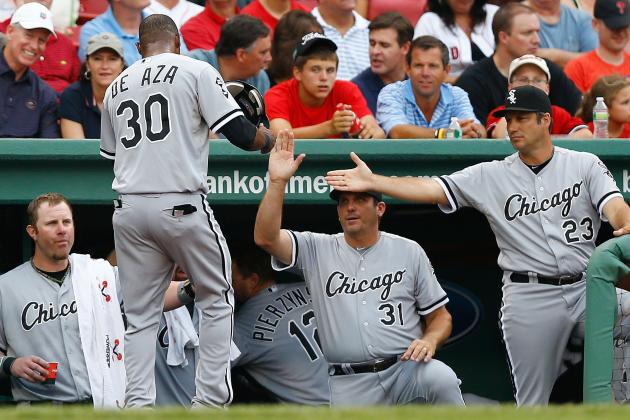 Jared Wickerham/Getty Images

When the Tigers landed Prince Fielder and paired him with an offense already consisting of Miguel Cabrera and Austin Jackson, just about everyone thought that they were locks to win the AL Central.
I do still think the Tigers will win the AL Central. However, another team will make it interesting.
The White Sox are 2.5 games ahead of the Tigers for first place, and they have received a major boost from Kevin Youkilis. Chicago acquired him from the Red Sox, and since the slugger changed teams, he has posted a .319 batting average. Youkilis also has the same amount of homers and more RBI in 69 at-bats in Chicago than he had in 146 at-bats in Boston.
But it hasn't been just Youkilis. Adam Dunn is tied for the league lead with 28 homers, Paul Konerko is hitting .322 and Alex Rios is hitting .316. Even though Dunn is still striking out a lot, he is getting the barrel on the ball and hitting it deep. As for Konerko and Rios, they are both making contact with the ball (both have less than 50 strikeouts in more than 300 at-bats).
Chris Sale leads the AL with a 2.11 ERA, and he has done that by staying out of jams (he has a 0.98 WHIP). Addison Reed and Matt Thornton have done a nice job in the bullpen, and thanks to above-average pitching and hitting, the team is in first.
I think the Tigers will eventually go on a huge winning streak and pass the White Sox, but the Sox should still contend for a Wild Card spot. I expect Chicago and the team in the next slide to contend for the final Wild Card spot (the Angels will lock up the first spot).
Verdict: Contenders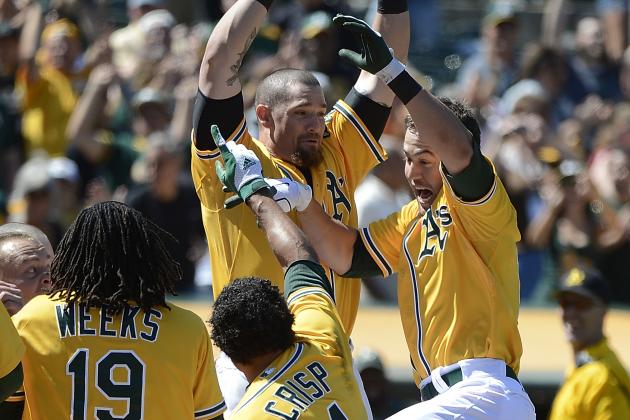 Thearon W. Henderson/Getty Images

No one expected the A's to do well this year, and they weren't doing very well.
Then, the hitting started to help out the pitchers. Now, the A's are just one game back of the Angels for the top Wild Card spot, and just a half-game behind the Tigers for the second spot.
Oakland has the fourth-lowest team ERA in baseball, thanks to great seasons by Ryan Cook, Brandon McCarthy (before he went on the DL), Jarrod Parker, Tom Milone and others.
The A's are winning games, even though McCarthy, their ace, is on the DL.
The A's remind me of the Nationals, with a little bit less talent. They have capable players at every position, and thanks to some big hits from young or lesser-known players, the team is succeeding.
Sound familiar?
Yoenis Cespedes is hitting .288, and he has been showing off his power. Cespedes has 11 bombs in 219 at-bats, and some of those have been crushed. Josh Reddick is hitting .272 with 21 home runs, and his hitting and fielding has really helped the A's.
Recently, every player has been doing his job. In less than 100 at-bats, Brandon Moss has 11 home runs. Seth Smith and Jonny Gomes have batting averages around .250, but they have been doing their job recently.
Oakland has brought in a lot of talented players to do the job, and it has paid off. This team is on fire, and I think they'll continue to dominate. Expect the Angels to run away with the top Wild Card spot and the A's and White Sox to compete for the second WC spot.
Verdict: Contenders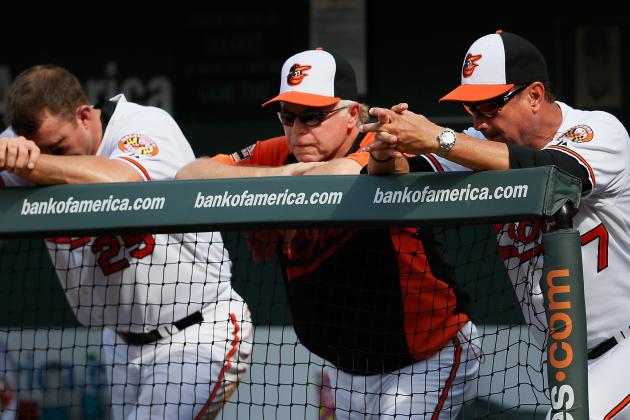 Rob Carr/Getty Images

At the end of May, people couldn't stop talking about the Orioles.
The team that didn't and still doesn't have that much talent was being run by Adam Jones and Matt Wieters; with Wei-Yin Chen, Jason Hammel and Jim Johnson doing a nice job pitching. Baltimore was overachieving, and people were saying that they would contend in the playoffs.
Those thoughts have been altered a little bit.
Baltimore is still 47-44, and Adam Jones is still doing a great job. Since returning from injury, Nick Markakis has done a nice job (he has a .276 BA in 225 at-bats).
However, it's clear that there are more talented teams in the AL.
Lots of relievers have done a nice job, but the pitching staff has struggled. Injured starter Jason Hammel leads the team with just eight wins and a 3.54 ERA. Baltimore is looking to upgrade their pitching staff, but it will take a major move to really make them contenders.
Baltimore will need the struggling Matt Wieters, J.J Hardy, Mark Reynolds and some other players to step up their hitting. The Orioles have scored more runs than just 11 other teams, and they will need some guys to step up.
I don't think the Orioles have enough to contend, even though they're just a half game back of the Tigers for the second Wild Card spot. Expect the team that's already starting to fall apart to break and finish near the bottom of the AL East.
Verdict: Pretenders