Florida State Football: Jimbo Fisher Joins Other Coaches Who Do It the Easy Way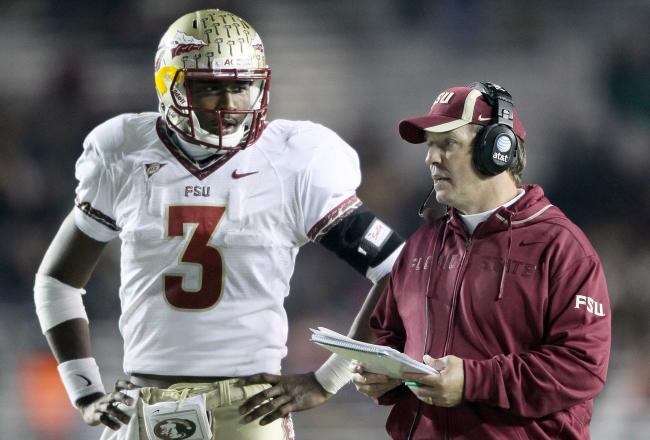 Elsa/Getty Images
The Florida State Seminoles have become the latest team to ban their football players from Twitter. Following a fiasco that featured some profanity, offensive language and suggestive messages, head coach, Jimbo Fisher, has decided to ban his players from the social media site, per WarChant.com.
I'm not a fan of the ban. Schools should be a lot more like USC with social media; it helps the kids and it helps further the education and maturation process that schools are supposed to be in the business of doing.
The ban is an easy way out, a lazy push to take something off the coach's plate that he just does not feel like dealing with. That's where Jimbo Fisher's attempt at spin comes across as quite interesting, as WarChant reports:
"It's ridiculous because you can't be a kid anymore. You can't be a student. Everything is magnified, taken out of context ? think if every student in this university had to live like they did?" Fisher said.

"Part of growing up is venting, getting mad, you've got to understand those situations. Kids aren't perfect," he said last year. "We want to chastise these kids for being perfect - they're more perfect than the politicians, then Wall Street, then our presidents half the time with all the things that they've done. I mean, we want to hold these kids to a higher standard than we hold those people because of (social media). It's crazy, but it is part of it, so we make them cautious of it every day."
Certainly, it sounds good. Almost paternal in the message being delivered. Jimbo is really looking out for his kids and just letting them be kids! Except he's not. Kids make mistakes. Kids are not perfect. Kids screw up. They vent. They lash out. That's what kids do.
And coaches mould kids into young men. At least that's what they tell you, more importantly, that's what they tell your parents when they look them in the eye and try to sway them into letting you play for their program.
They let your mom, dad, grandma or grandpa know that they want the task of growing their little boy into a man. They tell you how they want to become your father figure away from home. How you will have them as a guiding light.
Shutting it down because a kid does not understand how to use it or the ramifications of misuse is not helping grow him into a young man. You don't grow your ability to utilize something responsibly by not being allowed to use it. Rather, lessons are learned through dialogue and discourse.
Shutting down is not the method that teaches kids what does and does not work for them and for the school with respect to social media. Instead, banning social media merely protects the school from the two-day media issue of an ill-begotten tweet.
The interesting part here? Fisher understands that his kids have to learn. He understands that they do not get the global impact:
"They have to be very smart, they have to learn," Fisher said. "They just don't understand the ramifications of things. They don't realize how global those things are."
Yet, instead of explaining it and working with them to get that critical point across, he merely pushes them off Twitter and hope that they will somehow learn? That strategy has never worked.
Bo Pelini at Nebraska tried the temporary ban, and we're just a week removed from Nebraska being quagmired in their own Twitter situation. Apparently that lesson wasn't taught when they were unable to use the Twitter machine.
Should Jimbo Fisher ban twitter?
Yes, social media is an ongoing policing process that involves missteps and the need to check the kids in order to insure they are using the tools responsibly. The players need to learn how to use social media, how to manage their own image and work within the framework of what the university expects of them.
For all of the headaches social media causes; outside of the North Carolina situation sparked by an ill-timed lyric, nothing tremendously terrible has come from a Twitter outburst. A few hurt feelings on either side, an apology issued and then everyone keeps it pushing; whether they ban the kids or not.
By comparison, another privilege enjoyed by these same young people; driving, has had serious consequences. Players drinking and driving, caught with pot in their cars, speeding, driving without a license, driving with a revoked license and a myriad of other penalties.
That costs them game time, it costs coaches shots at wins, it cast the university in a far worse light than a twitter snafu. Mug shot versus a tweet in poor taste, surely you take the ill-phrased tweet.
Yet, no one is demanding players give up their driving privileges. If making coaches' lives easier was the goal, wouldn't taking players' keys go a lot further in fixing things than taking away Twitter? Too far-fetched?
They take players' keys during training camp. Why not carry this policy further if it really is just about making things easier for the coach?
This article is
What is the duplicate article?
Why is this article offensive?
Where is this article plagiarized from?
Why is this article poorly edited?