Nebraska Cornhuskers: DE Twitter Rant Reminds Us You Can't Eat a Scholarship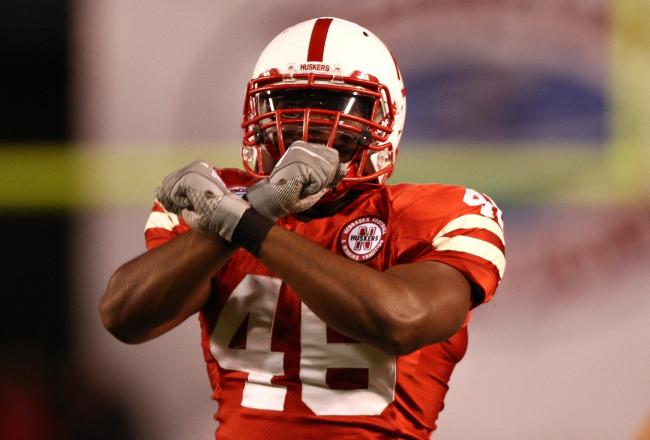 Donald Miralle/Getty Images
A scholarship is always plenty if you're Mark Emmert or one of the droves of fans who are upset that they had to pay for their own school.
However, when you are an actual scholarship athlete, the gap between how much you get in the scholarship and how much it takes to live is a very real thing. See Nebraska defensive end Eric Martin, who went on a bit of a Twitter splurge Tuesday night.
I know compliance is watchin my tweets WE NEED OUR CHECKS!!

— Eric Martin (@EMar46) July 11, 2012
And he continues:
Driving extra slow to save gas WE NEED OUR CHECKS!!!

— Eric Martin (@EMar46) July 11, 2012
And there is more:
Thinkin bout applying to be a construction worker in Lincoln WE NEED OUR CHECKS!!

— Eric Martin (@EMar46) July 11, 2012
Martin goes on:
My kitchen lookin like "The Landing" WE NEED OUR CHECKS!!

— Eric Martin (@EMar46) July 11, 2012
Martin on food:
When everything taste good even things you dont like WE NEED OUR CHECKS!!

— Eric Martin (@EMar46) July 11, 2012
"WE NEED OUR CHECKS!!" is the overwhelming theme here. The "check" he is referring to is the meal check—the money players receive to cover the meals that they are not served at training table. No meal checks means no money for the players, and that means these guys are going hungry.
Sure the cost of school is "covered," but as Martin displays, you can't exactly eat a scholarship. A week or so ago we talked about Rich Rodriguez's plan to remedy Martin's ailment in more ways than one: giving the kids free meals and putting that meal check back into their scholarships. Most certainly having breakfast, lunch and dinner available would help the defensive end and his teammates keep their weight up.
That no money struggle is a real deal situation for college football players when the checks run low or the envelopes get there late. I know that struggle from the other side. My mother always knew when the boys ran out of cash because my charges for dinner went up, when the folks came and visited an extra teammate or two came along for dinner and my meal plan was used more heavily than normal.
Should College Players Be Paid?
It is something that goes on across the landscape, Martin might be the most vocal, but he's not the first player sweating out the wait for a meal check.
Unfortunately there are fans out there who don't sympathize much with the collegiate athlete. After all, their school is free and what they need to do is just shut up and play. This is a sad view of the situation, but ultimately it is the stance of many a fan who does not care about the players beyond being entertained by the young men.
Eric Martin makes it real, folks. The scholarship gap is a legitimate point. The relief is something that players are looking for and, with the new playoff money, should be something that guys like Martin get.
This article is
What is the duplicate article?
Why is this article offensive?
Where is this article plagiarized from?
Why is this article poorly edited?