When the New Orleans Saints brought both Shaun Rogers and Aubrayo Franklin in during the 2011 offseason, it was assumed the team would immediately become an elite run-stopping unit.
It was also assumed the pass-rush would improve due to the big bodies creating space for Sedrick Ellis and other pass-rushers to do their thing.
That was all good in theory. In reality, though, the two veteran defensive tackles struggled in the Saints' base 4-3 scheme.
It wasn't until the second half of the season that the two even looked like they belonged on the field in a Saints uniform. Of course, that is about the same time the team settled into a defensive groove and became one of the better run stopping units in football.
Neither player was brought back to New Orleans in part because of how long it took them to find their collective groove. The Saints determined it was better to pay one man the same amount of money as the two for the same production.
Whether the thought process was wise financially, it figures to pay great dividends on the field. Bunkley is one of the elite run-stopping defensive tackles in the NFL.
According to Pro Football Focus, in 2011, Bunkley recorded a stop on 31 of the 274 run snaps he was on the field for. That's good for 11.3 percent.
That, of course, does not include the numerous plays he did not make a stop, but performed an essential role in denying the opponent running room and allowing a teammate to make the tackle.
To what degree does Brodrick Bunkley improve the Saints' run defense?
In just a few games of film, Bunkley showed a tremendous ability to move laterally. He constantly maintains the proper leverage through proper shoulder lean and keeps his feet moving. This forces the offensive lineman to the ground quite often and mucks up the hole for the runner.
He also does a fabulous job of maintaining his balance as he moves side-to-side and is one of the quickest lineman I've ever observed at regaining after his feet after losing his balance.
He is a high effort player in the run game who excels at chasing ball carriers down from behind. Though he is not the fastest player, he can be found running down ball carriers quite often.
That is straight beautiful. That will make Saints fans happy. And considering the teams on the Saints' schedule in the first four games, Washington, Carolina and Kansas City will all look to run the football to keep Drew Brees and the Saints offense off the field.
With no Will Smith, the Saints will be fortunate to have another dominant run-stopper in their lineup in those games (though Cameron Jordan also fits that billing).
I failed to mention that Bunkley is a genuinely huge human being. He is listed at 6'2", 306 lbs., and that does not do justice to the frame you see beaming off his No. 77 jersey. He's a behemoth, and that's understating things.
That said, Bunkley is not an impact pass-rusher on his own. In fact, he did not record a sack in 2011. That makes him similar to Franklin and Rogers.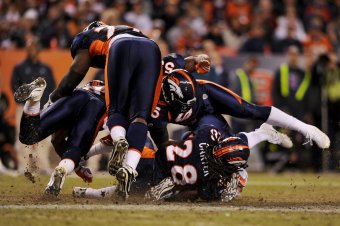 Patrick Smith/Getty Images
The difference is that he is a smart pass-rusher who will take away screen passes and truly take up blockers in the pass protection scheme, thus opening holes for explosive players such as Sed Ellis and Martez Wilson.
And he worked in a 4-3 scheme not much different from the one the Saints will use in 2012 under new defensive coordinator Steve Spagnuolo.
The best news of all is that Spagnuolo worked with Bunkley in Philadelphia when Spags was the linebackers coach. He knows Bunkley as well as anyone could. He will know exactly how to use Bunkley to the best of his ability.
He will likely limit Bunkley to base 4-3 schemes and run down action. He will keep schemes simple for Bunkley. Combined with a thumping middle linebacker in Curtis Lofton and the rangy David Hawthorne, the result should be a consistently good run defense in 2012 and beyond.