Arizona Cardinals: 3 Most Positive Developments of Their 2012 Offseason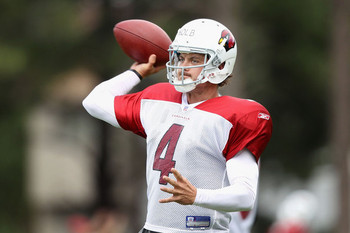 Despite finishing with a combined record of 13-19 over the past two years, the Arizona Cardinals have had three solid offseasons in-a-row.
Since 2010, the front office has added players like Daryl Washington, Sam Acho, Patrick Peterson and, most recently, Michael Floyd to the roster.
It is safe to say that Rod Graves and company have done their job building a playoff-calibre team, and it is now the players' job to execute.
In this offseason alone, the Arizona Cardinals have had several positive developments, and over the next few slides, we will look at the three most important ones so far.
Status of Returning Players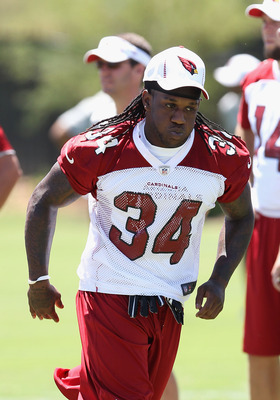 Christian Petersen/Getty Images
If I had to choose one thing that impressed me the most this offseason, it would be the heart and effort of players like Ryan Williams and Greg Toler.
These men, among others, have worked extremely hard to recover from serious injuries and be ready for training camp.
While Toler and Williams were the two big injuries, the health of other key players, such as Beanie Wells and Kevin Kolb, has been brought to the forefront.
Kolb missed half of 2011 with a variety of injuries, most notably the concussion he sustained against San Francisco in Week 14.
Wells sat out two games last year and played most of the season with a lingering knee injury. He was also plagued with injuries throughout 2010, and has been given the injury-prone label by many people around the league.
At the start of the offseason, we were not really sure how either player would respond to their injuries. Now, everything seems to be on track. Kolb is not worried about his concussion, and while the status of Wells is still unknown, Coach Whiz has challenged him to be ready for camp.
All of these players are expected to enter the season healthy, and if this does happen, then it is certainly a positive development for Arizona.
Offensive Upgrades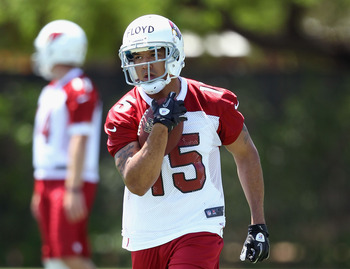 Christian Petersen/Getty Images
Let's face it; the Cardinals offense has been an absolute mess since Kurt Warner retired. In two seasons, the team has finished 31st and 19th in total yards and has put up only 18.8 yards per game.
Going into 2012, however, the team has added several weapons, and, on paper, they are starting to look more like the offense we saw between 2007 and 2009.
In addition to getting Ryan Williams back from injury, Arizona also added two key players in the draft.
Michael Floyd out of Notre Dame will likely take over as the No. 2 receiver across from Larry Fitzgerald. He is a great talent that will help the passing game tremendously.
Bobby Massie was a steal in the fourth round, and he is expected to challenge Jeremy Bridges for the starting right tackle spot. Even though he has not played a game at the NFL level, he is still an upgrade over Brandon Keith and having him will benefit the offensive line.
The Cardinals also brought back wideout Early Doucet on a two-year contract worth $4 million. Doucet had a couple of blunders last season, but he did catch over 50 passes and will add depth to a solid receiving core.
Arizona will have a couple more weapons to work with than they did last season. The additions made to the offense are definitely a positive development that the team has made this offseason.
The Defense
Christian Petersen/Getty Images
As a whole, the Arizona Cardinals' defense has benefited greatly from having a full offseason, and they will surprise many people this season.
Arizona struck gold last offseason when they hired Ray Horton as their defensive coordinator. Horton brought a complex, but effective scheme to the desert last season, and as the year went on, the defense continued to get better and better.
The Cardinals have a great mix of young and veteran talent on the defensive side of the ball. With no lockout to worry about this year, they have had a full offseason to perfect last year's plays and add new ones.
From a player's standpoint, they now have confidence in their defensive scheme, and from Horton's view, he now knows the team well enough to figure out what he can and cannot do when it comes to play calling.
This is great news for Cardinals' fans, and the chemistry developed between the defensive players and the coaches is one of the most positive developments for Arizona over the course of this offseason.
Keep Reading

Arizona Cardinals: Like this team?