Pittsburgh Steelers Re-Sign OT Max Starks, Sparking an Interesting Camp Battle
Use your ← → (arrow) keys to browse more stories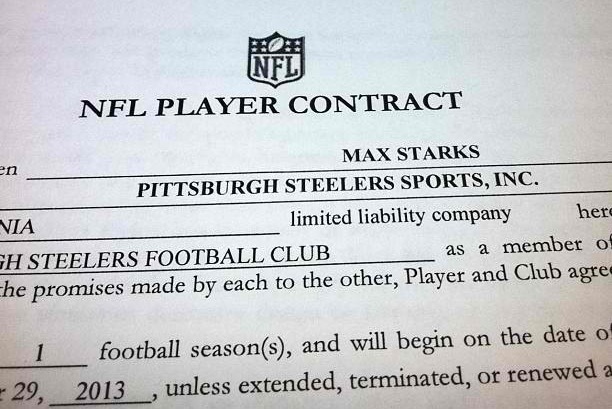 It's official, OT Max Starks is a Pittsburgh Steeler yet again (Photo: Twitter/Mark Kaboly, Pittsburgh Tribune Review).
The Pittsburgh Steelers are just over a week away from opening training camp. Until today, they were heading to Latrobe with 89 of the maximum 90 players allowed. Many thought that the final spot was being reserved to re-sign offensive tackle Max Starks, and that was in fact the case, with the team officially bringing him back on today.
Starks underwent ACL surgery in January, but he should be ready for camp or, at the latest, for Week 1 of the regular season.
Starks' one-year deal is more than a move to add depth and provide insurance on a line that was ravaged by injuries and inconsistent play last year—it's to have him compete for a starting job.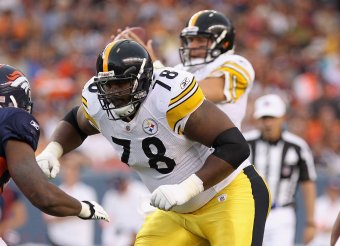 Doug Pensinger/Getty Images
The Steelers drafted tackle Mike Adams in the second round of this year's draft, but that didn't necessarily mean the starting job was his upon signing. There's a learning curve for every rookie, but for Adams, who is a left tackle, there is extra pressure. Keeping quarterback Ben Roethlisberger upright in the pocket is no small feat, and the Steelers needed more than just a rookie's potential to fall back on.
Ultimately, the Steelers considered having Adams move to right tackle and putting Marcus Gilbert, the incumbent right tackle, at the left. But now, with Starks back in the fold, Gilbert can stay on the right, and Starks and Adams can battle it out for the starting job on the left.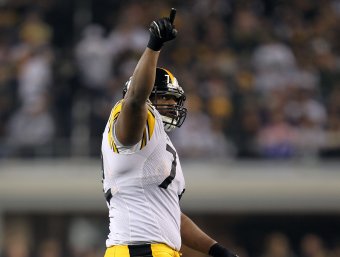 Jamie Squire/Getty Images
Starks has only been active for the Steelers for five seasons, but he's headed into his ninth season in the league and is Pittsburgh's most-veteran offensive tackle. He'll provide much-needed mentorship for Adams, whether or not the rookie ends up winning the starting job. At the very least, he is a capable stop-gap during Adams' first season.
The re-signing means that Trai Essex will serve as a backup tackle on both the right and the left. And if the injury bug bites again, former tackle Willie Colon can move back to his old position from guard, where he's expected to start this season.
This means the Steelers could very well part ways with Jonathan Scott, easily the most disappointing member of the offensive line.
Out of 76 offensive tackles that Pro Football Focus ranked from 2011, Scott ranked 60th (subscription required). Starks and Gilbert ranked 33rd and 35th, respectively, and the Steelers would likely have avoided putting Scott in the starting rotation at all last year if injuries hadn't forced their hand.
What impact do you think Max Starks will make this year?
Scott was across-the-board bad in both pass protection and run-blocking. He gave up six sacks, two quarterback hits and 12 quarterback hurries and amassed five penalties. That's not the kind of player any team would like as a starting tackle, whether on the right or the left.
The Starks signing doesn't bode well for Scott's future. He'll either be cut or simply be held off the field as depth alongside Essex.
It will be interesting to see how well the recovering Starks matches up against the rookie Adams in training camp. Starks will have to both mentor and compete against Adams, which makes for an interesting dynamic in such a crucial position for the Steelers this year.
The hope is that the outcome is a win-win for the Steelers: Either Starks starts and continues to mentor Adams while he prepares for a starting role next season, or he does so while being an actually-talented backup, keeping Scott well away from the line of scrimmage.
While the Starks signing isn't much of a surprise, it does make the camp battle for the offensive tackle jobs that much more interesting this year.