Oakland Athletics: 5 A's Who Will Have to Sweat out the 2012 Trade Deadline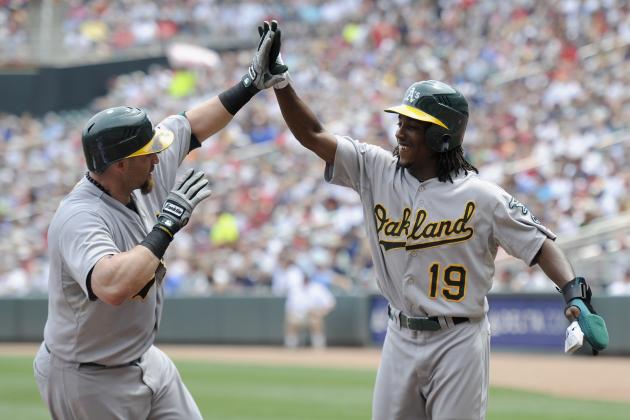 Hannah Foslien/Getty Images

The Oakland Athletics currently find themselves in an extremely interesting position. Currently only half a game back in the wild card race, the big question for the A's is whether or not they should be buyers or sellers come the trade deadline.
Clearly they headed into 2012 in full blown transition mode, rebuilding for the future, but now in the midst of a playoff race, can they really sell off all their assets and give up on the season? So again, the question is, do they buy or sell come July 31st?
The answer is both. The A's should trade anyone expendable, while adding pieces where they are weak. They do have the depth at certain positions to do so, and it would be wise to take advantage of that fact. These players would have probably been traded anyway, so instead of going after only prospects it makes sense to maybe add a few guys who could potentially help this year instead.
Here are five guys the A's might move to address other needs at the trade deadline.
Begin Slideshow

»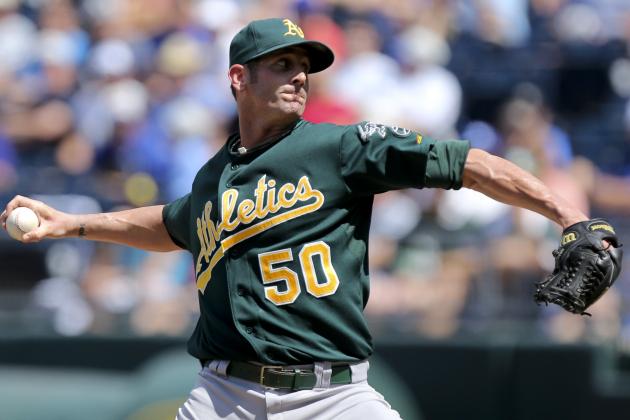 Ed Zurga/Getty Images

With the relief market extremely thin this year, a veteran like Grant Balfour could fetch a hefting price for a contender with issues at the back of their pen. The A's also happen to have a very deep bullpen, so losing Balfour wouldn't be that much of a loss.
With the emergence of Ryan Cook as a bona fide closer, the A's need not worry anymore about who to call on in the ninth inning. Sean Doolittle has also come out of nowhere to impress this year, and should be given a shot to prove himself as a set up man as the season progresses. This is a chance for the A's to take advantage of the market and improve the most while giving up the least.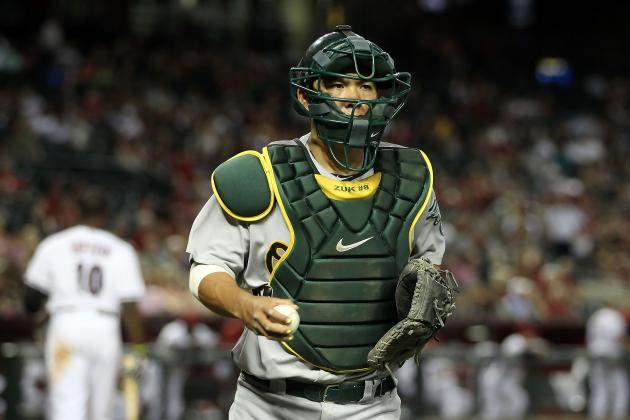 Christian Petersen/Getty Images

If Derek Norris had continued to hit the way he had when first called up, then Suzuki would have probably been one of the first to go for the A's this trade deadline. With Norris now struggling at the plate, that notion isn't as clear.
The A's surprisingly find themselves in the thick of the wild-card race and a change behind the plate now could mean jeopardizing some pitching production. The A's might have been able to live with that if highly regarded Norris was still producing the way he was, but now not so much. If Norris continues to falter, then expect a platoon the rest of the year as Norris is instead mentored by Suzuki instead of learning on the job.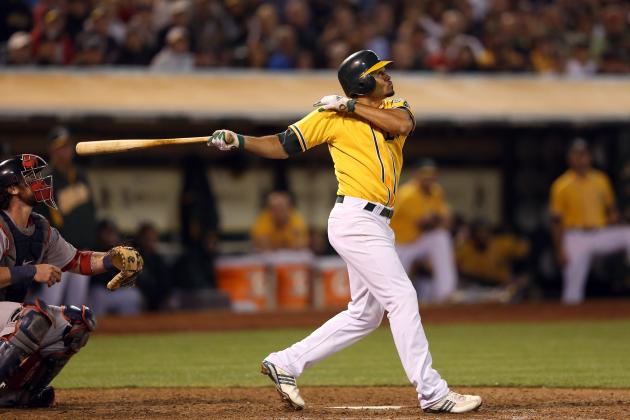 Ezra Shaw/Getty Images

Though Crisp hasn't nearly performed up to expectations this year, his career as a whole should catch at least one team's eye. Injuries can pop up at any time and should a team be hit with one in the coming weeks, expect the A's to get a call regarding their veteran left fielder.
Crisp could also be a nice alternative for a club who deems the asking price for outfielders Justin Upton and Carlos Quentin too high. A versatile and experienced switch hitting outfielder is always in demand, and with the numerous outfield prospects waiting in Sacramento for a promotion, dealing Crisp should be a no-brainer for the A's if given a fair offer.
Ezra Shaw/Getty Images

Though not the same Bartolo Colon of years past, Colon has proven to be a solid fixture in a rotation the past two seasons. He also brings a wealth of experience to any club looking for another arm during the last stretch of the regular season.
That veteran presence could be just what a young team is looking for when trying to make a playoff push, a guy who's seen it and done it all and possesses a ton of playoff experience. And for the A's, they know that they can win without Colon, having their rotation depth proven time and time again when reliable starters, including Colon, have gone down this year.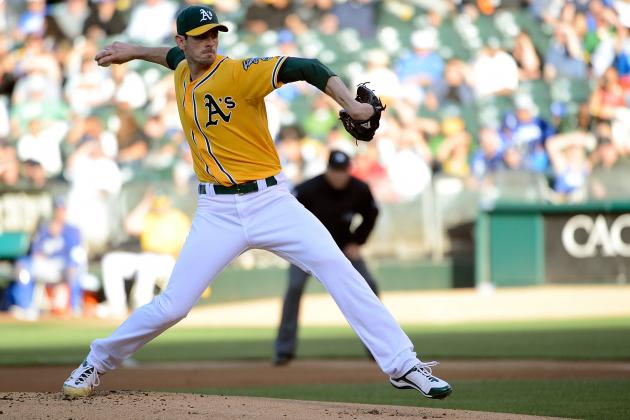 Thearon W. Henderson/Getty Images

Though heading into the 2012 season as the A's ace, it appears as though McCarthy has been supplanted as the A's No. 1 starter by rookie phenom Jarrod Parker. Though he has a career full of injuries, McCarthy's performance between this year and last year still make him extremely attractive to any club looking for an added boost in the rotation as they make a push towards the playoffs.
McCarthy's one-year contract also makes him a safe risk if a team should be nervous about his durability towards the end of the season. Though it will presumably lower the A's asking price, trading McCarthy could just be another step towards building for the future while also being able to stay competitive this year.