Penn State Football: Sorry Nittany Lions Fans, but "Paternoville" Had to Go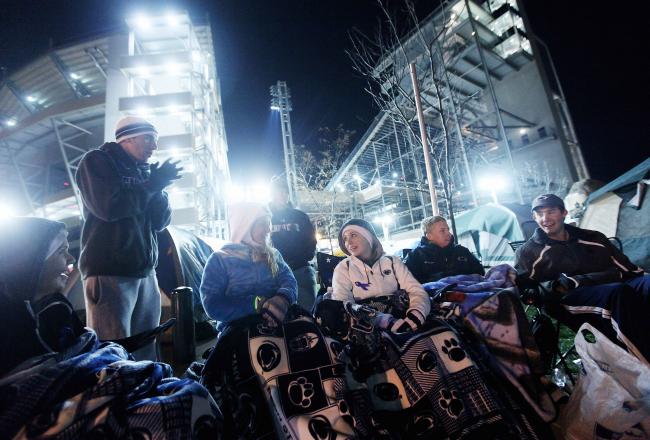 Mario Tama/Getty Images
It's been a long last few months for Penn State fans, but generally the sources of their ire have come from outside the fan community itself. That's not to say the Penn State fans speak with one monolithic voice or anything (as we'll clearly see in a bit), but by and large the fans are the ones weathering the storm, not the ones bringing the thunder and rain.
That changed on Monday night, when the student officers behind the group that manages "Paternoville," the popular encampment outside Beaver Stadium for home games, met and decided to officially change the place's name to Nittanyville. The change was announced with a press release (available here) and a notification on the group's Facebook page.
And that's where things got a little out of hand.
The reaction to the name change was not uniformly negative, but pretty close. We'd put it at 60 percent negativity, 20 percent support for the change, 15 percent insults (either to Penn State, Paterno or fellow commenters), and five percent marveling at the spectacle the thread had become.
Here are some examples of the negative reactions. We won't list names, because the idea isn't to embarrass individuals, it's to show the community's sense as a whole.
"Why are you turning your back on Joe Pa Too?" (12 likes)
"Will you change it back to Paternoville when JVP's name is eventually cleared?" (18 likes)
"This is disgusting, only a matter of time until a new paternoville is formed and sh*ts all over nittanyville, ill be waiting" (3 likes) (Also, we really hope he doesn't mean this literally.)
"No one will camp out at nittanyville. What's next? A crane to level the library? Peachy paterno gonna disappear from creamery? Have fun camping out by yourselfs" (4 likes)
"You should just disband and not disgrace the name of Joe Pa, you are an embarrassment to the community" (6 likes)
Interspersed among the negativity are a few voices of dissent, and the number of likes on these indicates that the Paterno defenders are really just an extra-vocal minority.
"I might be the only one but I think its the right thing to do" (60 likes)
"Good. Lol @ "True Paternoville." We thought we knew the true Paterno. Turned out to be wrong. This move needed to be done." (25 likes)
"The only option. I wondered who the lunatics were. Reading this thread, I now know." (32 likes)
"great to see all these people criticizing the name change as a "knee jerk reaction" with ... you guessed it, a knee jerk reaction! the people in this thread are really being classless towards the students who run this." (15 likes)
"BillVille!" (3 likes)
Okay, the last one we included because "Billville" is so much better than "Nittanyville." Why not just name the place after whoever the current coach is? That way if Urban Meyer comes there in 2025 or whatever, you can call it the "SubUrban Community" or what have you. "The 'bUrbs."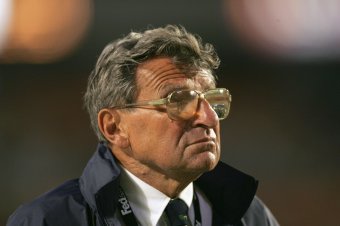 Doug Benc/Getty Images
But as for changing the name, yes, it had to be done. The notion that vindication for Joe Paterno is coming (whatever that would even be at this point) is something that basically has to be taken on faith, because it's sure not evidence-based.
In the meantime, continuing to call the place Paternoville would only invite scorn and derision, especially from those outside the Penn State community. There's plenty of that in the Facebook thread too.
This is extremely difficult for a lot of Penn State fans. It's important to be mindful of that. This whole scandal has essentially demolished the structure of a culture that was central to their lives, and that culture was embodied by one man who was absolutely revered. If you try to take that away, well, it's not that easy. You can't just leave JoePa-sized holes in people's hearts and expect them not to react with pain and negativity.
But this is 100 percent necessary. The Joe Paterno these people believe in is not the Joe Paterno that was. And the real Joe Paterno absolutely doesn't deserve to have his name on that camp, especially now that he's gone. Like we offered earlier, just keep naming it after the current coach and the full extraction of idolatry and admiration doesn't have to happen. But this, at the very least, is a painful and necessary step.
This article is
What is the duplicate article?
Why is this article offensive?
Where is this article plagiarized from?
Why is this article poorly edited?