2012 Tour De France: Can Anyone Stop Bradley Wiggins and Team Sky?
Use your ← → (arrow) keys to browse more stories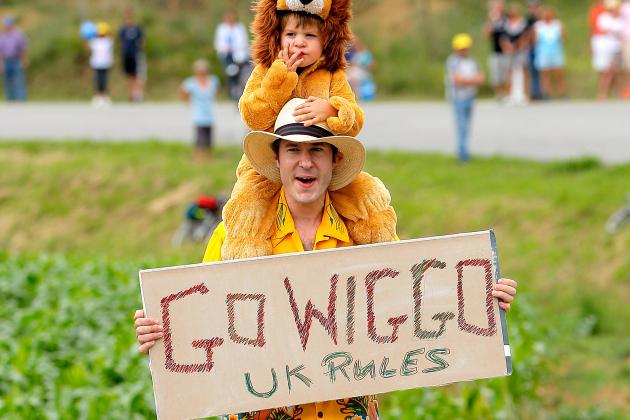 Doug Pensinger/Getty Images

Today may well be a rest day for the riders, but for the teams the work is ramping up as they try desperately to find a weakness in the formidable unit that is Sky Procycling.
The brutal reality is that Bradley Wiggins is in an untouchable position, save for a disaster of some kind, but that shouldn't stop them from trying.
The top five riders in this year's Tour are within five minutes of each other, about the maximum time that is remotely possible to be made up in the remaining stages—however unlikely that may be.
It goes without saying that Vincenzo Nibali, Cadel Evans and Jurgen Van Den Broeck need to attack the Sky pair of Wiggins and Chris Froome, but to make it work they also need to coordinate those attacks.
Stages 16 and 17 are two of the hardest of the Tour so far and coming in the final week of the race will make them seem tougher still. The climbing that the riders will be doing over the next two days will take already tired bodies to their absolute limit.
Stage 16 has the two legendary climbs of the Aubisque and Tourmalet as well as the Col d'Aspin and Col de Peyresourde before a downhill finish into Bagneres-de-Luchon.
Stage 17 has marginally easier climbs, but has the sting of a mountaintop finish at the Plateau de Peyragudes. It's a stage with many similarities to the eventful Stage 11.
It was during Stage 11 that Wiggins had his one moment of fragility, when Froome kicked on the final climb and Wiggins was momentarily dropped before Froome was ordered back.
Evans, Nibali and Van Den Broeck need to start stretching the Sky boys. If Sky are allowed to continue to dictate the pace, it's all over. We had the ridiculous scenario during Stage 14 of Mark Cavendish at the head of the Sky train on a climb.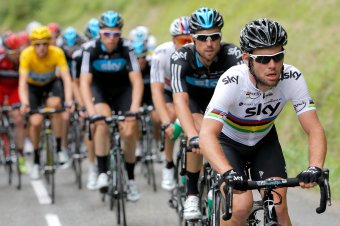 Doug Pensinger/Getty Images
With no disrespect to the Manx Missile, if he's at the front of the line on a climb, it's not being pushed terribly hard.
If the others can isolate Wiggins with Froome by keeping the pace high, that will really pile on the pressure and that's the only chance they have. It's now the closing stages of the Tour, bodies are tired and this is the time when big changes can occur.
Last year, Andy Schleck made up 2'30" on Cadel Evans on Stage 18, Carlos Sastre made up a similar amount over Evans in 2008 and Alberto Contador did likewise to Lance Armstrong in 2009.
Nibali is the man most likely.
Not only is he within 2'23" of the lead, but he has looked most comfortable on the climbs and really hasn't been tested, nor has he expended much energy on unsuccessful breakaways.
He has a long way to go and really needs to make up an additional two minutes on top of his existing deficit to have any chance of holding Wiggins in the final individual time-trial.
It would be interesting to see what would happen should Nibali—or anyone else—put Wiggins into difficulty on any of the climbs over the next two days. Would Sky force Froome to protect Wiggins or would they give him his head to ride for the win?
We're still in for a few fascinating days of cycling as the Tour draws to its spectacular conclusion on the Champs-Elysees in Paris.
Expect Wiggins to still be wearing the yellow jersey when they get there.
Can anyone stop Bradley Wiggins and Team Sky? Not in a million years (or before Sunday, whichever comes first).