Pittsburgh Steelers 2012 Training Camp Preview: Defensive Line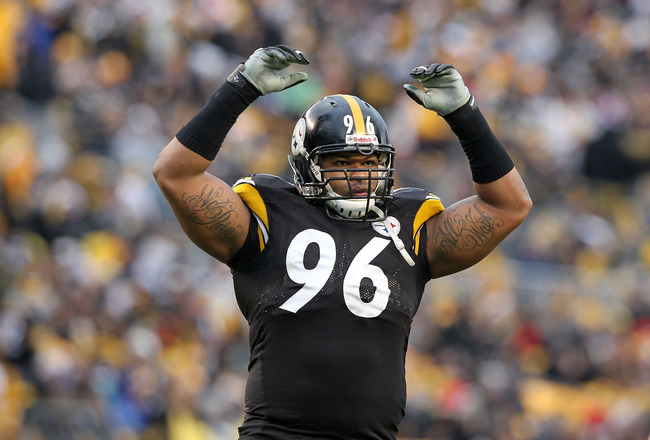 Karl Walter/Getty Images
The perennially strong defensive front of the Pittsburgh Steelers will have a different feel this season.
Ziggy Hood will no longer have to live in the shadow of the now retired Aaron Smith and Steve McLendon will be the plug in the middle in place of the injured Casey Hampton.
Brett Keisel will be the elder statesman of the defensive line, starting at right end. However, Cameron Heyward should begin to push Keisel for playing time as the season progresses.
While Smith and Hampton helped make the Steelers one of the most dominant forces over the past decade, the infusion of new blood will be good for the defensive line. It was time for a change.
Injuries and age took a toll on both Smith and Hampton last season as neither player played to their usual standards.
Now as the defensive line undergoes changes, there may be some growing pains. But as the younger linemen develop, they should help form one of the strongest units on the team.
Breakdown
Justin K. Aller/Getty Images
For the first time in years the Steelers' run defense showed some cracks.
The 99.8 yards per game that the defense allowed on the ground last season was the worst since Mike Tomlin took over as head coach in 2007.
The decline in run defense was understandable, though, as the Steelers put a focus on stopping the pass. It paid off as they had the top pass defense in the league, allowing 171.9 yards per game.
Despite leading the league against the pass, Pittsburgh's defense did not pass the "eye test" as a dominating defense. That is because they weren't.
Last season, opponents were able to gash the Steelers' defense for big chunks of yardage on the ground. But the bigger concern was a lack of sacks and a lack of turnovers.
Pittsburgh's pass rush suffered as LaMarr Woodley and James Harrison were hampered with injuries. While the backups were not up to the task of rushing the quarterback, they did not get much help from the defensive line either.
Prior to being placed on injured reserve, the usually great Smith was ineffective. Age had finally caught up to him. Meanwhile, Hampton was no longer dominating in the middle and it became clear that his play was slipping.
After Smith went on injured reserve, Hood took over and started 14 games. While he did not perform poorly, his play was not where it needed to be either as a former first-round selection.
In 2010, Hood had a strong performance down the stretch and looked like he would develop into a force at left defensive end.
However, last year he did not build on the 2010 season and failed to dominate on the line of scrimmage and was a virtual non-factor rushing the passer.
Things should change this year after the offseason training by Hood.
Mark Kaboly of the Pittsburgh Tribune Review reported that Hood felt that he wasn't "in tip-top shape" last season and this had a negative impact on his play.
What better way to help my speed and help my agility but to lose body fat? Hood said. I play better when I feel good. When I don't feel good, I don't do as well as I want, and I didn't feel good all the time last year.
Hood's play will be a key this year for the Steelers' defensive front. Besides continuing to improve against the run, he could really make an impact rushing the passer.
In fact, Hood told Steelers.com that rushing the passer is the area of his game that he wants to improve this year.
While Hood will be under a lot of pressure being a former first-round pick, Steve McLendon may be the most important player on the defense.
Pittsburgh needs a dominate force in the middle of the defensive line and Hampton has provided that for a decade.
Now McLendon will have to prove that he can control the middle of the line and he will be a huge factor in stopping the run as well as freeing up space for the linebackers to make plays.
McLendon is one of the strongest players on the team and with a year of experience as a backup, he now has a chance to make a name for himself.
The play of Hood and McLendon will be the key to the success of the 2012 Steelers defensive line.
Defensive Ends: The Players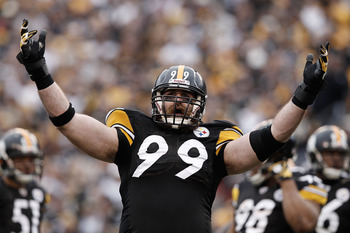 Jared Wickerham/Getty Images
Brett Keisel
Keisel is the top defensive end on the roster and plays a strong all-around game. He does a lot of things well, but nothing great. As the season progresses, the coaching staff should make sure Keisel gets plenty of rest so that he remains fresh in December.
Ziggy Hood
Hood had a strong finish to the 2010 season, but was a disappointment last year. He has worked hard this offseason and has gotten stronger. This needs to translate onto the field. While Hood is replacing Aaron Smith, remember how great Smith was when assessing Hood's performance. The bottom line is that Hood must play better this season.
Cameron Heyward
Heyward flashed plenty of potential in his limited playing time as a rookie. He should see much more playing time this season as he will be the first off the bench to spell Keisel and Hood. He has an outside chance of starting if he shines. There is a lot to be excited about from Heyward.
Corbin Bryant
Bryant played in one game for the Steelers last season. He looks like a quality developmental player who could earn one of the final roster spots. He could eventually develop into a dependable backup at defensive end.
Al Woods
Woods has bounced around to various teams in his two years in the league. He played defensive tackle in college and will have to transition to defensive end with the Steelers. Woods has some upside and has a slight chance at making the roster.
Ikponmwosa Igbinosun
Igbinosun was productive at Southern Connecticut with 58 tackles and seven sacks. He will have to adjust from playing at a small school to the pros, but has upside given his athletic abilities. He could earn a spot on the practice squad.
Jake Stoller
Stoller made second-team All-Ivy league last season while playing at Yale, but will be a long shot to make the roster.
Nose Tackle: The Players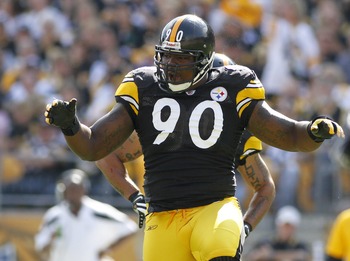 Justin K. Aller/Getty Images
Casey Hampton
Hampton is coming off of an ACL injury for the second time in his career. He began to show signs of age last season and did not command the double teams that he did in his prime. He may begin the season on the PUP list. Will he start when he returns? Regardless of the answer, Hampton should have his snaps limited.
Steve McLendon
There will be big expectations for the third-year nose tackle. He played well in a backup role last season, but will need to be even better as the starter if Hampton is not ready for the opener. He plays a different style than Hampton does, but could be more effective given the emphasis on defending the pass.
Alameda Ta'amu
Ta'amu was one of the top 3-4 defense nose tackles available in the draft. He has a massive body and can be an excellent run stuffer. Defensive line coach John Mitchell will teach him how to play on the Steelers' defensive line, so there will be a learning curve. Ta'amu will be able to make an impact sooner than the rookie defensive ends in the Steelers' system because it is an easier position to adjust to. He may need to assume the backup role if Hampton is not ready to start the season opener.
Kade Weston
Weston has a massive frame and a good fit for the interior. However, he lacks consistency and can easily be blocked. Given the talent ahead of him, Weston is a long shot to make the roster.
Mike Blanc
Blanc is not a prototypical 3-4 nose tackle and could be gone in the first round of cuts.
3 Key Questions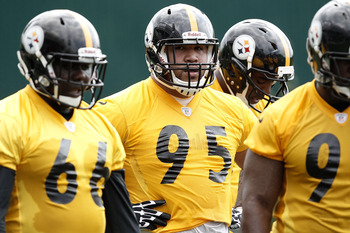 Jared Wickerham/Getty Images
1. Will the young players emerge?
Pittsburgh is stacked full of young, talented defensive linemen. Hood will start at left defensive end and he is looking to improve upon last season's performance. McLendon will likely start at nose tackle and, according to the Pittsburgh Tribune Review, he has earned the praise of coach Mitchell. Pittsburgh will need Heyward to build on his rookie year and provide contributions as the top defensive end backup off the bench. He should see a lot of playing time as he should spell both Hood and Keisel. Ta'amu has high expectations as the future at nose tackle and will need to contribute early in the season.
2. What is Alameda Ta'amu capable of?
The Steelers usually do not start defensive linemen as rookies, but the nose tackle position can be an exception. Hampton started 11 regular season and two postseason games as a rookie and never looked back. Ta'amu does not come with the same pedigree as Hampton, but has the necessary skills to contribute as a backup. Ta'amu should be expected to come in and give the starting nose tackle a few plays off here and there. Anything more will be a bonus.
3. How effective will Casey Hampton be coming off the ACL injury?
Hampton has come off of an ACL injury before. He tore his ACL in 2004 and missed 10 games plus the playoffs. He came back the next year and had a very successful season. But now Hampton is older and his play was already slipping. Though Hampton's game is not built on speed or lateral movements, a knee injury is a knee injury. His play has already slipped and this knee injury will certainly not help. Can Hampton still start or should he take on a backup role?
Keep Reading

Pittsburgh Steelers: Like this team?