8 Green Bay Packers Who Will Make Biggest Leaps from 2011 to 2012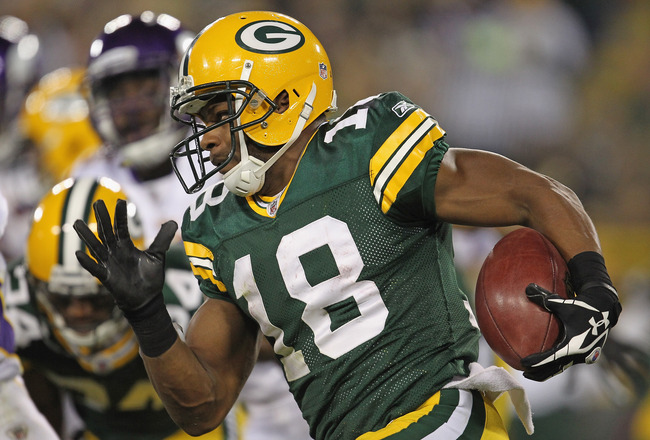 Randall Cobb
Jonathan Daniel/Getty Images
The Packers have a history of being one of the youngest teams in the NFL under general manager Ted Thompson (Scout.com).
Almost every year they'll release veteran players past their prime in favor of younger up-and-coming players who are budding with potential.
It's part of the organization's draft-and-develop philosophy in which the coaching staff is committed to cultivating young players. They know that even if the youngsters aren't big-time contributors during their rookie years, they might be in their second, third and fourth years in the league.
Head coach Mike McCarthy has mentioned on numerous occasions, seemingly on an annual basis, how much the young players on the team develop during the offseason, most recently following this year's minicamp back in June (Packers.com).
"I really like the development of the second and third-year players," said McCarthy. "It's something that always stands out to me at the end of the spring."
Every year, there's several candidates that will make big strides. Here are a couple who will impress in 2012.
Davon House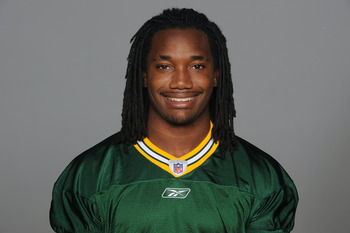 Davon House
Handout/Getty Images
Head coach Mike McCarthy singled out Davon House in particular during minicamp as a player who stood out and made progress during the team's offseason program (Packers.com).
I'm always excited about our younger players, said McCarthy. I love seeing our younger players being educated and seeing guys that come on at the end of the season, whether they're from the practice squad or they just didn't play a whole lot. Davon House comes to mind.
House definitely didn't play a lot last season, seeing action in just two regular season games. And when he did receive playing time, most of it came on special teams.
But he has a chance to receive a lot more playing time if he can be improve as a cover corner.
The Packers showed they weren't happy with the play of Sam Shields last season when in the playoffs he was forced to share time with Jarrett Bush.
House needs to take the momentum he's building and take it into training camp with him, because that's the place that ultimately will decide how much action he sees on the field this season.
Diondre Borel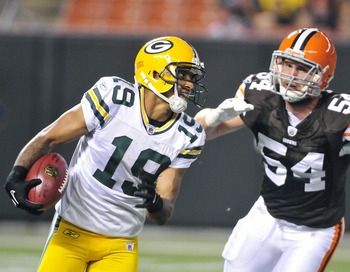 Diondre Borel
Jason Miller/Getty Images
Continuing his comments during minicamp about young players that stood out, Mike McCarthy threw wide receiver Diondre Borel in the same category as Davon House (Packers.com).
"Davon House comes to mind, Borel. I mean, you can just go all the way down the line," said McCarthy. "These guys look like different players."
Borel certainly has room to grow as a wide receiver after a college career groomed as a quarterback. The Packers could see the potential in Borel, however, and so far their commitment to his position change has paid off.
Late last season, Borel was offered a contract by the Tampa Bay Buccaneers, but he instead chose to stay on the practice squad of the Packers.
The Packers, in turn, rewarded Borel with a pay raise and an opportunity to win a job this season.
Borel has a long way to go to develop into a polished wide receiver. He also faces a stiff challenge to make the team at such a deep and crowded position in Green Bay.
But with an entire offseason program to improve, unlike last year with the NFL lockout, Borel might be flying under the radar.
Tori Gurley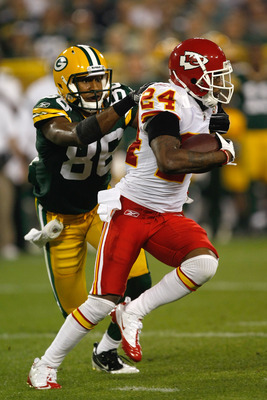 Tori Gurley
Scott Boehm/Getty Images
Joining Diondre Borel as a player who was offered a roster spot on another team's 53-man roster is wide receiver Tori Gurley.
Similar to Borel, Gurley was offered a contract by the Minnesota Vikings but instead chose to stay in Green Bay, and the Packers gave him a raise to stick around. Also like Borel, Gurley is at a position loaded with talent and will be hard pressed to win playing time.
With so much talent, however, it wouldn't at all be a surprise for the Packers to keep six wide receivers this season, giving Gurley a good chance to make the roster.
Also working in Gurley's favor is his size. At 6'4" and 232 pounds, he's the tallest and heaviest wide receiver in Green Bay, which should make him a good red-zone target.
In some ways, Gurley is almost like a tight end the team can split out wide and take advantage of matchups against smaller defensive backs.
With so many factors working in his favor, it would be difficult to see Gurley not make the roster in 2012.
Randall Cobb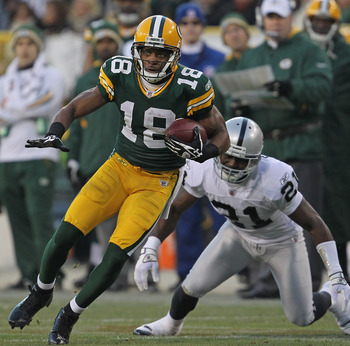 Randall Cobb
Jonathan Daniel/Getty Images
It will be difficult, although not impossible, for Randall Cobb to improve as a return specialist in 2012, but his biggest jump is likely to come as a wide receiver.
After seeing what Cobb is capable of on kick and punt returns last year, it would be criminal to not give him a bigger role on offense this season.
He's dynamite with the ball in open space, and Cobb should be utilized in the slot in a much more prominent role. There's every possibility he jumps ahead of players like Donald Driver and James Jones on the wide receiver totem pole.
With targets like Greg Jennings, Jordy Nelson and Jermichael Finley on either side of him, Cobb will have opportunities for a lot of one-on-one matchups.
Because there will be a ton of talent around him, it may be some time until Cobb is ready to post an 80-catch season with double-digit touchdowns, but without a doubt he'll be able to exceed last year's 25 receptions for 375 yards and one touchdown.
Between his exploits on both offense and special teams, Cobb is poised to become one of the most dangerous players in the NFL.
Marshall Newhouse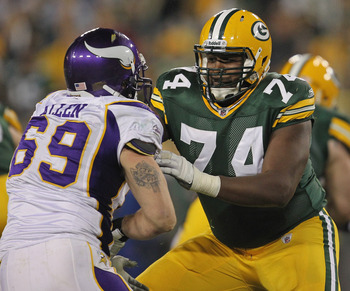 Marshall Newhouse
Jonathan Daniel/Getty Images
Seeing as Marshall Newhouse was unexpectedly thrown to the wolves when Bryan Bulaga and Chad Clifton each had their own injury issues last year, it shouldn't come as a surprise that he struggled.
It didn't help that Newhouse had to flip flop between right and left tackle until Clifton's injury proved to be a long-term issue.
The statistics are eye opening, to say the least.
The 10½ sacks allowed by Newhouse were part of his total of 41½ pressures, twice as many as anyone else and more than any Packers O-lineman has had in the last 13 years, writes Bob McGinn of the Milwaukee Journal Sentinel.
Considering Newhouse played sparingly in the first two games of the season, those pass rush stats are even more alarming.
But because the bar was set so low, Newhouse has left himself a lot of room to improve.
Like the rest of the other young players on the team, he has an entire offseason to refine his technique, and additional time in the weight room will only benefit him.
The left tackle job is Newhouse's to lose, and he'll be much better prepared this time around. Solid play by the third-year tackle will help solidify an otherwise improving offensive line.
Tramon Williams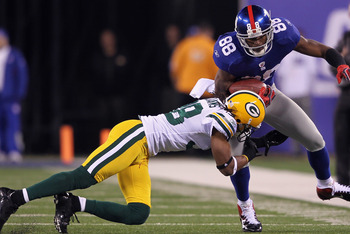 Tramon Williams
Nick Laham/Getty Images
Entering his sixth year in the NFL, Tramon Williams doesn't fit in with the other young players on this list.
And it might seem odd to include a player who set career highs in tackles (64) and passes defensed (22) in 2011 here as well. But Williams clearly wasn't the same player in 2011 as he was in 2010 when the Packers won the Super Bowl.
That year, Williams was arguably the best cornerback in the NFL.
Due to an injury suffered in Week 1 that caused nerve damage to his shoulder, Williams played without a lot of aggressiveness he displayed the season before. He couldn't play press coverage on opposing wide receivers, and he admitted to not being a physical tackler (Journal Sentinel).
If he's able to recover from the injury that sapped so much energy from him last season, Williams should be able to re-join the NFL's elite cornerbacks and have the type of season that saw him accumulate nine combined interceptions between the regular season and the postseason in 2010.
A performance like that would go a long way to getting the Packers defense to where it was just two seasons ago.
Ryan Taylor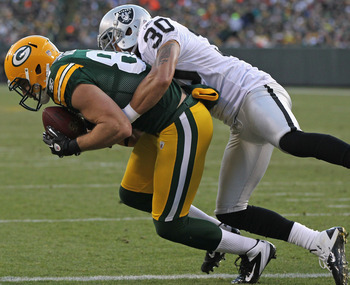 Ryan Taylor
Jonathan Daniel/Getty Images
Ryan Taylor arrived on the NFL scene when he caught a game-tying touchdown with just 35 seconds left in a preseason game against the Indianapolis Colts last season.
Taylor would go on to have a modest rookie year in the NFL with only one catch the entire year during the regular season.
He made his lone reception count, however—a touchdown against the Oakland Raiders in a Week 14 win that helped keep the Packers undefeated at the time.
Even though his statistics wouldn't suggest anything but a minimal impact, Taylor's role on offense grew as the season went along, being called upon as a blocker more frequently toward the end of 2011.
Taylor also finished fifth on the team with 10 special teams tackles.
He figures to continue to be a special teams regular in 2011, but as a player that can move well for carrying a 6'3" and 252-pound frame, Taylor's contributions to the offense should increase.
Lawrence Guy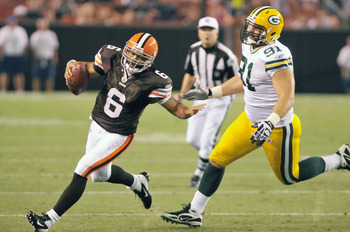 Lawrence Guy
Jason Miller/Getty Images
Lawrence Guy played in all of one preseason game for the Packers last season. That was before his season was shut down due to the effects of a concussion that placed him on the injured reserve.
Guy left a positive impression in his only game-time appearance last year by racking up four tackles in the first exhibition game against the Cleveland Browns.
And even though he wasn't able to get back on the field, Guy did benefit from an entire season of learning—he was able to attend team meetings even while on injured reserve.
Declaring for the NFL draft as an underclassman, Guy is inexperienced compared to other players on the team, so taking part in a classroom environment and seeing how veteran players go about their work should rub off on him.
Because the Packers signed three free-agent defensive linemen and selected two more during this year's draft, Guy has a lot of competition in order to win a job.
At the same time, Guy also benefits from the suspensions handed down from the NFL to fellow defensive linemen Anthony Hargrove and Mike Neal. All he has to do is get his foot in the door by any means necessary.
Given the opportunity to prove his worth during training camp, Guy will surprise.
Keep Reading

Green Bay Packers: Like this team?