MLB Trade Rumors: 25 Prospects the Phillies Could Consider Dealing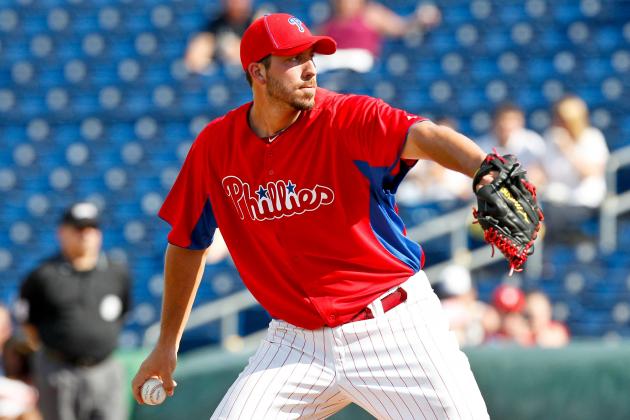 Derick E. Hingle-US PRESSWIRE

There is a chance that the Philadelphia Phillies will be buyers at the July 31 trade deadline, but it is a shadow of a chance—and that may be a little optimistic.
But hey, this is the United States of America, right? This country was built on hopes and dreams, so its national pastime should operate in the same manner.
Okay, enough with the mushy stuff. It's time to get serious. As things stand right now, the Phillies won't be doing any buying come the end of this month. But the club has remained adamant that if they can get on a roll with all of their big names healthy—and Roy Halladay's start on Tuesday was the final domino to fall—then maybe, just maybe, they could stave off selling.
Again, that isn't likely.
However, if the Phillies do become surprising buyers, they won't be in the mix for the game's top targets. They just don't have the payroll or prospects that some of those deals would require.
But this much is a guarantee: If the Phillies sell, they will deal from positions of depth in their farm system. That means that they'll move pitchers and outfielders with some authority if it comes down to it.
With that being said, the Phillies probably won't be moving any prospects this July, unless it is a move with an eye on the future as well (a la Chase Headley of the San Diego Padres.)
The following slideshow will attempt to identify some of the prospects the Phillies would be willing to move, along with a scale of just how willing they would be to move them, with one being the lowest and 10 the highest.
Begin Slideshow

»
Willingness: 1
There's no doubt that if the Phillies have any interest in acquiring a big-name player, teams are going to ask them about Trevor May.
The right-handed pitcher is the Phillies' top prospect and it isn't hard to understand why. He has an explosive fastball that sits comfortably in the mid 90s and has developed solid secondary offerings consisting of a curveball, a two-seam fastball and changeup.
The Phillies shouldn't be overly interested in moving May, however. Their system is very thin at the top levels and they won't be interested in moving a player who could realistically help them in the near future. That's the kind of prospect that May is.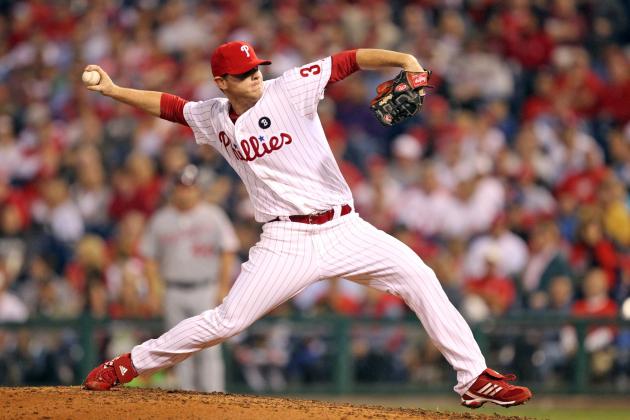 Hunter Martin/Getty Images

Willingness: 1
I don't think that the Phillies are going to show much of a willingness to move any player who is close to making an impact at the MLB level.
Among those prospects is Justin De Fratus, a right-handed reliever who would probably be pitching out of the Phillies' bullpen right now had he not injured himself prior to spring training.
De Fratus has the fastball and slider combination that a lot of good relievers have utilized in the past, and the Phillies certainly hope that he can develop into their next right-handed set-up man.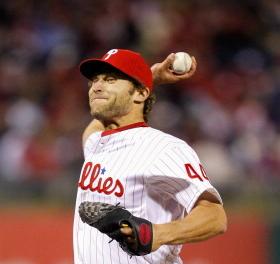 Brian Garfinkel/Getty Images

Willingness: 1
Michael Schwimer is another guy who should be a big part of the Phillies' bullpen for years to come.
He's currently on the MLB roster and that should tell you what the Phillies think of him. With that being said, it wouldn't surprise me in the least, given the current state of the market, to see teams ask about a reliever who can make an immediate impact.
Schwimer came through the Phillies' system as a highly touted reliever, but his control escaped him as he adjusted to the MLB. It seems like, with more repetitions, Schwimer has found a certain comfort level that should help him reach his potential.
Willingness: 2
The Phillies' starting rotation could look quite different in just a season after guys like Cole Hamels and Joe Blanton reach free agency. They'll explore a number of different options in an attempt to fill those slots, and one of those options could be an in-house candidate: Tyler Cloyd.
Cloyd has been absolutely dominant for the Lehigh Valley IronPigs this season. He's posted a record of 8-1 to go along with a 2.01 ERA, leading most to believe that he is ready for the MLB.
Teams would ask for him in a trade as a starting pitcher who could conceivably step right into the back of a rotation, but I expect the Phillies have similar plans for him. They'll hang on to Cloyd.
Willingness: 2
One prospect quietly moving up the ladder this season is Lisalverto Bonilla.
A right-handed pitcher with good "stuff," Bonilla has been absolutely electric since moving into the bullpen, leading the Phillies to believe that they've uncovered yet another reliever with a set-up man's ceiling.
Bonilla was invited to the Futures Game in Kansas City this season, but didn't pitch because of an injury. In 21 appearances with Double-A Reading, Bonilla has posted an ERA of 1.64.
He could be expendable because of some of the other high-ceiling bullpen arms in this system, but that's not the feeling I get. The Phillies like Bonilla a lot. They'll want to see what they can get out of him.
Willingness: 2
If the Phillies were to acquire a big-name player, the chances of being able to keep both Trevor May and Jesse Biddle would be slim.
But I have to imagine that if the Phillies were going to part with one of them, it would be Biddle. He has a similar upside to May (though being left-handed is certainly a plus), but the right-handed May is much closer to the MLB, which could be a deciding factor.
Of course, I don't think the Phillies will even come close to being buyers at the deadline, so neither Biddle nor May is going anywhere.
Willingness: 4
If you're looking for the most polarizing prospect in the Phillies' system, Julio Rodriguez is probably right at the top of the list, with some thinking that he has a shot at being a solid starter in an MLB rotation and others wondering whether he'll even reach the MLB.
The reason for that is a unique repertoire. Rodriguez has a fastball that is barely average, something that is a necessity for right-handed starters, and a big curveball that probably won't fool MLB hitters.
He'll need to work on better secondary pitches if he wants to stick in the MLB, so the Phillies may be a little more willing to sell high.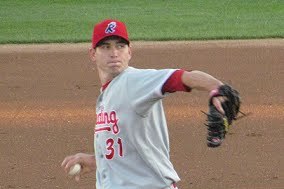 http://www.phoulballz.com/2012/02/hyatt-set-to-kick-off-2012-for-phils.html
Willingness: 5
Austin Hyatt could be an interesting "throw-in" in a trade this summer.
At 26 years old, he certainly won't be headlining any packages, but a guy like Hyatt has plenty of value to clubs. First, you have to like the repertoire. He has a good fastball, but an even better changeup.
His 2012 season has been a major concern, and given his repertoire, a move to the bullpen could be coming soon. But I wouldn't be surprised if a lot of teams believe that he could excel as a reliever, and in a hurry.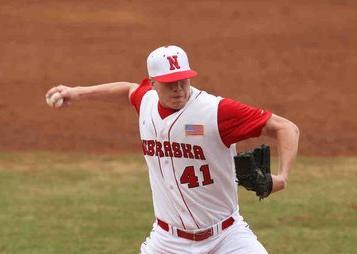 Photo Credit: University of Nebraska
Willingness: 6
Mike Nesseth may not be much of a household name, but I'm sure he's on more than a few front-office radars around the MLB. That kind of stuff tends to happen when people compare you to Roy Halladay.
The Phillies drafted Nesseth, a right-handed pitcher, a couple of seasons ago and he's quietly had a solid minor league career.
The former 17th-round selection was pitching very well with Single-A Lakewood this season before his promotion to High-A Clearwater. Though he's struggled some in his brief stint with Clearwater, Nesseth is the type of under-the-radar prospect who could interest teams.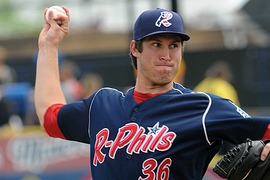 http://apterhours.wordpress.com/2012/07/12/phillies-prospect-report-9-jonathan-pettibone/
Willingness: 7
Jon Pettibone may not be the most exciting pitcher to have ever played the game, but he does something that a lot of potential shoppers like: He keeps his club in games.
A right-handed pitcher, Pettibone has made consistent strides through the Phillies' system, keeping the ball on the ground, hammering the strike zone, but perhaps most importantly, winning games. After winning 10 games for Clearwater in 2011, he's already collected seven wins with Reading in 2012.
He's never going to be the ace of a major league rotation, but Pettibone can be a quality third starter. He throws a lot of strikes, and as long as his command doesn't take a surprising turn for the worse, he should be a quality arm for years to come.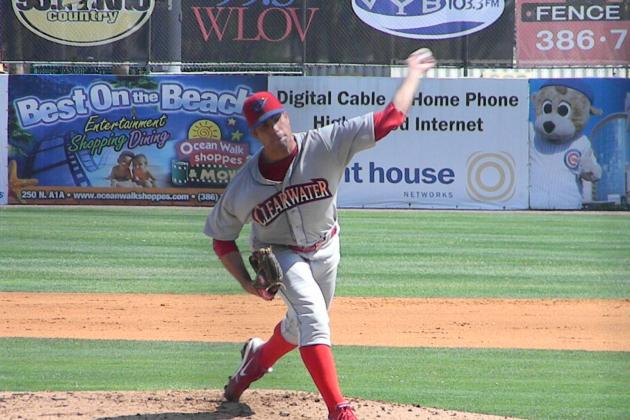 http://baseballbetsy.wordpress.com/tag/clearwater-threshers/
Willingness: 7
Big trades and promotions to the MLB have left the Phillies with a very thin farm system. There is definitely still talent down there, but any team that deals with the Phillies as a potential buyer would have to be willing to take a chance.
In that regard, a guy like Austin Wright comes to mind.
Drafted in 2011, Wright was billed as a left-handed pitcher who could move through the system relatively quickly, and that's been largely accurate. Wright has already pitched in three different levels of the Phillies' system: Low-A Williamsport, Single-A Lakewood and High-A Clearwater.
The kicker is that he's had success at each level.
Assuming that his walk rate in Clearwater is more of a fluke than anything, Wright has an average ceiling. At the very worst, he's a good reliever. At most, he can help out in the middle of a starting rotation as a guy with pretty good control who throws quality strikes.
He has some upside, but it's a gamble. Would teams be willing to chance it?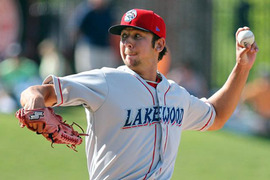 (Brian Bissell/Future Star Photos)
Willingness: 7
Ethan Stewart has to be quite the presence on the mound.
He doesn't have a "power" arsenal, but we're talking about a guy that is 6-foot-5 and left-handed. If you're looking for a comparison in terms of frame, Cole Hamels has to come to mind—and Stewart is two inches taller and is 10 pounds heavier.
Stewart is the type of pitcher who just keeps getting better, and that's the kind of thing that tends to happen when one of your best tools is great mechanics.
The left-handed starter's fastball sits comfortably in the low 90s, while both his changeup and curveball could become plus pitches.
That's the kind of guy that teams like to take a chance on, but also the type of project that I feel as though the Phillies would be willing to part with. They certainly wouldn't hold up a deal for a guy they wanted by refusing to include Stewart.
With that being said, this is a guy to keep an eye on.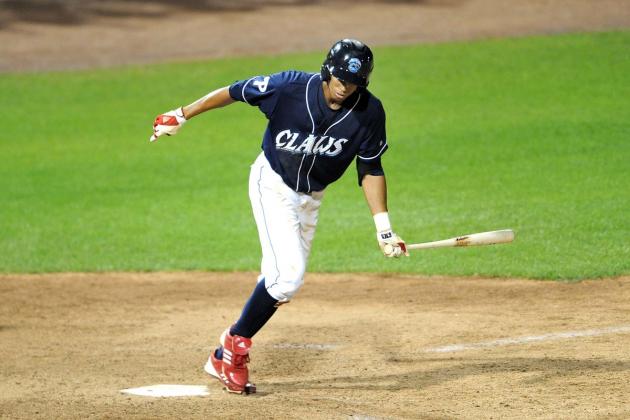 Photo by: Dave Schofield, Lakewood BlueClaws
Willingness: 7
Aaron Altherr finally seems to have figured something out this season in Single-A Lakewood. Now you have to wonder whether that puts him on the road to becoming the top prospect the Phillies had envisioned or trade bait.
When you look at the Phillies' situation, they're not the team that's going to hang on to project prospects that don't have incredibly high ceilings.
If they were to call teams about a trade, Altherr is the type of guy who they would dangle. But more importantly, he's the type of raw talent that teams with good farm systems would love to have.
Altherr has the tools. A team with the time to wait for him to develop could reap the benefits. The Phillies shouldn't be in a hurry to move him, but he's the type of trade chip who would have a minimal impact on the future of the club.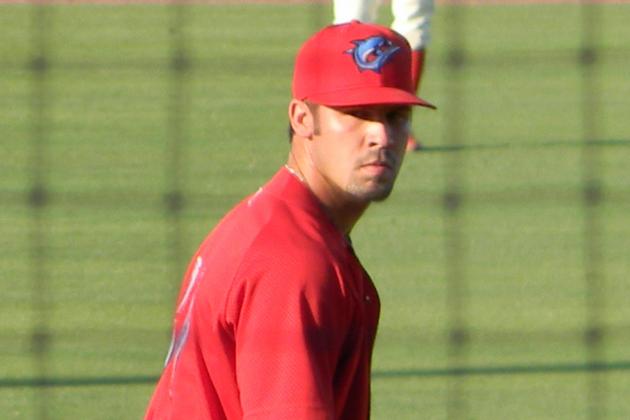 http://baseballbetsy.wordpress.com/tag/adam-morgan/
Willingness: 8
Adam Morgan is a prospect that is easy to like for a couple of reasons. First, all he has done since becoming a professional baseball player is throw the ball incredibly well. He also has has a very projectable MLB arm.
A left-handed starter, Morgan wasn't overly impressive in college, but something clicked for him after he turned pro. He dominated with Low-A Williamsport last season and has pitched well with High-A Clearwater in 2012.
Morgan has thrown up big strikeout numbers and showed impressive control. If the Phillies were going to make a move, he's the type of pitcher who they could showcase. They have left-handed pitchers to spare. Morgan could be an interesting piece for an acquiring team.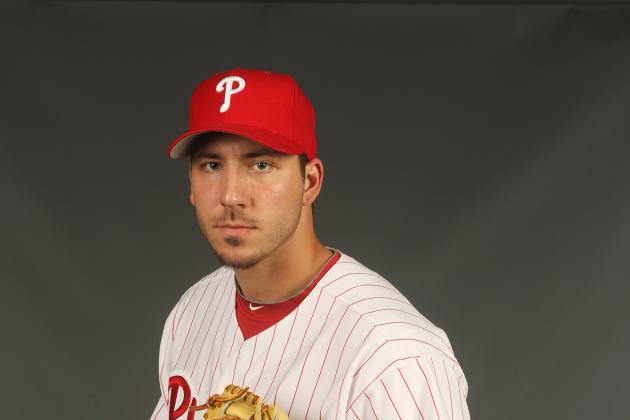 Nick Laham/Getty Images

Willingness: 8
When you look around the league, one area of a club that teams tend to try to fill on the cheap is the bullpen. That's not much of a surprise. These are guys who throw a maximum of 70 innings a season—and that's a maximum for the good ones.
Given the state of this year's trade market, you can bet that teams will be looking for a creative way to solve their bullpen issues. The Phillies have right-handed pitching to spare, and Phillippe Aumont could be the guy to go.
Aumont has struggled this season with his command—an issue that's bothered him his entire career. However, a lot of people seem willing to chalk that up to an early-season back issue that forced him to the disabled list.
The strikeout numbers are as good as ever and he's allowed just 23 hits in 29 innings.
As things stand right now, the Phillies plan to have Aumont in their own bullpen in the near future. But if they're comfortable with the future of the bullpen consisting of guys like Jonathan Papelbon, Antonio Bastardo, Justin De Fratus, Mike Schwimer and Jake Diekman, Aumont is the kind of guy who could become expendable.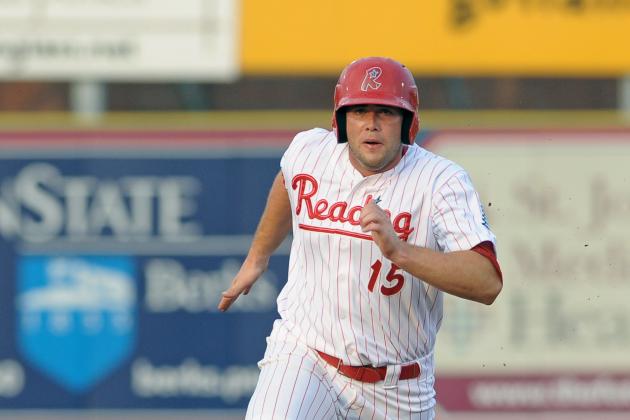 Eric Hartline-US PRESSWIRE

Willingness: 8
All Darin Ruf has done is hit. Seriously. That's not even an exaggeration.
Since being drafted by the Phillies in the 20th round of the 2009 draft, the guy has posted an OPS of beneath .800 in just two different stints—a .795 OPS in a 20-game stint with the Phillies' Gulf Coast League team in 2009 and a .756 OPS in a 97-game stint in High-A Clearwater in 2010.
He's also hit a total of 44 home runs in his minor league career.
With Ryan Howard firmly entrenched at first base and young first-base prospects like Chris Serritella and Cameron Perkins on the way, Ruf is certainly a guy who is expendable.
Of course, he's also 25 years old.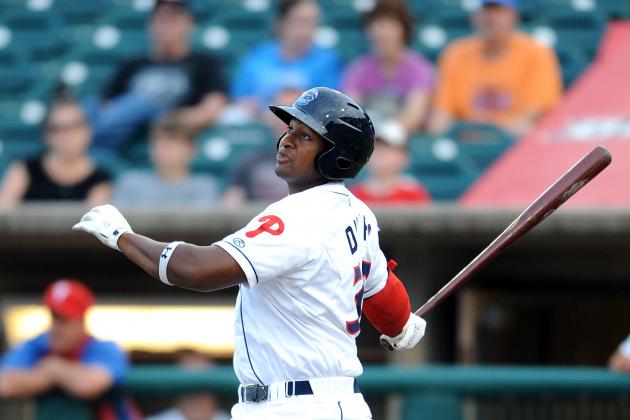 http://blogs.app.com/blueclaws/
Willingness: 8
If you're looking for an opportunity to sell high on a prospect, look no further than first baseman Chris Duffy.
After faring well in the Phillies' rookie leagues, the Phillies thought enough of him to send him to High-A Clearwater, but he struggled big time, forcing them to demote him to Single-A Lakewood, where he has since gone on an absolute tear.
I'm not even sure "gone on a tear" accurately describes his 2012 stint with Lakewood. Duffy has posted an OPS of 1.094 and slugged eight home runs in just 48 games.
The biggest deterrent is obviously his age. Duffy is already 24 years old and still playing in Single-A. Teams often do some crazy things to find legitimate power, and Duffy has legitimate power.
Of course, in Philly, he's blocked by Ryan Howard and not getting any younger.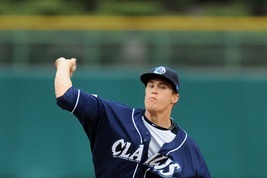 http://blogs.app.com/blueclaws/files/2012/04/Giles_Ken_3275.jpg
Willingness: 9
Kenny Giles is the type of prospect who leaves scouts wondering whether he's made legitimate progress since turning pro or is just overachieving. To be perfectly honest, I'm not sure which of the two he's doing either.
Giles pitched in three games professionally after signing in 2011, all of which came with the Phillies' rookie team in the Gulf Coast League. However, the Phillies thought that he was advanced enough to bypass Low-A Williamsport and join Single-A Lakewood.
While he's started a few games, the majority of Giles' appearances have come in relief. That's not a surprise. He's a power pitcher whose fastball is a legitimate weapon. He's also developing several secondary pitches, but doesn't have a feel for a changeup.
The most appealing thing about Giles? The strikeouts. He's currently managing 10.9 K/9 in Lakewood. The least appealing? The walks. He's walking 6.6 batters per nine innings.
But Giles is the kind of arm that teams love to take a chance on. I don't see the Phillies being overly interested in retaining him if a team asks for him in a trade.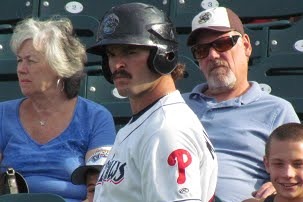 http://www.phoulballz.com/2011/12/off-season-check-in-jim-murphy.html
Willingness: 10
If you're looking for an interesting throw-in in any possible deal, look no further than Phillies' first baseman Burt Reynolds. Er, I mean Jim Murphy.
Murphy is the kind of fringe prospect that teams don't often ask about in trades. He's 26 years old and playing his third season in Clearwater since 2008, so you know that the Phillies would love to move him.
He's really not even a fringe prospect.
But you have to imagine that there are a few teams out there who believe he is ready to take the next step. Murphy is posting an OPS of .835 with Clearwater this season and has already hit 11 home runs.
He doesn't have much trade value, if any at all, but I could imagine a situation where teams want to take a chance on his bat. He has good power, so it's a potential no-risk, high-reward situation.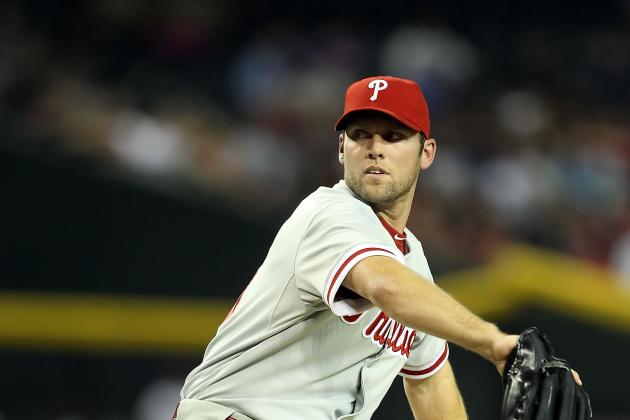 Christian Petersen/Getty Images

Willingness: 10
I'm cheating a bit here. I know that Joe Savery really isn't much of a prospect anymore after pitching with the Phillies for parts of the last two seasons. There's also the fact that he's now 26 years old and pitching in a last resort role of left-handed specialist.
But I keep coming back to the weak trade market for relievers.
When you look at that market, not many names jump off the page, and the ones that do—Huston Street, Jonathan Broxton, Rafael Betancourt—won't come cheap. The market for left-handed relievers is even thinner.
That's where a guy like Savery comes in. Believe it or not, he's pitched incredibly well against left-handed hitters this season. They're hitting just .265 / .270 / .412 against him. He's struck out seven lefties and walked none.
Right-handed hitters, on the other hand, are absolutely destroying him.
So if you're a contending team that's looking to add a weapon to your bullpen as part of a larger deal, I think that Savery could be an interesting option. Look at what the St. Louis Cardinals did last season when they acquired Marc Rzepczynski as part of the Colby Rasmus trade.
If he had a manager that could use him effectively, Savery could be somewhat of a secret weapon against lefties.
Somewhere out there, Tony La Russa knows exactly what I'm talking about.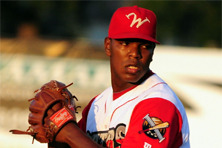 http://blog.blueclaws.com/2012/app-on-potential-blueclaw-perci-garner/
Willingness: 10
It may be a little too soon to call Perci Garner a "bust," but I have to admit, the words nearly rolled right off of my tongue.
The Phillies drafted Garner in the second round of the 2010 draft and he's pitched a total of 128.1 innings in their system since.
A two-sport athlete at Ball State who was about as raw a pitcher as they come when the Phillies selected him, Garner has struggled with injuries since turning pro and hasn't been able to put it all together.
But any team that asks about him in a trade would be interested in the same thing that led the Phillies to draft him in the second round—the potential.
Garner, a right-handed pitcher with a good, live fastball, certainly has the ceiling of a top-of-the-rotation pitcher. You won't hear many people suggest that now because of his history, but if he can put it all together, look out.
The clock is ticking, however. Garner is already 23 years old and struggling at High-A Clearwater.
Willingness: 10
You have to imagine that the Phillies' patience with right-handed pitcher Brody Colvin is beginning to run thin.
After showing up to spring training out of shape to kick off the 2011 season, Colvin had a disappointing campaign. He battled injuries and inconsistency and wound up having one of the worst seasons of his minor league career.
2012 was a different story, and yet in many ways, the same one. He showed up to camp ready to go but hasn't pitched well. The Phillies even moved him to the bullpen for a while in an attempt to get him back on track.
While other members of the "Baby Aces" like Trevor May and even Jarred Cosart, now in the Houston Astros' system, have moved out of High-A Clearwater, Colvin seems to have stalled there. Even Jesse Biddle has joined him in Clearwater, and at this rate, it won't be long before he passes the 21-year-old Colvin.
But that's also one of the things that Colvin still has going for him: His age. While his stall in High-A is concerning, there is still plenty of time for him to get on the right path. When you have a repertoire with upside like Colvin does, that's definitely a possibility.
However, if a team were willing to discuss a player and center a package around Colvin, I think the Phillies would listen. Maybe it's time for them to cut ties.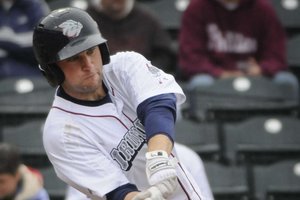 (RON TARVER / Staff…) (Philly.com)
Willingness: 10
Cody Overbeck certainly doesn't have a lot of trade value, but he can help more than a few teams in different ways.
A fringe prospect now in his fifth season in the Phillies' system, Overbeck has been one of the most consistent hitters at Triple-A Lehigh Valley this season under manager Ryne Sandberg, posting an OPS of .727 and slugging nine home runs.
A third baseman by trade, Overbeck has also played first base and left field in his minor league career and could prove to be a solid hitter against left-handed pitching at the MLB level.
Again, he won't be the focus of a potential deal, but could be a nice throw-in for a team looking to build a bench on the cheap.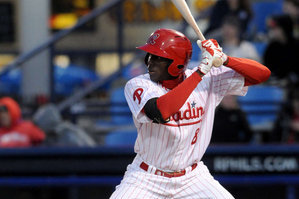 (RALPH TROUT / FOR…) (Philly.com)
Willingness: 10
Jiwan James has been incredibly frustrating at times for the Phillies.
Drafted as a pitcher out of high school, it wasn't long before the Phillies abandoned that project and moved him to the outfield to complement his skill set.
James is an excellent athlete. He has great speed, the instinct to play center field and a great glove. Realistically, he has all of the makings of a great center fielder at the next level. In many ways, he reminds observers of Michael Bourn when he was a Phillies' prospect.
No one is ever going to question whether he can play defense. But can he hit?
Of course, Bourn was a much better hitter than James during his minor league days and turned into an excellent center fielder for both the Houston Astros and Atlanta Braves. The Phillies hope that James has a similar ceiling.
But there's been no proof of that. He hasn't shown that he can hit enough to be an everyday player.
James is as much of a project as they come, and the Phillies may be better off trading him to a team that can afford the time it takes to develop such a project, provided that they're getting something good in return.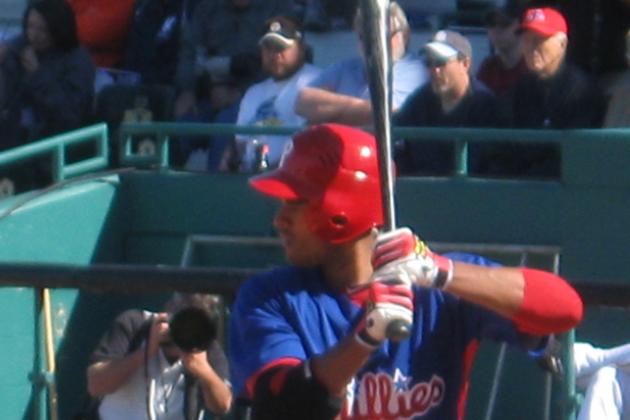 http://phuturephillies.com/profiles/hitters/of-gillies-tyson/
Willingness: 10
When the deal became official and the Phillies traded Cliff Lee to the Seattle Mariners prior to the 2010 season, it didn't take long for people to begin lambasting general manager Ruben Amaro Jr. over the deal, despite the fact that Roy Halladay was on his way to Philly.
The reason was simple: The package of prospects that Amaro got in exchange for Lee was questionable at best.
To illustrate, two of those players, Tyson Gillies and Phillippe Aumont, are on this list, and quite high. The third, J.C. Ramirez, didn't even warrant consideration.
Gillies has been arguably the most frustrating. The 23-year-old center fielder is a much better hitter than fellow center fielder Jiwan James, and arguably as good defensively. He has some of the best speed in the system and has shown the ability to hit for contact.
But he just can't stay healthy.
The 2012 season has been a major step in the right direction for Gillies, playing in Double-A Reading, but I have to be honest—if I were a member of the Phillies' front office, I wouldn't be overly upset if a team absolutely had to have Gillies in a deal.