New York Knicks 2012: New York Fans Should Abandon Team If Jeremy Lin Is Snubbed
Chris Chambers/Getty Images
James Dolan and the New York Knicks will let Jeremy Lin walk and replace him with a not-so-terrifying tandem of Raymond Felton and Jason Kidd.
According to Stephen A. Smith, the Knicks were most interest in matching the Houston Rockets offer for Lin when the deal was still three years, to be spread out for $5 million for the first two years and $9 million for the third. When Houston opted to make their price $14.9 million for the final year, the Knicks allegedly had to bow to avoid breaking the salary cap and paying the $1.75 per extra $1.00 penalty enacted from the recent NBA lockout. That would make the Lin deal worth one upwards of $30 million.
Upon coming to this realization, the Knicks completed a sign-and-trade that brought Raymond Felton back to the organization. Rumors are that the contract will be worth either $10 million over three years or $18 million over four years.
Felton will still be approximately $20 million cheaper than Lin.
With the extra money that they potentially saved by abandoning Lin, New York also signed veteran PG Jason Kidd to a contract estimated to be worth around $9.3 million over three years.
Last night, Jason Kidd was arrested for drunkenly crashing his car into a pole near Southampton Village. This is certainly not a terrific start for Kidd in New York, who has previously been arrested for charges of domestic violence.
Ignoring the personal issues, even a quick walk through the numbers says this hardly even makes sense from a basketball perspective. After all, Lin managed to score 14.6 PPG and 6.2 APG last season. Compare that with Raymond Felton, who managed 11.4 PPG and 6.5 APG and Jason Kidd who put up 6.2 PPG and 5.5 APG.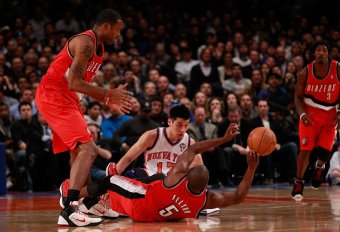 Chris Trotman/Getty Images
I'm sorry, but am I missing something?
To quote the movie Looking For Eric (2009), "God once said, 'You can change your wife, change your politics, change your religion. But never, never can you change your favourite football team!'"
Perhaps this is true. But at this point in time for the fans of the New York Knicks, it may be time to consider leaving their favorite basketball team. From the perspective of an objective basketball fan, this is all beginning to hurt to watch. I'm not entirely sure what James Dolan is doing to this once-thriving basketball franchise right now, but his unwillingness to dish out the extra cash is beginning to confuse me...and the rest of the basketball universe.
"They will match any offer on Lin up to 1 billion dollars," a source told ESPN before James Dolan seemed to have decided that the extra few million would be too much for his team, perhaps explaining why he sought out former Knicks point guard Raymond Felton.
"He was very surprised," another source close to Lin explained. "He felt the whole time that the Knicks would just match the offer."
But this time, even Lin should be growing concerned.
Because things are just getting ridiculous enough in New York for me to consider retiring my NYK snapback that I so thoroughly enjoyed sporting during the Jeremy Lin reign in Manhattan.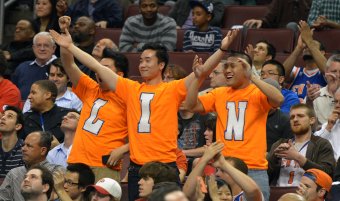 Drew Hallowell/Getty Images
My dorm room door was also decorated with only one piece of added beautification: the Sports Illustrated feature cover of Jeremy Lin from the height of his ascension into greatness. Having been the first one to pick him up in our fantasy basketball league, I was also the proud "Biggest Jeremy Lin Fan" on my floor. Of course, I was not the only one to fall for Linsanity.
From his first start on Feb. 4th until only one week into the heart of Linsanity, stock in Madison Square Garden went up $29.32 to $31.15 (a 6 percent increase, adding $139 million to the team's value). In that same time, Knicks television ratings went up 66 percent. The Knicks website saw a 550 percent increase in hits, the 4.7 million extra views the highest week-to-week increase for the team, and the Knicks were Googled at a 650 percent higher rate than their previous week. Ticket prices went up 27 percent from an average of $407 to $517 at Madison Square Garden. He has accumulated 826,000 followers on Twitter and 1.8 million subscribers on Facebook.
With all of this in mind, Forbes writer Mike Ozanian estimated that Lin was worth $14 million to his brand in February.
Patrick Rishe, another sports economist from Forbes, made assertions even bolder. These included predictions such as: $10-$20 million increase in revenue, $25-$50 million increase in revenue in the 2012-13 season, and $40-$80 million to the NBA by next season.
What's the most that you would pay for Jeremy Lin in one season?
To justify this, Rishe explains that the four major sources of revenue for a sports team include: ticket revenue, media revenue, facility revenue, and ancillary revenue and as we've read previously in this article, it's reasonable to believe that Lin helps the Knicks in every single one of these regards.
But don't take my word for it. Ask some of the most important opinions around the league.
"Lin is the real deal," explained Knicks legend Bernard King. "He's the true point guard the Knicks haven't had in years. He's the guy the Knicks have needed all along."
"He does what needs to be done," said Walt Frazier. "He's just unflappable. It's amazing that a guy has no experience, coming into the NBA been cut by 3 or 4 teams that he can find his niche seemingly overnight, and now he's rejuvenated this franchise."
"He's scored a lot of points, has a lot of assists," added former New York star Earl Monroe. "But more so than anything else, he's given the team a real leader. That's the real thing that they had been lacking so far in this season."
And perhaps the most telling quote of all came from the President of the United States of America.
"His story transcends sports itself," proudly announced Barack Obama.
So maybe it wouldn't be the best idea to trade for Raymond Felton, eh? If the Knicks decide to let Jeremy Lin go, perhaps Bill Simmons is right. Perhaps these fans should be ethically allowed to leave the Knicks to root for a more exciting and emerging Brooklyn franchise.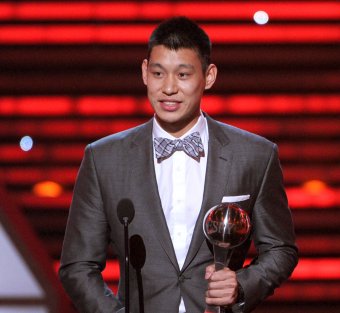 Kevin Winter/Getty Images
James Dolan has until 11:59 PM EST on Tuesday night to match the offer from Houston. The fateful decision will be met with a ginormous reaction from the fans, whether in New York celebrating or demoralized or in Houston, proudly welcoming back Lin to their organization.
The Knicks have already decided to let former teammate Landry Fields leave for the Toronto Raptors after failing to match this offer sheet. And in this case, the Lin deal is absurdly high and would cost the Knicks lots of money for an "unproven" player.
Am I encouraging you to abandon your favorite sports team?
Absolutely not. It's your team.
But if you wanted to, I think we'd certainly all understand. James Dolan is running this team into the ground, and is banking on Chris Paul to make it all worth while. News flash: CP3 is happy in Los Angeles and last time you tried to get CP3, you ended up with Raymond Felton.
It's your team and I could never tell you what to do with it. But for those on the edge of making their mind, I want to remind you something: no matter what anyone says, sports doesn't have the same cosmic gravity of life. You're allowed to not root for the Knicks if this is beginning to become too troublesome.
It's not an easy time to be a Knicks fan. Some of you may be happier without the headache.
Don't worry, though. For the Knicks fans hoping to stay with the team for this year, they can rejoice briefly. At the end of the day, at least James Dolan broke the bank on some other players this offseason.
Thirty-eight-year-old Marcus Camby and 39-year-old Kurt Thomas.
(Don't worry, New York. It's okay to cry.)
This article is
What is the duplicate article?
Why is this article offensive?
Where is this article plagiarized from?
Why is this article poorly edited?

New York Knicks: Like this team?