10 Philadelphia Phillies Who Will Have to Sweat out the 2012 Trade Deadline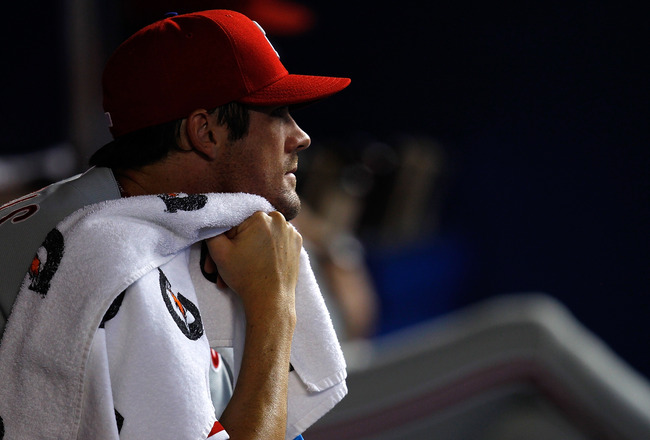 Sarah Glenn/Getty Images
Sitting at 13 games back in the National League East and 9.5 back in the Wild Card, it seems that the Phillies are in position to be sellers at the trade deadline.
The season has been filled with disappointment and injury; come August, we may be seeing a much different-looking Phillies team.
Players like Cole Hamels and Shane Victorino wouldn't necessarily be a surprise if they got dealt. The rumors have been circulating all year, and at this point it will be more surprising if they didn't get traded.
Other players—like Cliff Lee and Roy Halladay—could be dealt, but it isn't expected. The value is there, but would the Phillies get enough in return to part with these aces?
Here are 10 Philadelphia Phillies players who could be getting called into Charlie Manuel's office at the trade deadline.
Cole Hamels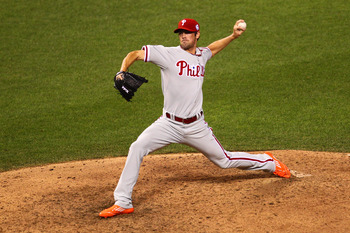 Dilip Vishwanat/Getty Images
Sweat Level: Drenched
The biggest name on the trade block is lefty Cole Hamels.
The rumors have been all over about whether Hamels will remain in Philadelphia or not, and there still doesn't seem to be a clear answer.
ESPN reported that the Phillies are preparing to offer Hamels a huge contract to keep him in the City of Brotherly Love, but the ace still may want to test his value in free agency.
If this is the case, expect Hamels to be dealt by the deadline.
The Texas Rangers are very interested in Hamels and have a farm system that would allow them to put together an offer good enough to convince the Phillies to trade him.
The problem with trading Hamels to Texas is that they would have the ability to sign him to a long-term contract after the season. Trading Hamels to a team like Pittsburgh would make more sense because the chances of the Pirates signing Hamels are slim, and the Phillies would be able to make an offer in the offseason.
Shane Victorino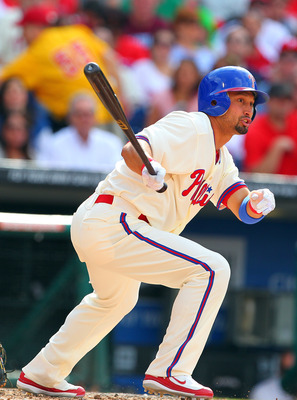 Rich Schultz/Getty Images
Sweat Level: Drenched
Shane Victorino is in the final year of his contract and has been the second-most-talked-about player on the Phillies trading block.
A player who was once a fan favorite has grown old on Phillies fans and they're just waiting for a trade to inevitably happen.
CBS Sports reported that the Los Angeles Dodgers and Cincinnati Reds are the front runners to get Victorino, with the Dodgers being more likely to put together a good package of young players.
The question regarding a trade of Victorino seems to be more "when?" then "if."
Placido Polanco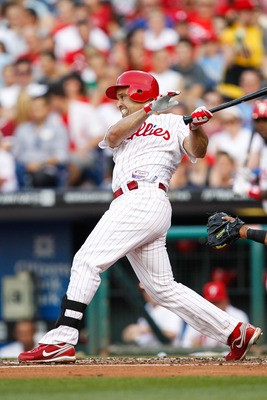 Brian Garfinkel/Getty Images
Sweat Level: Dripping
Placido Polanco has one more year left on his contract, but the Phillies may try to unload their 36-year-old third baseman by the trade deadline.
Teams have already contacted the Phillies regarding the availability of Polanco, including the Baltimore Orioles who are still fighting for a playoff spot.
If the Phillies get a good enough offer, Placido Polanco could be out of town.
Juan Pierre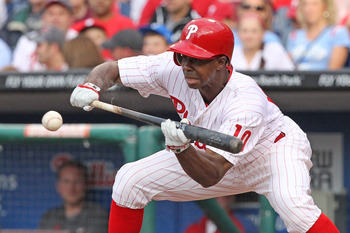 Hunter Martin/Getty Images
Sweat Level: Dripping
The Cincinnati Reds are reportedly very interested in 34-year-old outfielder Juan Pierre.
Cincinnati wants a reliable leadoff man, and Pierre fits that category perfectly. He is hitting .315 and has on on-base percentage of .352.
Adding Pierre would bring in a veteran leader who has been in pennant chases before to guide this young team to the World Series.
If Pierre doesn't go to Cincinnati, I don't expect him to go anywhere.
Cliff Lee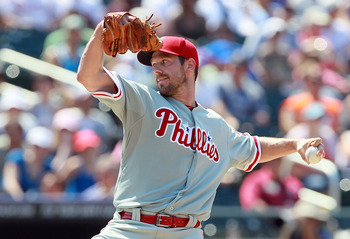 Jim McIsaac/Getty Images
Sweat Level: Forehead Sweat
Speculation has been that the Phillies would trade Cliff Lee in order to free up the payroll to sign Cole Hamels. Those rumors have been shot down by the team, but that doesn't mean he won't get traded.
Lee has had a rough year, but teams in the pennant chase like the Tigers, Yankees or Red Sox who could use another starter would definitely be interested in making a deal.
The question is, however, do the Phillies have the heart to trade the guy who took less money to join their team?
Hunter Pence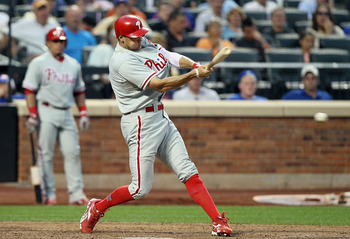 Jim McIsaac/Getty Images
Sweat Level: Forehead Sweat
The Phillies acquired Hunter Pence at last season's trade deadline, so could he already be out of town just one year later?
An outfielder of Pence's caliber would no doubt generate a lot of interest on the market, but the Phillies don't have anyone good enough to replace Pence in right field, so a trade is somewhat unlikely.
When comparing Victorino and Pence, Pence would likely bring back more talent for the Phillies, but he also has more talent to offer the team if he stays.
Joe Blanton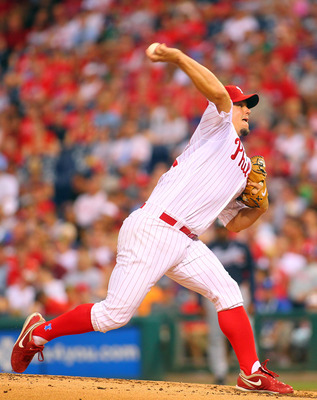 Rich Schultz/Getty Images
Sweat Level: Blanton's Post-Warmup Sweat
Joe Blanton obviously isn't the same caliber as Hamels or Lee, but he could be a valuable addition at the bottom of the rotation for teams in the pennant chase.
Blanton is 8-8 with a 4.79 ERA and 102 strikeouts this year. He's shown signs of brilliance scattered between poor outings.
Baltimore has shown interest in Blanton as have the division rival Mets.
Blanton is in the final year of his contract, so either way he is unlikely to be in Philadelphia next season.
Roy Halladay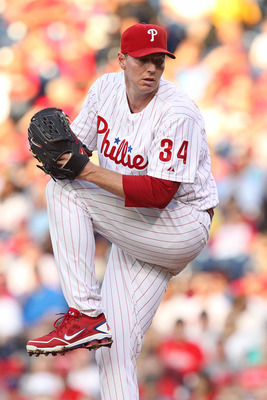 Hunter Martin/Getty Images
Sweat Level: First Beads Forming
Roy Halladay just returned from the disabled list and could potentially be auditioning for a trade.
Halladay is owed $20 million next year, and dealing him would free up space for the team to sign Cole Hamels.
Despite Halladay's age, the righty would draw a lot of attention on the market for the same reason that Cliff Lee would; teams need pitching.
Detroit, Boston and New York would be great fits for Halladay, as would Pittsburgh if it's willing to part with some young talent in order to make a playoff run.
Jimmy Rollins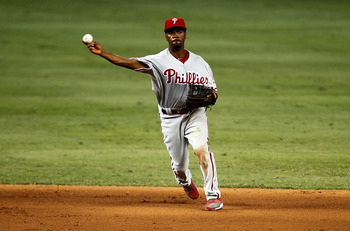 Sarah Glenn/Getty Images
Sweat Level: First Beads Forming
Jimmy Rollins is owed $27 million over the next three years and is the face of the Phillies franchise, but he could be on the move.
Rollins has full no-trade rights, but would the 33-year-old shortstop waive those rights to return to his native bay area?
The San Francisco Giants could use a good hitting shortstop to help them reach the postseason, as could the Dodgers, and Rollins would probably be willing to head to California for a chance to win another World Series ring.
Ty Wigginton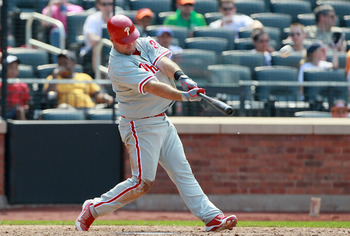 Jim McIsaac/Getty Images
Sweat Level: First Beads Forming
Ty Wigginton isn't a player who will bring back a whole lot of talent if he's dealt, but if teams are looking for a righty with power to come off the bench, Wigginton would be a good target.
Wigginton has nine home runs and 35 RBI for the Phillies and would be better suited as a bench player, but he's been forced to be an everyday player with Ryan Howard's injury.
Teams like Cincinnati, Pittsburgh and San Francisco who are looking for a bat at the deadline could be interested in Wigginton.
Keep Reading

Philadelphia Phillies: Like this team?