5 NBA Trades That David Stern Should Have Vetoed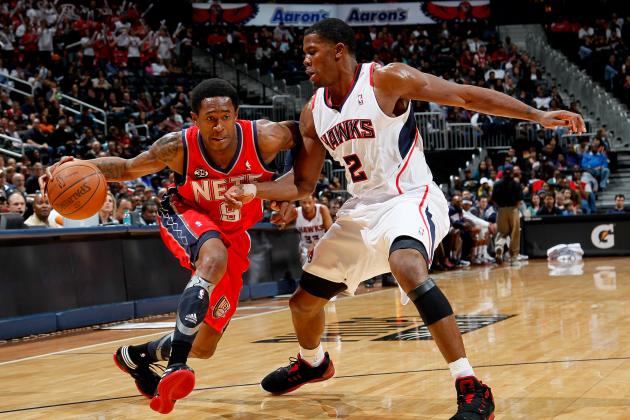 Kevin C. Cox/Getty Images

More times than not, trades in sports are done right.
One team will fulfill its specific need; the other party will do the same.
If not to fill a specific need on the court, teams will look to make trades in order to free up some cap space or to possibly gain a few draft picks.
At times, however, there are trades where it's so clearly unbalanced you would think the team that ended up with nothing was party to some kind of plan.
Take for instance the trade between the Memphis Grizzlies and the Los Angeles Lakers, in which the Lakers received Pau Gasol, yet all they had to give up was Kwame Brown, Javaris Crittenton, Marc Gasol and two draft picks.
We nearly encountered an even worse trade this summer.
A trade between the Brooklyn Nets and Orlando Magic appeared imminent; it would have resulted in the Magic giving up Howard in exchange for Brook Lopez, Kris Humphries, MarShon Brooks and a few draft picks in return.
Had the trade been completed, it would have provided the Nets with one of the league's top starting lineups and the Magic would be lucky to win 25 games next year.
Luckily for us, the trade didn't go through, and we can all maintain our sanity for the moment.
While we won't be speaking of Dwight, we will take a look at five trades that took place starting in the 2011 offseason that could have possibly been nullified due to "basketball reasons."
Begin Slideshow

»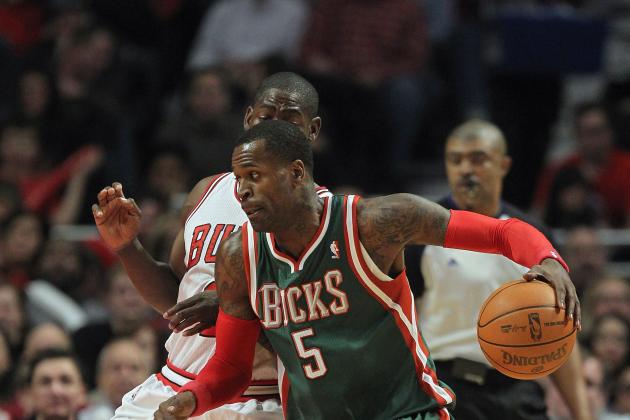 Jonathan Daniel/Getty Images

The Deal
Milwaukee receives Stephen Jackson, Shaun Livingston, Beno Udrih and the draft rights to Tobias Harris; Charlotte receives Corey Maggette and the draft rights to Bismack Biyombo; Sacramento receives John Salmons and the draft rights to Jimmer Fredette
When a three-team trade occurs, usually it results in multiple players on the move and each team receiving a solid player or two.
This deal involving the Milwaukee Bucks, Charlotte Bobcats and Sacramento Kings occurred in June 2011, only a few weeks before the lockout began. No superstars were involved, but a few high draft picks were swapped and two borderline stars in Stephen Jackson and Corey Maggette switched teams.
The Bucks wound up giving up John Salmons and Jimmer Fredette and would receive Jackson, two seldom-used role players in Livingston and Udrih, and Tobias Harris, a rookie who couldn't garner significant playing time.
Salmons and Fredette didn't amount to anything significant in their first year with the Sacramento Kings, but it was the Milwaukee Bucks that came out as the biggest losers of this trade.
Stephen Jackson immediately got on the Bucks' bad side and refused to attend an extremely necessary training camp once the lockout ended. Unsurprisingly, he struggled once the season began and ended up shooting 36 percent in 26 games before being involved in the deal that sent Andrew Bogut to Golden State for Monta Ellis, Ekpe Udoh and Kwame Brown.
Livingston would later be involved in a trade that brought in Samuel Dalembert, while Udrih and Harris were relegated to the end of the bench.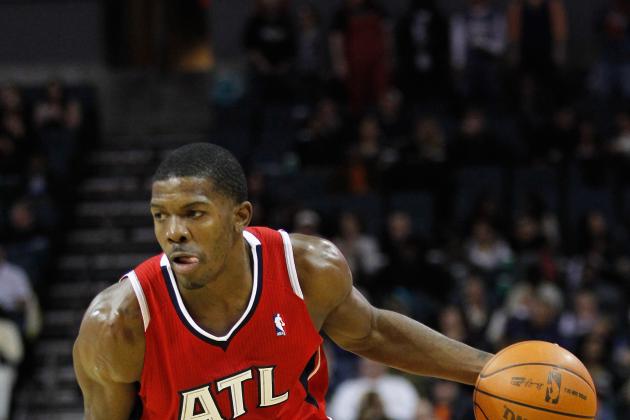 Streeter Lecka/Getty Images

The Deal
Brooklyn Nets receive Joe Johnson; Atlanta Hawks receive Jordan Farmar, Anthony Morrow, Johan Petro, DeShawn Stevenson, Jordan Williams, and two draft picks
What might go down as the blockbuster trade of the offseason, the Brooklyn Nets managed to make themselves appear relevant after trading for former Atlanta Hawks All-Star Joe Johnson.
The 31-year-old Johnson has been in All-Star six consecutive seasons since joining the Hawks in 2006. He's one of the league's most lethal shooters and has averaged as much as 25 points per game.
He recovered from a slow 2010-11 campaign, during which he only shot 30 percent from beyond the arc. He improved that mark to 39 percent this past season.
On the other end of the deal, the Hawks received a few role players and a few others who won't end up seeing a great deal of minutes next year.
Anthony Morrow was the best player the Hawks got out of the deal and he's coming off a season in which he averaged 12 points, shot 41 percent from the field and had a career low of 37 percent from beyond the arc.
Morrow is just as pure a perimeter shooter as Johnson, but he doesn't have near the intangibles Johnson possesses.
Johan Petro should play some minutes due to the Hawks' lack of depth at the 5, but DeShawn Stevenson and Jordan Williams will most likely see spot minutes off the bench.
The problem I have with this deal is how the Hawks—despite giving up their star player—were unable to even secure MarShon Brooks, a second-year player who had an impressive rookie season with the Nets.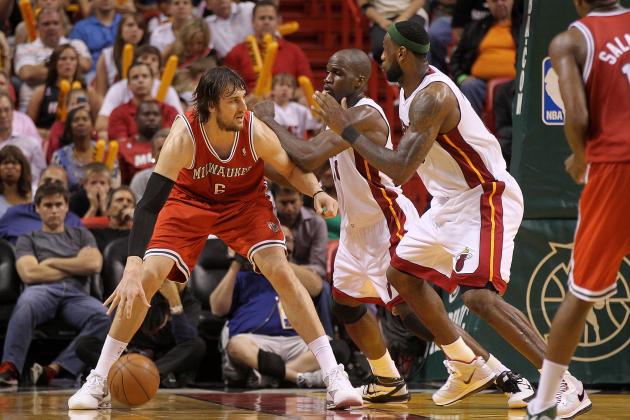 Mike Ehrmann/Getty Images

The Deal
Milwaukee Bucks receive Monta Ellis, Ekpe Udoh and Kwame Brown; the Golden State Warriors receive Stephen Jackson and Andrew Bogut
It's tough to describe Andrew Bogut as an oft-injured center, despite him playing in only 12 games last year and in 36 games in 2008-09.
In fact, he missed the majority of that 2008-09 season due to a dislocated elbow and broken right hand following a dunk that ended wrong. This year's past injury was due to an ankle issue.
When healthy, he's one of the league's top centers on both sides of the ball.
At 7'0", 245 pounds Bogut is able to assert himself in the post with ease. He has a solid offensive game around the basket and is one of the league's top defensive centers. He averaged at least two blocks per game for three consecutive seasons, including leading the league when he averaged 2.6 per in 2011.
All of that aside, the Golden State Warriors didn't make a great deal by acquiring Bogut. While they also ended up with Stephen Jackson, he was quickly traded to the San Antonio Spurs and the Warriors would receive Richard Jefferson in return.
On the other end, the Bucks receive Monta Ellis, 26, one of the league's top pure scorers, as well as one of the league's top up-and-coming defenders in Ekpe Udoh and Kwame Brown who, was recently signed by the Philadelphia 76ers as a free agent.
The Bucks replace Bogut's spot with Samuel Dalembert. The Warriors will look forward to Klay Thompson as Ellis' replacement.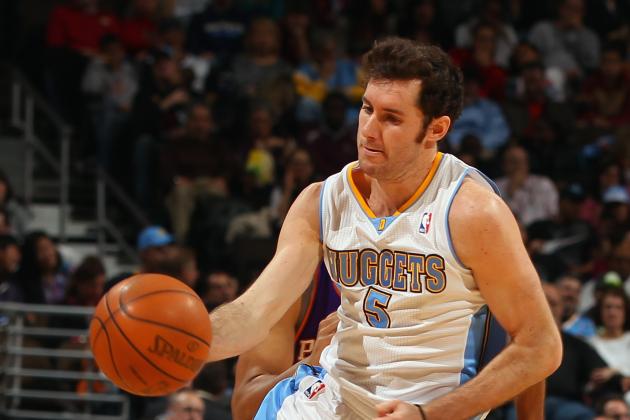 Doug Pensinger/Getty Images

The Deal
Denver Nuggets receive Rudy Fernandez and Corey Brewer; Dallas Mavericks receive future second-round pick
The Dallas Mavericks really weren't trying to hide the fact that they were planning for the 2012 offseason.
When you give up two quality bench players for a second-round pick, there's an obvious motive to it. The motive being the idea of picking up either Deron Williams or Dwight Howard—possibly both—and forming a far more powerful Mavericks team.
Dirk Nowitzki playing alongside either of those players would result in deep postseason runs for Dallas.
However, the Mavericks already had a winning formula, as evidenced by claiming the NBA championship a few months prior. Instead of keeping intact that championship core, they ended up making deals like this and allowing vital free agents such as Tyson Chandler, J.J. Barea and Caron Butler to walk.
This deal involving Rudy Fernandez and Corey Brewer was a painfully obvious attempt at clearing up the cap space needed to sign the Mavericks' intended targets for the 2012 summer.
As bad as the deal looked then, it looks even worse now that Deron Williams signed with Brooklyn and Dwight Howard is either getting traded or playing another year in Orlando.
Meanwhile, Brewer had a solid year, starting 17 games, while Fernandez would be limited to only 31 games—but still averaged 8.6 points and 2.4 assists per game off the bench.
Brewer will remain with the Nuggets; Fernandez recently inked a deal to play overseas.
Either way, the Nuggets still come away on the better side of the deal.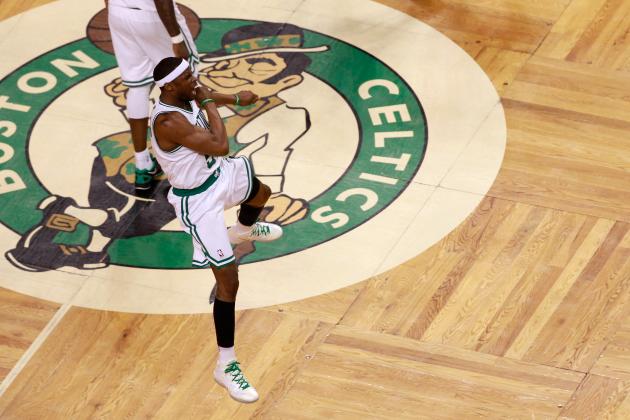 Jared Wickerham/Getty Images

The Deal
Boston Celtics receive Keyon Dooling and a conditional 2012 second-round pick; the Milwaukee Bucks receive draft rights to Albert Miralles
We're not exactly sure what the Milwaukee Bucks were thinking, either.
Sure, Keyon Dooling had a tough shooting season—40 percent from the field and 35 percent from beyond the arc—in his lone season with the team, but was he truly worth giving up for the draft rights to Albert Miralles?
Dooling's shooting struggles continued in Boston, but he played a solid role as a defender at the 1 or 2.
Meanwhile Miralles didn't play a game for the Bucks.
In fact, he hasn't played a game in the NBA since being drafted by the Toronto Raptors in 2004. Since then, his rights have been traded from Toronto to Miami to Boston—and finally to Milwaukee, where he will ultimately end up doing nothing with the team.
Giving up Dooling is one thing, but why throw in a second-round pick?