NHL Free Agency 2012: New York Rangers Need to Close 1 of These 3 Deals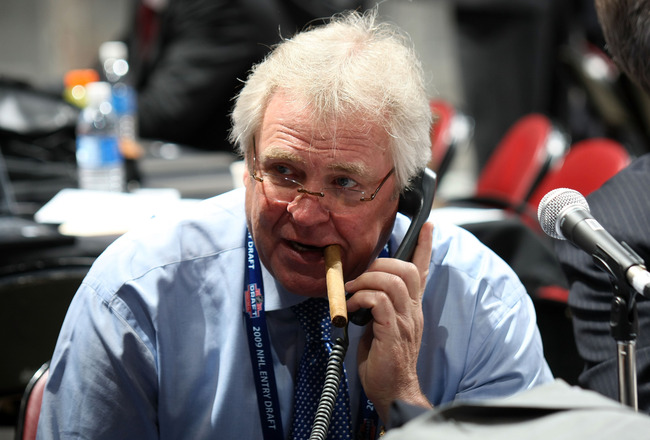 New York Rangers GM Glen Sather
Bruce Bennett/Getty Images
So far in 2012 NHL free agency, the New York Rangers have seen third and fourth-line players come and go. While the Rangers have lost players like Ruslan Fedotenko and Brandon Prust, they have also acquired similar gritty players like Arron Asham and Michael Haley.
However, the Rangers, who had an impressive playoff run to the Eastern Conference Finals, are not going to get that extra push they need next season by swapping third and fourth-liners. The Rangers need to make a drastic change before next season if they want to see the cup in 2013.
Rumors about trades and signings that have been swarming around New York have put a lot of pressure on New York Rangers GM Glen Sather from fans—all of whom have a different opinion of what transactions should be made.
But everyone can agree that a change needs to be made.
Sather and the Rangers need to pull the trigger on one of these three deals before the 2013 season.
The Safe Deal: Shane Doan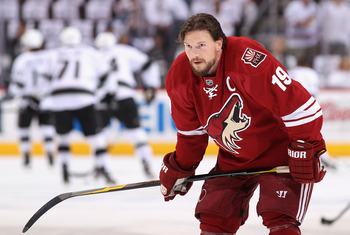 Christian Petersen/Getty Images
Shane Doan's agent Terry Bross made it known that the Phoenix Coyotes captain is interested in negotiating with Eastern Conference teams including "the one in Manhattan."
Doan has made it known that he is losing patience waiting for the ownership dilemma with his current team in Phoenix to be resolved.
I would say if we don't have an answer by the 16th (of July) it may be time to get serious about listening to other teams' offers, said Doan's agent, Terry Bross (via the New York Post). If it's going to turn into legal wrangling, then I would say it might be time to move on.
A petition was supposed to be filed by July 9th, but an agreement has yet to be reached between former San Jose Sharks CEO Greg Jamison and the residents of Glendale, Arizona, who are challenging the purchase.
The precarious nature of this deal could mean good things for the Rangers.
Unlike the rumored talks involving Nash and Weber, signing Doan would not cost the Rangers any of their players—just cap space.
Doan would give the Rangers some much needed offensive depth. Doan is a hard-hitting forward, a sharp penalty killer and a leader who would make a great mentor for the Rangers' young players.
Doan might have only had a slightly above average season in 2012 (22 G, 28 A, 50 PTS), but his value extends far beyond point totals.
The "I-Deal": Rick Nash
Ronald Martinez/Getty Images
Columbus Blue Jackets GM Scott Howson wants to rebuild his last-place team just as badly as franchise-star Rick Nash wants to leave it.
"He obviously wants a change," said Howson (via ESPN), who said he was so surprised when Nash asked to be traded in January that it took time for him to process the request.
The Rangers have been working on a trade with Howson and the Blue Jackets for Nash but have been unable to come to terms. A player of Nash's caliber is not going to go easily—especially after being shorted in the Jeff Carter deal—and the Rangers are reluctant to give up too much of their rising young talent.
If Howson and the Rangers can come to an agreement, Nash would complete New York's offensive trifecta alongside Marian Gaborik and Brad Richards. All worries about the Rangers scoring ability would dissipate as Nash manages to score 30 goals despite being on the last placed Blue Jackets.
It could be wise for the Rangers to dish out players like Derek Stepan, Brandon Dubinsky, Tim Erixon and Michael Del Zotto. While some of the aforementioned Rangers have become promising core players, it could be worth it to pick up an explosive and consistent forward like Nash.
But with Howson afraid to make a move on thin ice and the Rangers afraid of giving up the next Brian Leetch or Adam Graves, a compromise seems unlikely to happen anytime soon.
The New Deal: Shea Weber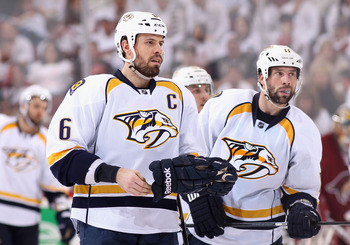 Christian Petersen/Getty Images
The biggest news of the 2012 free agency was undoubtedly Zach Parise and Ryan Suter's long-term commitment to the Minnesota Wild.
Many have speculated that Suter's absence in Nashville will surely prompt star defenseman Shea Weber to jump ship when his contract with the Predators ends next year (via the Tennesean).
Normally, some of New York's young, promising talent would not be enough to extract a franchise player like Weber from the Predators. However, under these unforeseen circumstances, such a trade has become a real possibility for the Rangers.
The trade for Weber would look very similar to the trade for Nash—Stepan, Dubinsky, Erixon, Del Zotto and a few draft picks would most likely be involved.
Weber was just short of a very impressive 50-point total last season (19 G, 30 A, 49 PTS)—one less point than Shane Doan.
The Rangers would be smart to do what they can to close a deal for Weber. Weber is already the player that a team hopes their young guys will grow to be. Weber would also be a great mentor for the Rangers' young defensive squad.
Ultimately, a player like Weber would solidify the Rangers' defense as the most impenetrable in the league.
Keep Reading

New York Rangers: Like this team?