Let's face it…MLB's Home Run Derby needs a facelift.
The event has turned into an opportunity to rip ESPN's Chris Berman, watch countless pitches fouled off and boo a player who overlooked a hometown guy.
The pace of the event has progressively gotten slower and the outrage against it has become too loud to ignore.
But that's okay because with only a few minor adjustments, the interest in the event will be back in no time. Here are a few suggestions to rekindle the flame in the most infamous contest this side of the Slam Dunk competition.
Use a Metal Bat
Using Metal Bats in the Home Run Derby Would...
Dangerous for the pitcher? Yep. Against the protocol of the MLB? Oh yeah.
Destined to create more home runs and buzz around the event? YES!
Hearing the ping of the bat would add an extra luster to the festivities, and the fans would be treated to far more homers. How many 500-foot shots could Prince Fielder launch with a TPX aluminum bat?
I'd love to find out.
Add a Pitching Machine
Jose Bautista seemed to take about five pitches for every swing Monday night. This is the last thing fans want to see.
Speed up the game with a machine that pitches, which would also work well if they decided to incorporate metal bats.
Add a Legend to Each League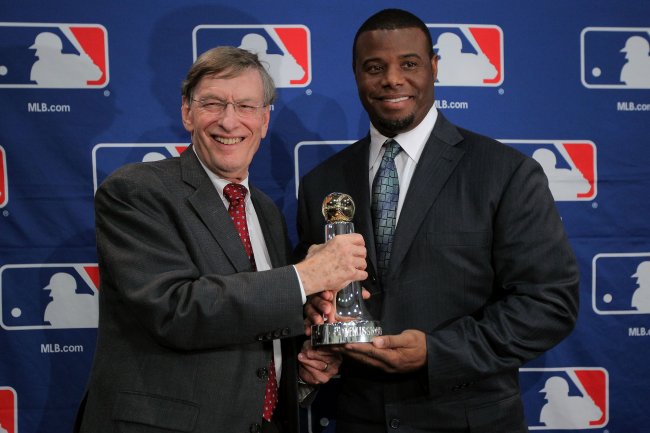 Doug Pensinger/Getty Images
Can Barry Bonds still rake? Is Ken Griffey Jr. still capable of hitting for power?
Adding one former contestant from each league would be a great way to insert some nostalgia into the game while keeping fans interest during the lulls that come with the first round.
If the legend stinks, it will be a quick exit and at least the fans get to watch a former great in the batter's box one last time. The longer they last, the bigger the story becomes. It's a win-win.
Add Bullseyes in Home Run Territory
Ever see the "Hit it here" sign at a park? How about scattering them around the stands in fair territory? If a ball drills a sign (with a cooperate logo on it of course), it's worth two home runs and a lucky fan wins some sort of prize.
It's a small wrinkle, but one that could go a long way in improving fan interest.