Charlotte Bobcats: Summer League Roster, Key Storylines
Ronald Martinez/Getty Images
When you win seven games in one season, it's hard to do anything but look to the future. Fortunately for the Charlotte Bobcats and their fans alike, there is no greater time for the future than the Summer League.
With more than a handful of players on their 2012 roster entering Summer League play, the Bobcats have a chance to approach the future in perfect harmony. Throw in the presence of their two draft picks and you've got yourself a very important time of the year.
So who will shine? What should we be watching for? Who is on the team and when are they playing? All of those questions and more will be answered in the following slides.
Summer League Roster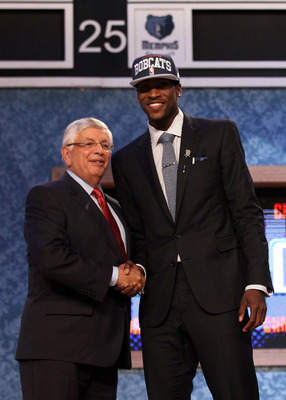 Elsa/Getty Images
Guards
Carlon Brown, 22, Colorado Buffaloes
Cory Higgins, 23, Colorado Buffaloes
Paris Horne, 24, St. John's Red Storm
Kemba Walker, 22, Connecticut Huskies
Forwards
Othello Hunter, 26, Ohio State Buckeyes
Michael Kidd-Gilchrist, 18, Kentucky Wildcats
Josh Owens, 23, Stanford Cardinal
Patrick Sullivan, 24, S.E. Louisiana Lions
Jeffery Taylor, 23, Vanderbilt Commodores
Centers
Bismack Biyombo, 19, Congo
Byron Mullens, 23, Ohio State Buckeyes
Hamady Ndiaye, 25, Rutgers Scarlet Knights
Ralph Sampson III, 22, Minnesota Golden Gophers
Schedule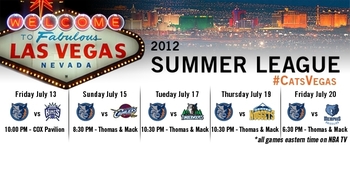 Photo Credit: NBA.com
July 13: Charlotte vs. Sacramento 10 p.m. EDT
July 15: Charlotte vs. Cleveland 8:30 p.m. EDT
July 17: Charlotte vs. Minnesota 10:30 p.m. EDT
July 19: Charlotte vs. Denver 10:30 p.m. EDT
July 20: Charlotte vs. Memphis 6:30 p.m. EDT
Building Chemistry Among Starters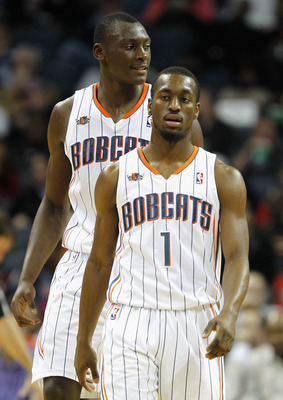 Kemba Walker and Bismack Biyombo are two of the Bobcats' starters who will be playing in the Summer League.
Streeter Lecka/Getty Images
The Charlotte Bobcats are in the most intriguing situation of any team entering Summer League competition. The Bobcats are deploying six players with the potential to see consistent minutes in 2013, including three who started at some point in 2012.
The most significant names, of course, will be Kemba Walker and Michael Kidd-Gilchrist.
This presents the Bobcats with a unique opportunity to develop team chemistry with four potential starters: Kemba Walker, Michael Kidd-Gilchrist, Bismack Biyombo and Byron Mullens.
While this shouldn't increase any playoff expectations, developing unity before training camp even begins is a significant step in the right direction.
Will Josh Owens Find a Home?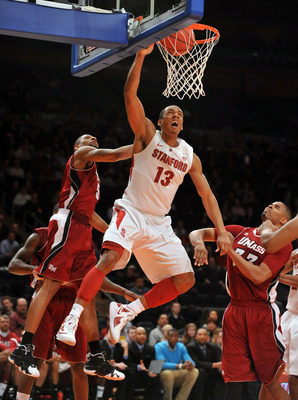 Jason Szenes/Getty Images
Entering the 2012 NBA draft, one of the hottest names on the tongues of fans and scouts alike was Josh Owens out of Stanford. Owens is an explosive 6'9" power forward with great length and efficient scoring abilities.
Unfortunately, Owens is far from impressive in any individual category. He's above average on the boards and as a shot-blocker, reminding scouts of another Stanford alum: Brook Lopez.
While Owens won't light up the scoreboard, he finishes well around the basket and is a highlight waiting to happen. Although his shot-blocking numbers are weak, he's a sound interior defender who is capable of shutting an opponent down in the low post.
The question is: Do the Charlotte Bobcats really need another athlete who lacks the necessary fundamentals in the frontcourt?
Could Jeffery Taylor Outshine Michael Kidd-Gilchrist?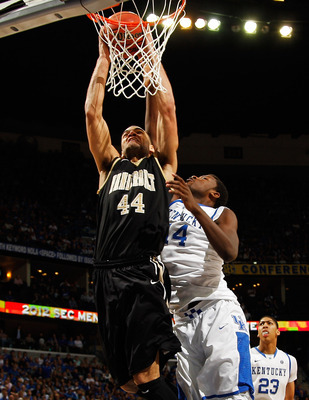 Chris Graythen/Getty Images
In 2012, the Sacramento Kings saw their second-round pick outshine their top-10 selection. While Isaiah Thomas and Jimmer Fredette are hardly comparable to Michael Kidd-Gilchrist and Jeffery Taylor, there is an outside chance that the former Vanderbilt star outshines his former SEC counterpart.
They were the top 2 perimeter defenders in this draft and two of the most outstanding athletes, as well. The difference is, Taylor is a marginally better outside shooter.
While Michael Kidd-Gilchrist is indeed a future star, there's an outside chance that Jeffery Taylor reminds the world why the Vanderbilt Commodores beat MKG's Kentucky Wildcats for the SEC Championship.
There's an even greater chance that the two create one of the best one-two punches at the small forward position in the NBA.
Will Byron Mullens Finally Make the Leap?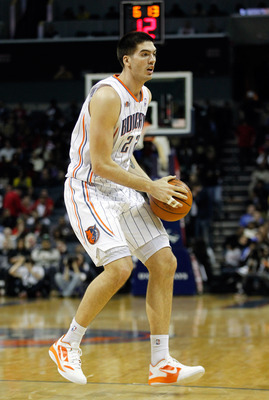 Streeter Lecka/Getty Images
Through his first two years in the league, Byron Mullens was the poster child for wasted draft picks. In 2012, however, the Charlotte Bobcats appeared to have found what the Oklahoma City Thunder had been looking for.
Mullens posted six double-doubles in 2012, the first six of his career. He also scored in double figures in 29 out of 65 appearances. Considering he'd scored 39 total points in his two-year career entering this past season, that's a rather significant improvement.
The question is: Will the 23-year-old Byron Mullens be able to turn isolated success into consistent production?
Is Kemba Walker Really a Point Guard?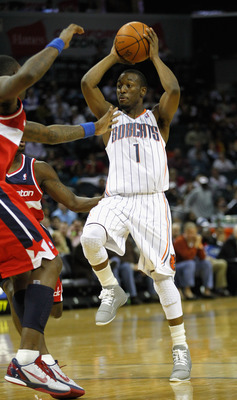 Streeter Lecka/Getty Images
We all know that Kemba Walker can score. We also know that Kemba Walker can create off the dribble. The question is, can he facilitate an offense?
As we analyze the Summer League games of 2012, that question will be answered. Walker will be trusted with the offense as he could be argued as the best individual player on the court.
His ability to develop an early chemistry with Michael Kidd-Gilchrist could be key to potential improvements in his ability to be a floor general.
Keep Reading

Charlotte Bobcats: Like this team?