NBA Rumors: Thunder Would Be Smart to Make a Push for Grant Hill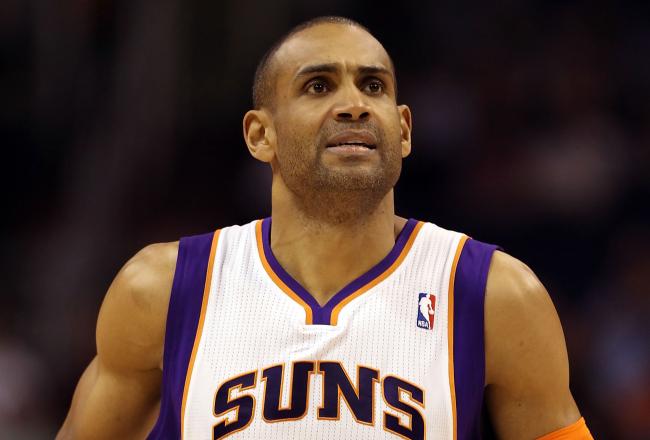 Christian Petersen/Getty Images
Veteran small forward Grant Hill is indecisive about his next team, but there is some indication as to where he would like to end up.
According to NBA.com's David Aldridge, the 39-year-old former Duke Blue Devil is considering three teams:
Free agent forward Grant Hill is still considering at least two other teams–the two teams in last month's Finals, Miami and Oklahoma City–as well as the Lakers as he decides where he's going to play next season, according to a source with knowledge of the 39-year-old forward's thinking.
Talk about having your pick of the litter.
It seems as though all three teams are interested in taking on the 17-year veteran, but Hill would undoubtedly help the Oklahoma City Thunder the most.
First and foremost, he would provide a veteran presence in a locker room where there really isn't anything of the like (other than the useless Derek Fisher). Hill has been through just about everything an NBA player can go through: success, failure, injuries.
He has played for three teams over the course of his career, but there's a reason why he played five-plus seasons for each of those teams. One off-the-court reason is that he is a great teammate to have.
In his old age, Hill doesn't have the explosiveness that he once had, which forces him to rely on other aspects of his game.
For those who have questions regarding his health, they are obviously warranted. However, prior to last season, Hill missed just 14 games over four years with the Suns.
He's a solid defender at 6'8'', 225 pounds. The Thunder finished 17th in points allowed per game last season, and would benefit from Hill being around to guard the versatile small forwards of the league.
Unfortunately, he won't be able to lock down younger, more agile small forwards for extended stretches, but he's a viable option off the bench to help a team get a stop.
Here's what Phoenix Suns' guard Jared Dudley had to say about Hill's worth (per azcentral.com's Paul Coro):
He's our glue guy. He calms us defensively. He's the best defensive player. He's the one who guarded Chris Paul at home and slowed him down. Offensively, he is efficient and gets out on the break and that makes other people guard him and open up 3-pointers. He posts up and makes the extra pass.
How many games will the Thunder win next season?
Now, it wasn't hard to be the best defender on the Suns last season, but Dudley's statement is a testament to Hill's value to a basketball team.
The Thunder have Thabo Sefolosha to guard the perimeter, but there would be no harm done in adding another savvy defender to the roster, especially with the low salary Hill is likely to command.
Oklahoma City has basically everything a basketball team could need other than a veteran presence, and there's no better time to bring one in than now.
This article is
What is the duplicate article?
Why is this article offensive?
Where is this article plagiarized from?
Why is this article poorly edited?

Oklahoma City Thunder: Like this team?