NBA Trade Rumors: Lakers Must Make Move for Howard Now That Cavaliers Are out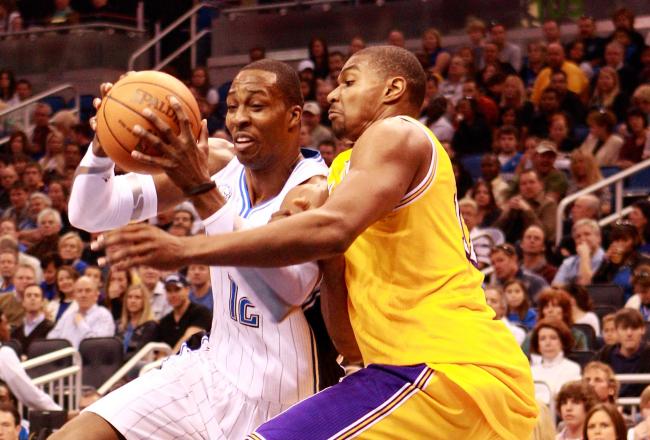 Sam Greenwood/Getty Images
The Los Angeles Lakers have had numerous golden opportunities to engage in serious talks with the Orlando Magic to acquire Dwight Howard, but the latest chance is by far the best.
According to Yahoo! Sports Adrian Wojnarowski, the Cleveland Cavaliers have withdrawn from their role as the possible facilitator to a deal that would send Howard to the Brooklyn Nets:
Cleveland is out as a third-team trade partner in a possible Orlando-Brooklyn deal for Dwight Howard, sources tell Y! Sports.

— Adrian Wojnarowski (@WojYahooNBA) July 10, 2012
Wojnarowski went on to tweet:
If Brooklyn and Orlando are to make a deal for Howard in near-term, it will likely be a trade between the two teams, sources tell Y! Sports.

— Adrian Wojnarowski (@WojYahooNBA) July 10, 2012
If the deal is going to be carried out by only the Magic and Nets, the Lakers have the perfect chance to obtain the three-time NBA Defensive Player of the Year.
Of course, we know what the Magic want in return for the biggest free agent still on the market.
Lakers' brass would be wise to do all they can to make this deal work and trade all-star for all-star.
Plenty of aspects must be addressed when comparing these two players, the first being their respective injury issues.
Bynum is clearly on the worse end of the injury spectrum. He has played just two full seasons since entering the league in 2005, one of which came in the lockout-shortened 2012 season.
Since coming straight out of high school to the NBA, Bynum has missed 166 games, which is equivalent to over two full seasons worth of time. Knee issues are always of a concern, but the problems are magnified when a seven-foot body is attached to those knees.
Howard is coming off surgery to repair a herniated disk in his back. Back surgery is a bit more frightening than knee surgery, but injuries have not been a recurring issue throughout Howard's career.
Prior to missing the final 12 games of the 2012 season, the six-time all-star missed just seven games in seven years.
Advantage: Howard.
As far as the offensive game, Bynum looks much smoother in what he does in the low-post and made leaps and bounds in terms of his interior game last season.
Still, though, it doesn't matter if it's pretty.
Howard may not look as fluid doing what he does down low, but has still managed to put up 20-plus points per game in four of the last five seasons.
We'll be cautiously optimistic here and call this one a draw.
Defense and rebounding is where Howard pulls away from his West Coast counterpart.
On the defensive end, Howard is the most imposing big man in all of basketball. He has grabbed the No. 1 spot in terms of defensive rating in three of the last four seasons (per basketballreference.com).
The same can't be said for Bynum.
Howard's rebounding abilities surpass Bynum's easily. He has been in the top five of total rebound percentage in each of the last seven seasons. In those seasons, he has pulled down at least 20 percent of the total available rebounds while he was on the floor.
Bynum has been in the top five just once.
Questions regarding maturity arise for both players, but the situations are far from similar.
Who do you want on your team?
Howard has made a mess of this entire offseason, as well as the back end of the regular season. However, he never let those off-court issues negatively impact his on-court play. Even when it was painfully obvious that he didn't want to be in Orlando, he still managed to scored 20.6 points and pull down 14.5 rebounds per game.
When Bynum isn't happy with what's going on, his play suffers. We've seen him walk away from the huddle, lay out J.J. Barea and storm off the court. There were less of those egregious acts last season, but some still remained.
This seems like a no-brainer, granted Howard is better than Bynum in virtually every aspect of basketball.
If the Lakers' front office can swing a deal, it must be swung.
This article is
What is the duplicate article?
Why is this article offensive?
Where is this article plagiarized from?
Why is this article poorly edited?

Los Angeles Lakers: Like this team?