25 Biggest "Firsts" in Philadelphia Phillies History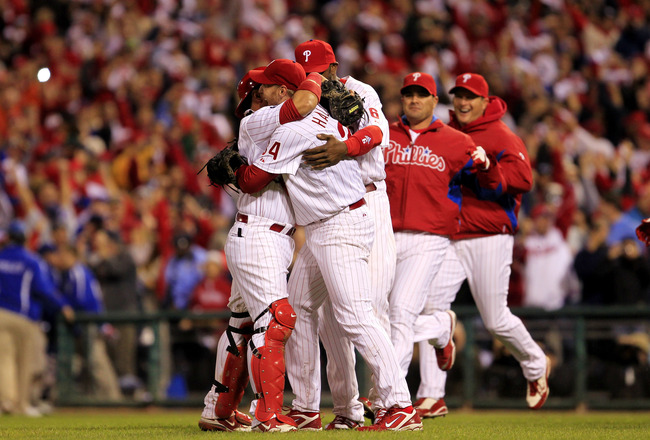 Chris Trotman/Getty Images
Being "first" is a special feeling.
There's a certain sense of accomplishment that comes with knowing the fact that you've done something that no man, woman, or child had ever done before. It's a proud moment—one that will last for a lifetime and then some.
In baseball, being the first is that same feeling amplified times 10. The Philadelphia Phillies, who have existed in the "City of Brotherly Love" since 1883, have had plenty of firsts. Some of them were great moments never to be forgotten. Others are so infamous that it's not possible to forget them.
But at the end of the day, none of that matters. Whether you're a fan or a player, a manager or a front office executive, you never forget where you were during one of those "firsts."
Who can forget Roy Halladay's postseason no-hitter, the first in Phillies history, but just the second of all-time? How about Jim Bunning's perfect game?
I imagine the feeling was the same when the Philadelphia Quakers captured their first win. "Firsts" are timeless, and here are some of the greatest.
First Hall of Famer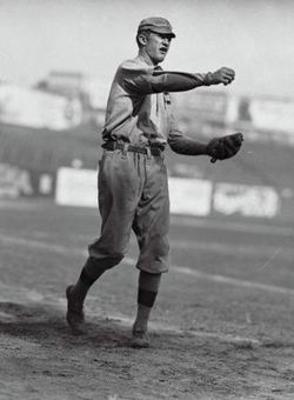 http://www.findagrave.com/cgi-bin/fg.cgi?page=gr&GRid=1812
The Phillies finally got their first member in the Hall of Fame in 1938, and it was a good one. The first Philly in the Hall of Fame would be an all-time great, starting pitcher Pete Alexander.
The right-handed pitcher's time in Philadelphia was a dominant stretch. In eight seasons, he was 190-91 and posted an ERA of 2.18.
He was also the ace of the first Phillies' club to ever appear in a World Series—the 1915 team.
First All-Stars
Photographed by: TSN/Zuma Press/Icon SMI
The first MLB All-Star Game, designed as a one-and-done event, was held at the Chicago World's Fair in 1933 and was one of the game's most highly anticipated events.
The Phillies would have the honor of sending two players to represent the National League, and they were a pair of good ones: Chuck Klein and Dick Bartell.
Klein, 28, would have one of the most dominant seasons in baseball history, hitting .368/.422/.602 with 28 home runs. Each of those marks were the best in baseball.
He was joined by his shortstop, Bartell, 25. The young "Rowdy Richard" was also having a great season, though it wasn't anywhere near the one that Klein was having.
The American League would go on to defeat the National League 4-2.
First MVP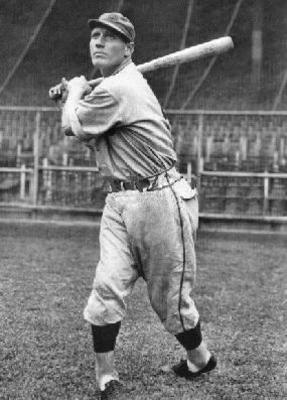 http://personal.denison.edu/~waite/woody/mates.html
For a long time, the Phillies were forced to watch some great players win the Most Valuable Player Award as a member of the Philadelphia Athletics, but it was their turn in 1932.
That would be the year that one of the greatest outfielders to ever play the game, Chuck Klein, would claim his only MVP Award.
Klein, 27, had arguably the greatest season of his career when he led the league in games played, runs, hits, home runs, stolen bases and slugging percentage, beating out Lon Warneke of the Chicago Cubs.
First Cy Young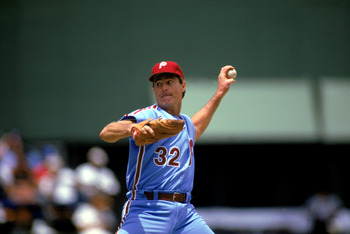 Stephen Dunn/Getty Images
Who better to represent the Phillies on this slide than the man who won four Cy Young Awards while wearing their uniform, Steve Carlton?
Carlton, 27 years old at the time, won his first Cy Young in his first season with the Phillies back in 1972. He posted a record of 27-10 and an ERA of 1.97. He led the league in wins, ERA, games started, complete games, innings pitched, hits and strikeouts.
Carlton received 120 vote points. The runner up, Steve Blass, received just 35.
Honorable Mention: Before the Cy Young Award was created, Phillies' reliever Jim Konstanty won the MVP Award in 1950.
First NLCS MVP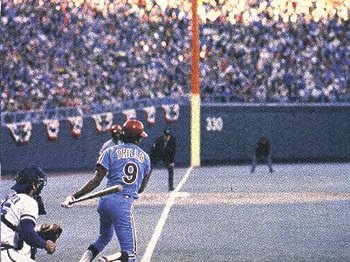 http://www.hark.com/clips/wxkmnqrhwd-manny-trillo-triples-the-go-ahead-run-nlcs-game-5-oct-12-8th-inning
Both the American and National League Championship Series MVP Awards were introduced in 1977. The Phillies would get their first winner a couple of years later when Manny Trillo helped propel the Phillies to the World Series with a fantastic NLCS effort.
Trillo would hit .381/.364/.571 and slug two doubles and a triple, helping the Phillies to down the Houston Astros and eventually the Kansas City Royals for their first championship.
The only Phillies to win the award since have been Gary Matthews, Curt Schilling, Cole Hamels and Ryan Howard.
First WS MVP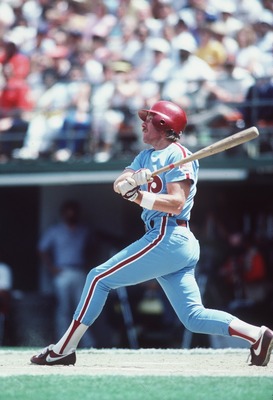 Rick Stewart/Getty Images
The World Series MVP Award wasn't created until 1955—five years after the Phillies competed in their second World Series.
They wouldn't get another shot at a title, and the award by proxy, until 1980, when it was none other than Mike Schmidt who captured the honor for the Phillies, and who better?
Schmidt, who was nowhere to be found at the plate during the '80 NLCS, showed up in a big way during the World Series. He assaulted Kansas City Royals pitching to the tune of a .381/.462/.714 slash line and a pair of home runs.
Cole Hamels is the only Philly to win the award since.
First Silver Sluggers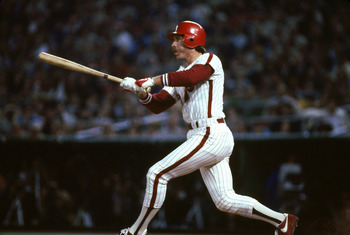 Getty Images/Getty Images
The Silver Slugger Award was introduced during the 1980 season to reward the best hitter at each position, in each league. The Phillies just happened to be making their charge towards their first World Series title that season, and two players from their thunderous offense were rewarded at season's end.
It should come as no surprise that one of said players was third baseman Mike Schmidt, who would also win the MVP Award in 1980. He posted a line of .286/.380/.624 and hit 48 home runs.
The award for the NL's best hitting second baseman went to Manny Trillo, a postseason hero. He hit .292/.334/.412 with seven home runs. It would be his first of two consecutive Silver Sluggers.
First Gold Glove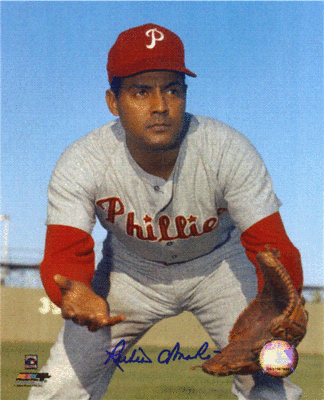 http://www.halloffamememorabilia.com/p-429945-autographed-hand-signed-8x10-photo-ruben-amaro-sr-phillies-mla-1709.aspx
The Phillies were a bad team for a long time, and the Gold Glove Award, which recognizes the best defensive player at each position, in each league, was introduced during one of those stretches.
Therefore, the Phillies wouldn't get their first Gold Glove winner until the 1964 season, when the man who also gave them their current general manager would win the award as a shortstop, Ruben Amaro Sr.
First to Hit Four Home Runs in One Game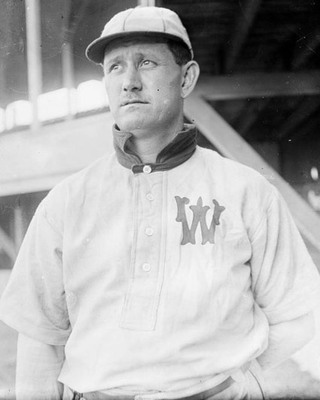 http://mcns.wordpress.com/2010/01/26/big-ed-delahanty/
Ed Delahanty was one of the greatest hitters, not only in the history of the Phillies' organization, but in the history of the game.
He put that reputation on display on July 13, 1896, when he slugged four home runs in a single game against the Chicago Colts.
He wouldn't be the last Philly to accomplish the feat. Chuck Klein and Mike Schmidt would also hit four home runs in a single game as members of the Phillies.
First Perfect Game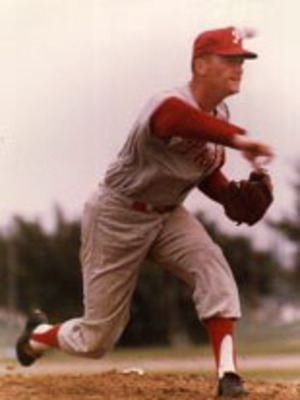 http://goldenrankings.com/Baseball%20Pictures/JimBunningPhillies.jpg
Jim Bunning was in his first season with the Phillies in the summer of 1964, and he was about to make a name for himself in the city of Philadelphia in one of the best ways possible.
It was Fathers Day, and the Phillies were slated to take on the rival New York Mets in a scheduled double-header.
The first game of the set was Bunning's responsibility and the Mets were in for a doozy. The right-handed pitcher absolutely baffled the "Amazin's," tossing a perfect game on the road, in Shea Stadium.
The only Phillies pitcher to complete the feat since is Roy Halladay.
First No-Hitter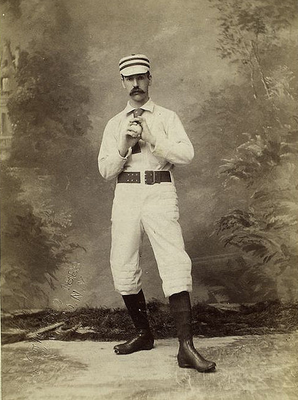 http://phillysportshistory.com/tag/1880s/
Technically, the first Phillies' no-hitter didn't belong to a Philly. It belonged to a Quaker by the name of Charlie Ferguson.
Ferguson, who tossed his no-hitter a few years before the Quakers would change their name to the Phillies, must have had everything working in a 1-0 no-hitter against the Providence Grays.
Many thought that Ferguson could have been the best pitcher ever, but he became sick and passed away very suddenly after just four MLB seasons.
First to Hit for the Cycle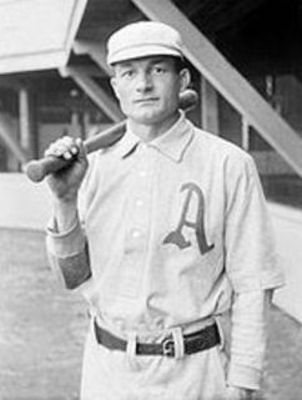 The Phillies wouldn't have their first player to hit for the cycle, which consists of a single, double, triple and home run in a single game, until the 1894 season, and it wouldn't come from the most likely of sources.
That source was soft-hitting shortstop Lave Cross. He just had "one of those days" against the Brooklyn Bridegrooms, who, to this day, have one of the best team names in professional sports history.
First Player to Homer from Both Sides of the Plate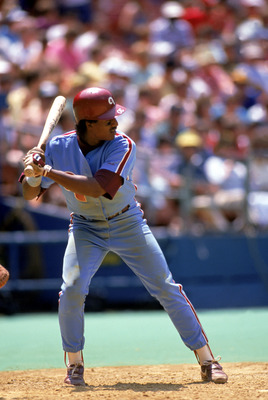 Rick Stewart/Getty Images
This may come as a bit of a surprise, but the first member of the Phillies to hit a home run from both sides of the plate in the same game was Steve Jeltz, who didn't accomplish the feat until 1989.
Given that the Phillies have existed since 1883, I find that to be a little surprising.
Well, that, and the fact that Jeltz hit just four home runs during the entire 1989 season.
First Player to Turn an Unassisted Triple Play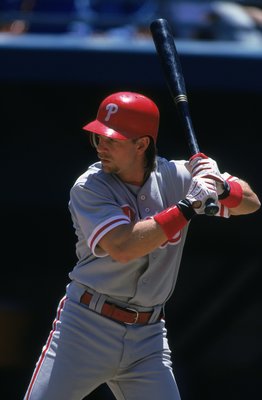 Eliot J. Schechter/Getty Images
Surprisingly enough, no player in the history of this organization had turned an unassisted triple play until a guy known for his glove was able to accomplish that feat.
Of course, that man was the "Dandy Little Glove Man," Mickey Morandini.
Morandini was able to turn an unassisted triple player during the 1992 season, when he was able to retire the Pittsburgh Pirates by himself after catching a line drive, touching second base and tagging the runner.
The last player to turn an unassisted triple play also played for the Phillies. That would be Eric Bruntlett.
First to Hit for "Natural" Cycle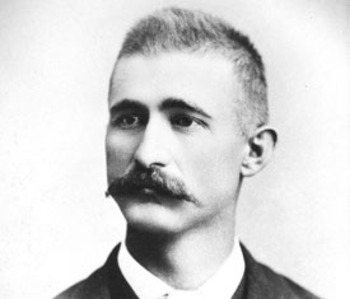 While Lave Cross would hit for the first cycle in Phillies' history in 1894, he wouldn't be alone in that regard for long.
During that same season, Sam Thompson would also hit for the cycle, but he would do it with a little flare.
The Phillies' outfielder collected all of the necessary components of the cycle, but unlike Cross, he was able to accomplish the feat in order. That's right, Thompson singled, doubled, tripled and then hit a home run.
They call that the "natural" cycle.
First to Drive in at Least 8 Runs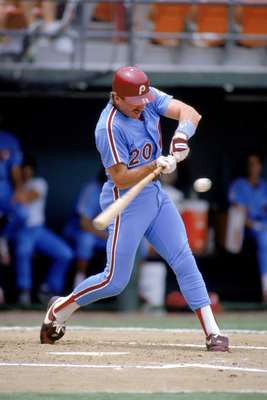 Rick Stewart/Getty Images
You guessed it. He's back again.
This slide was originally going to represent the man who was the first in Phillies' history to drive in at least 10 runs in a single game. The only problem is that no player in Phillies' history has driven in 10 runs in a single game.
But there has been one man to drive in eight, the Phillies' all-time record, and his name is Michael Jack Schmidt.
First Team Win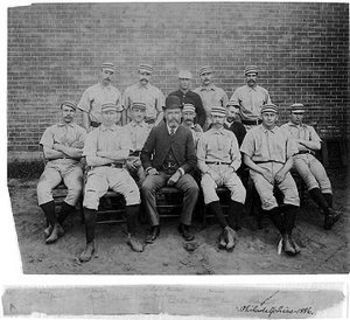 The Philadelphia Quakers' first season was probably symbolic of the way the future of the franchise would play out: They lost their first eight games before throwing a big win up in the win column.
That win came on Monday, May 14, 1894. The Quakers were set to take on the Chicago White Stockings. The Quakers won the game 12-1.
Just a side note, but something I find incredibly interesting nonetheless: According to Baseball Reference, the White Stockings used a two-man pitching rotation in 1894. My, how things have changed.
First Team Postseason Win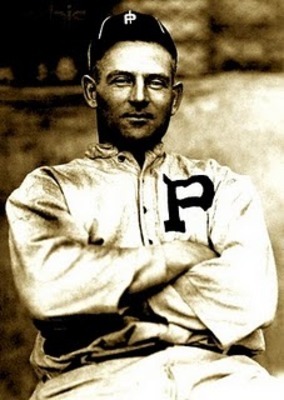 http://phillysportshistory.com/2011/04/20/5399/
It took them a long time, but the Phillies finally won their first postseason game in 1915.
Their opponent was the American League champions, the Boston Red Sox. The Phillies sent their ace, Pete Alexander, to the mound to oppose the Sox. He would toss a complete game, allowing just one earned run and striking out six.
The Phillies touched up Red Sox starter Ernie Shore for three runs thanks to RBI from from Gavvy Cravath, Fred Luderus and Possum Whitted.
Of course, the Phillies would drop the next four games and lose the World Series.
They wouldn't win another postseason game until 1977.
First World Series Championship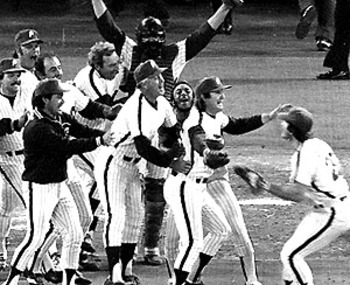 Philadelphia Inquirer & Philadelphia Daily News)
It took nearly a century, but as Tug McGraw threw the final pitch of the 1980 World Series to punch out Kansas City Royals' hitter Willie Wilson, none of that mattered to the Phillies' fans any longer.
For that one moment, time stood still. The team celebrated on the field, and the fans celebrated in the stands and they were all doing it for one reason: The Philadelphia Phillies were finally World Series Champions.
But it was more than just the first title. It was the first title for a special team, filled with MVPs, Cy Young winners, All-Stars and fan favorites. From Steve Carlton to Tug McGraw. From Mike Schmidt to Bake McBride.
They were champions.
Of course, the only other Phillies team to capture the World Series was that underdog 2008 squad.
First to 10,000 Losses
By Tim Shaffer, Reuters
At a glance, it doesn't seem like a good thing. With their loss to the St. Louis Cardinals in July of 2006, the Phillies hung their heads in shame as the organization suffered its 10,000th loss.
That's a lot of losses.
But I managed to find a way to spin that into a positive: The Phillies' franchise is also the longest in professional sports history to remain in one location, that of course, being Philadelphia.
They began as the Quakers in 1883 and have been the Phillies since 1890, and though some may have threatened to move the club, no team has persevered like the Phillies, and that is something to be proud about.
When you're able to stay in one city for nearly 130 years, 10,000 losses suddenly seems less significant.
Phillies' First African-American Player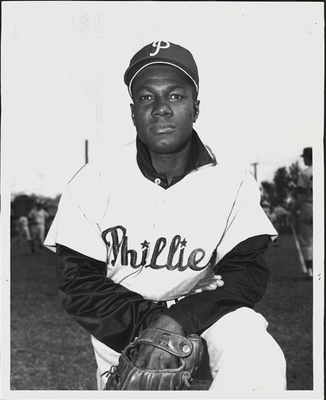 http://www.ootpdevelopments.com/board/ootp-mods-rosters-photos-quick-starts/211551-updated-photo-request-1960-1969-a-17.html
The Phillies were one of the last teams in the MLB to break the color barrier. Baseball was much different back then, and the Phillies weren't a very good team, but all chances in an organization start from the top, and the Phillies were definitely changing by 1957.
First and foremost, one of the greatest general managers of his day and certainly one of the greatest in the history of this franchise took over. That man was John Quinn.
Quinn would go on to sign shortstop John Kennedy as the club's first African-American player.
Kennedy wouldn't do much playing for the Phillies. He appeared in just five games and didn't collect a single hit, but more importantly, the color barrier was finally broken for the Phillies.
Phillies' First Asian Player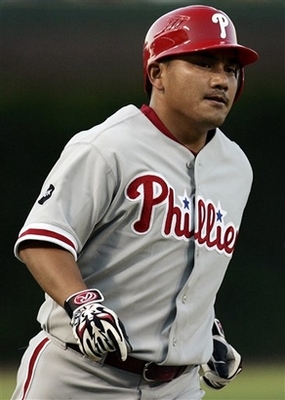 http://crashburnalley.com/2007/08/09/iguchi-earning-his-phillies-pinstripes/
If you thought it took the Phillies a long enough time to sign their first African-American player, get a load of this: The Phillies didn't have an Asian-born player until 2007!
That was the year when Chase Utley went down with a hand injury and the Phillies were left scrambling for a replacement. That man would eventually be Tadahito Iguchi, whom the Phillies acquired in a deal with the Chicago White Sox.
Iguchi, who appeared in 49 games with the Phillies over parts of two seasons, would turn out to be a very solid bench player.
Phillies' First Latin-American Player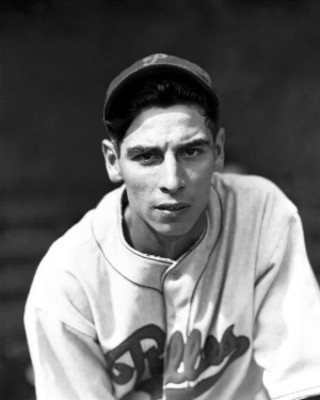 https://www.theconloncollection.com/chile-gomez.html
Though it took the Phillies what seems like a baseball eternity to job out their first African-American and Asian-born players, they did explore the Latin-American market fairly quickly.
The 1930s wasn't a great decade for Phillies baseball. They had some great players during that decade, including Chuck Klein, Dick Bartell, Ray Benge, Curt Davis and Dolph Camilli but just couldn't field a team capable of winning. Their best finish was fourth place.
So the Phillies were willing to give some young kids a shot at different positions, and among them was a second baseman hailing from Mazatlan, Sinaloa, Mexico by the name of Chile Gomez.
He would spend just two seasons with the Phillies, appearing in 175 games and posting an OPS of .520.
Phillies' First Home Runs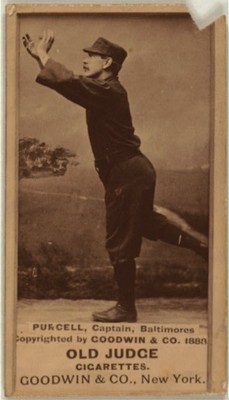 http://www.hellobaltimore.com/photos_people2.cfm
Want to know who the first player in Phillies' history to hit a home run was?
So did I.
Sadly, I couldn't pinpoint the exact player because no box score dates back to the 1883 season, so I was going to scrap the idea all together. Then I realized something even more interesting. The Quakers hit just three home runs that entire season!
Sure, the game was exponentially different back then, but the team had a three-way tie for the lead in home runs, all of whom had just one.
So you can say this with certainty: The first home run in team history was hit by catcher Emil Gross, shortstop Bill McClellan or third baseman Blondie Purcell.
If I was a betting man, I'd go with Gross, who was the only player on the team to post an average better than .300 and an OPS better than .800 in 1883. Of course, he also played in the fewest games.
First Managers and General Manager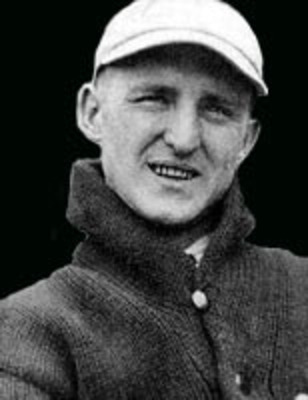 http://www.cmgww.com/baseball/pennock/images/splash.jpg
Baseball in the 1800s was excellent in so many ways.
The Phillies would fittingly get their first managers (yes, there were two of them) during the 1883 season when Blondie Purcell relieved Bob Ferguson.
Of course, they were also two of the club's worst players. Ferguson was a 38-year-old second baseman who posted an OPS of .595 for the season and even pitched in one game, allowing two runs to score.
Ditto for Purcell, who managed to hit one of the club's three home runs that season, but also posted an OPS of just .636. He also appeared in 11 games as a pitcher and posted an ERA of 4.39.
Neither were very successful managers. Ferguson was 4-13 while Purcell posted an abysmal mark of 13-68.
The Phillies wouldn't get their first general manager until 1944 when Herb Pennock was hired to take over the responsibilities.
He did an excellent job as the club's GM, acquiring most of the players that would become the "Whiz Kids" several years later, though Pennock would pass away in 1948 and never experience the club's success.
Pennock brought aboard popular players like Jimmie Foxx, Granny Hamner, Richie Ashburn, Stan Lopata, Willie Jones, Curt Simmons, Robin Roberts, Dick Sisler and Jim Konstanty.
Keep Reading

Philadelphia Phillies: Like this team?