Lakers Trade Rumors: Andrew Bynum's 'Short List' Proves He Should Be Dealt Now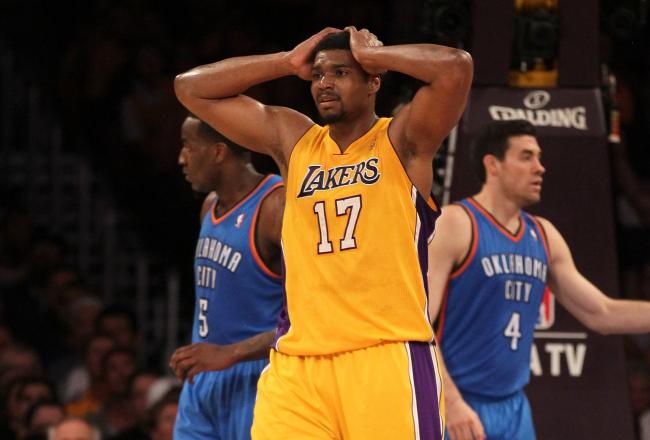 Stephen Dunn/Getty Images
Here we go again.
Could Andrew Bynum be following in Dwight Howard's large footsteps with his "short list" of teams he'd be willing to go to in free agency next year?
According to Yahoo! Sports' Adrian Wojnarowski, the Houston Rockets, Dallas Mavericks and Cleveland Cavaliers are the top candidates on this supposed list.
Among Bynum's short list of potential free agent landing spots in 2013, Houston is prominent with Dallas and Cleveland, sources tell Y!

— Adrian Wojnarowski (@WojYahooNBA) July 8, 2012
Can we get this over with already? Do we have to subject ourselves to more drama?
Here's the step-by-step breakdown for the Los Angeles Lakers:
Tell Andrew Bynum that it's too early for him to be making this sort of list.
Trade him for Dwight Howard to give the team an even better shot at winning a title.
Call D12's bluff and allow him to come to the inevitable conclusion that he should sign an extension.
Laugh as the Orlando Magic are left dealing with the problems of an immature center while attempting to call his bluff as well.
Compete for title after title.
See? It's not that hard.
At this point, Bynum might not be worth the trouble for the Lakers. After the addition of Steve Nash, The Purple and Gold need to all be focused on their own team and their ability to compete for a title this season. Worry about the next offseason after the end of the 2012-2013 campaign.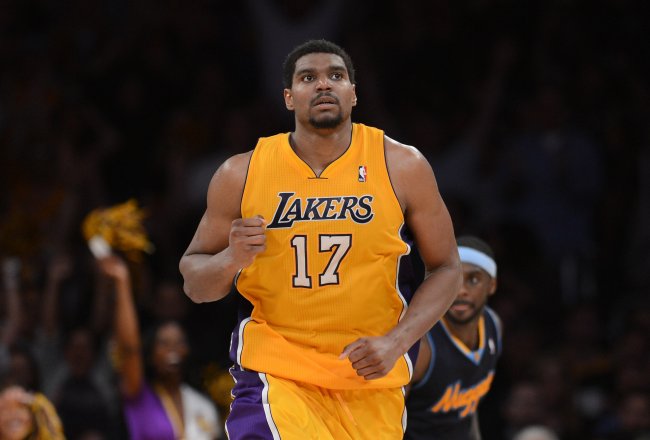 Harry How/Getty Images
If Bynum continues to make premature statements and potential demands about his future, that campaign will come to an end quickly and he'll be able to actually pursue those desires at an earlier date.
Kobe and the rest of the Lakers don't need to deal with a drama queen at this point. While his market value is still at it's highest, deal him now.
Should the Lakers bite the bullet and trade Andrew Bynum?
Plus, if they don't and Bynum's initial thoughts on free agency become a reality, the Lakers are pinned squarely behind the eight ball and risk letting the big man walk for nothing.
I can't help but think of the recent run of DirecTV commercials about ditching cable, the ones that end up in increasingly crazy situations. Just like a man can end up with a grandson with a dog collar or lying in a roadside ditch, this situation could spiral out of control.
Here's my take on the hypothetical Andrew Bynum commercial:
When your star center decides that he wants to go elsewhere next year, he doesn't play hard.
When he doesn't play hard, he shoots three-pointers.
When he shoots three-pointers, Metta World Peace throws elbows.
When MWP throws elbows, Conan O'Brien interviews him.
When Conan interviews MWP, MWP shaves Conan's head.
When Conan's head gets shaved, the Mayan's predictions about the world ending prove correct.
Don't let the world end. Trade Andrew Bynum.
Seriously though Lakers, don't subject us to a repeat of the Dwight drama or Melodrama.
This article is
What is the duplicate article?
Why is this article offensive?
Where is this article plagiarized from?
Why is this article poorly edited?

Los Angeles Lakers: Like this team?