Knicks Rumors: Signings New York Should Make to Finish Offseason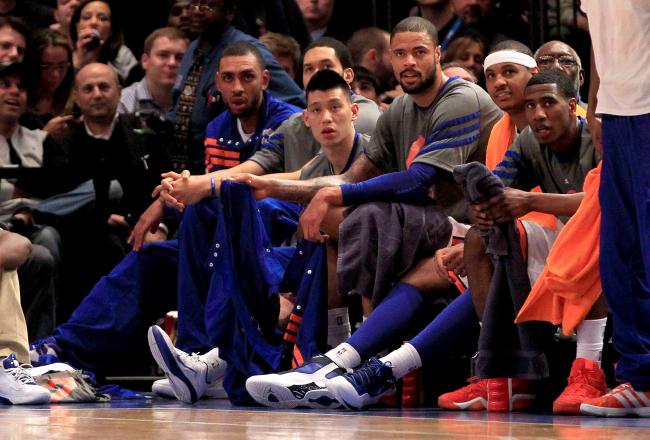 Chris Trotman/Getty Images
When Carmelo Anthony, Amar'e Stoudemire and Tyson Chandler are all on the books, it makes it hard to complete any other big-time moves.
That's exactly the situation the New York Knicks, who owe their Big 3 about $53 million in 2012-13, find themselves in.
Because of this, the remaining moves New York can make aren't sexy, but they are necessary. Let's take a look at the rumored final pieces of New York's 2012-13 puzzle.
Jeremy Lin, PG
There has been a lot of debate as to whether the Knicks should match Houston's offer sheet for Lin, but according to The New York Post's Marc Berman, it's an open-and-shut case. New York will match.
The Knicks officially will be presented the offer sheet Wednesday, the day the NBA's free-agency moratorium ends, and will have three days to match it. It should take them three minutes.
The verdict? Absolutely the right move.
The deal, especially in the "poison pill" of a third year, is a little much for Lin, who has yet to put a full season under his belt.
Nonetheless, Linsanity looked more than capable on the court during his limited stint in 2011-12. While pundits will continue to harp on the fact he turns the ball over too much, they seem to forget he averaged 18.2 points and 7.7 assists per game as a starter.
Those are All-Star-caliber numbers.
If they could only pick one, who should the Knicks sign?
Throw in his financial impact on Madison Square Garden, the fact he's still only 23 and will only get better and the allure of him learning under Jason Kidd, and bringing him back almost makes too much sense.
Additionally, Lin is under early-Bird rights, so it doesn't matter if New York goes over the cap by signing him.
If not Lin, the Knicks will be forced to sign their second point guard (or play Toney Douglas. Shudder) via the veteran's minimum or the mini mid-level exception. No one wants to see that.
Grant Hill, SG/SF
Old faithful, Grant Hill seems to get better with age. Hill has managed to transform his game despite racking up a ton of injuries earlier in his career, and he is now perceived as one of the better defenders in the game.
The Knicks have a ton of firepower with Steve Novak and Carmelo Anthony on board. Now, they need to lock down their opponents. With LeBron James, Dwyane Wade, Ray Allen and Joe Johnson in the Eastern Conference set to make a run at the 2012-2013 NBA Championship, the Knicks will need a lockdown defender.
It was believed last week that Hill would either retire or join Steve Nash and the Lakers, but the Knicks must do whatever it takes to persuade him to come to the Big Apple.
It remains to be seen when the Knicks' top perimeter defender, Iman Shumpert, will return from his knee injury, so the Knicks desperately need somebody that can lock down outside of the paint. Grant Hill would be that man.
Raja Bell, SG
The Knicks don't exactly have movable assets at this point, so the possibility of a sign-and-trade for Raja Bell is most likely out of the question. Still, he could be waived if the Jazz are unable to find a partner.
Bell is essentially Plan B to Grant Hill's Plan A, but would still do everything Hill can do. Bell is a veteran and lockdown defender in his own right, so he would be a perfect fit for this Knicks team.
The bottom line: The Knicks desperately need defense if they want an opportunity to compete for an NBA Championship.
This article is
What is the duplicate article?
Why is this article offensive?
Where is this article plagiarized from?
Why is this article poorly edited?

New York Knicks: Like this team?