NBA Free Agency 2012: Where Do the Miami Heat Go from Here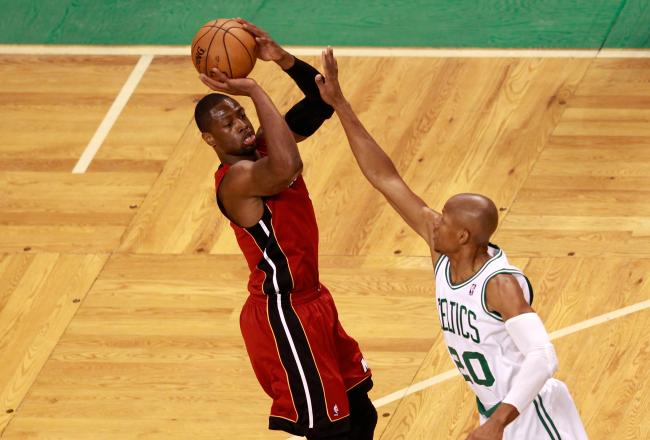 Jared Wickerham/Getty Images
Three offseasons and three occasions where Pat Riley and the Miami Heat got their intended target(s).
They started off in 2010 with the coup to bring in LeBron James and Chris Bosh to play alongside Dwyane Wade, and did so once again in 2011 by picking up defensive specialist Shane Battier. In two consecutive offseasons, the Heat managed to secure the top four players on the team and convinced each and everyone of them to take a pay cut.
The trend continues in 2012.
While signings aren't allowed until July 11th, the Heat and Ray Allen came to a guarantee on Friday that would net the three-point specialist a $9 million deal over three years—half of the two-year, $12 million deal the Boston Celtics were offering.
In the end, Allen decided to chase championships and spurn the team that had wronged him on a few occasions in the waning years of his tenure with the team.
Pat Riley must have been polishing that silver tongue of his. Since 2010, he's convinced Wade, Bosh, James, Miller, Battier, Udonis Haslem and now Ray Allen to take significant pay cuts.
Allen was the Heat's main target heading into the offseason period. Riley made it a known fact that he wanted to pursue players who can stretch the floor and allow more room for James, Wade and Bosh to work with within the perimeter.
Via Ira Winderman of the Sun Sentinel: "There isn't any one specific thing. I just know that we want to find as much space as we can on the floor for Dwyane and for LeBron, for Chris to be able to operate."
A week later, the Heat get a guarantee from Ray Allen to take half of what the Celtics—the team he's been with since 2007 and won a championship with—were offering.
Obviously, adding Ray Allen is a huge step toward going back-to-back for the Heat. While Miami managed to finish 10th in three-point percentage, they ranked a mere 20th in three-point makes per game last year. It's a disappointing statistic when knowing the Heat had Mike Miller, Shane Battier, James Jones and Mario Chalmers talking the shots.
Alas, Miller didn't get it going until the final game of the season, Battier had one of the worst shooting years of his career and Jones rarely got consistent playing time.
Chalmers turned out to be a surprise shooting 39 percent beyond the arc, a career-high for him. However, the Heat would much prefer Mario as an aggressor and not as a spot-up perimeter threat.
That's where guys like Miller and Battier were supposed to show up.
Battier only shot 34 percent from beyond the arc and Miller has been a shell of the player who once shot as well as 48 percent from deep. While he did shoot 45 percent this year, Miller hardly made his presence felt on a consistent basis and would end up getting hurt before coming around.
Up until Game 5 against the Thunder, Miller had played in 10 minutes or less in each game against the Thunder. That's $30 million sitting on the bench, suffering so much pain that he can't help but hobble and stumble up and down the court. He's even getting the Steve Nash treatment on the bench, where he doesn't sit but lies down, instead.
Miller was given that much money because he was supposed to play an integral part on offense. He was meant to be the three-point threat that would stretch the floor for the Heat and hitting the wide-open jumpers that he would constantly receive as a result of the influence of each member of the "Big Three."
It never came to be, however, due to constant injuries.
Miller may end up needing back surgery this summer and now sees retirement as a legitimate option, giving the Heat a clear indication that acquiring a shooter would be a necessity. Miami wasted no time in pointing out their target and convincing him that taking less money and garnering a more significant role on a championship-bound team would be the far better option.
Allen and the Big Three will thrive off of each other. Allen will attract attention out to the perimeter and the presences of Wade, James and Bosh within the three-point stripe will give plenty of open looks to Ray. The Heat's offense isn't complex—that's the winning formula for this team on offense and it ends up working.
Miami's offense doesn't need to be complex.
There are two superstars capable of facilitating as scorers and passers and their influence allows teammates to get open. The high pick-and-roll to allow whoever has the ball to penetrate is all the team needs because once they get into the lane, it's either resulting in a high-percentage shot near the rim or an open shot from outside.
Allen will be the one receiving those shots from outside. Unlike the past two seasons, the shooter in the Heat uniform should make it more times than not because of how open they are. Being too open won't affect a player like Allen because of the shooting rhythm he's created himself over the past 16 years of his professional basketball career.
Whether he's wide-open or there's a seven-footer flying at him, Allen takes every shot in the same manner. That probably explains why he's shot 40 percent over his career, shot over 40 percent in seven different seasons and has never shot below 35 percent.
There's a reason why this guy is a future Hall of Famer, and a large part of it is due to him having arguably the best jump shot in the history of the game itself.
While Allen doesn't exactly fit into the role of an athletic defender, he does fit into the Heat culture as a level-headed individual. For the most part, this team stays low-key, outside of that preseason celebration, and chooses their words wisely. The Heat know they're hanging off a cliff, and one wrong thing being said will give people something to talk about.
Miami is the type of team that wants you to talk about what they do on the court.
Allen, one of the league's most respectable and classy players, is just the type to fit in with a team that's attempting to stray away from any type of unnecessary scrutiny that would result in tirade.
Plus, these elder statesmen seem to work well with the Heat.
The 39-year-old Juwan Howard was looked at as a mentor, sometimes as a keeper-of-the-peace, throughout the 2011-12 season. While Allen won't be spending nearly as much time on the bench as Howard, he's still valuable as someone to aspire to for some of the younger players like Chalmers, Norris Cole or Terrel Harris.
Allen will be treated as the sixth man of this team, and will be on the floor at the end of games. He should thrive in lineups with LeBron James, as he will look to feed off of James' constant driving to the rim and attracting the attention of multiple defenders from inside and out.
The Heat will no longer have to suffer through the LeBron-centered lineup at the end of the first quarter; they now have two formidable threats if Erik Spoelstra decides to roll out a lineup featuring Allen playing with James.
Also, it will allow LeBron's post-ups to play an even more significant role. Opposing teams will have to decide whether or not they should double-team James or keep a single defender on Allen and James. James' post-ups are what allowed the Heat to hit 14 three-pointers in Game 5.
In fact, James' assisted on nine of those—a majority coming off his influence in the post.
James is only going to improve at that aspect of the game. The post game isn't going to suddenly disappear. He saw that it brought about success he's never seen before, and it should be expected of him to continue improving on it; so much so that he'll essentially force defenders into double-teaming him.
As big a player as James is, if he can develop a solid back to the basket game, he'll absolutely require defenses to throw two people at him in order to stop him.
And that's where Ray Allen comes in. It's pick your poison with the team, except every poisonous option is extremely harmful.
Miami isn't finished with their free agency shopping, either. Although they just lost out on Marcus Camby to the New York Knicks, word is that that Allen's former Seattle Supersonics teammate Rashard Lewis is leaning towards joining the Heat, according to Sports Illustrated.
Lewis, who was bought out by the New Orleans Hornets following a trade, is free to sign anywhere after finally abandoning that abysmal contract of his. The most the Heat could offer Lewis at this point would be the veteran's minimum at $1.3 million, but it appears that may just be the asking price for Rashard's services following two forgetful seasons with Washington.
He'll be 33 years old at the start of next season. Lewis is coming off an injury-plagued 2011-12 campaign with the Wizards where he only played in 28 games, starting in 15 of them. He averaged only 7.8 points and shot 24 percent from beyond the arc on 2.4 three-point attempts per game.
It's surprising to think this is the same player who led the league in three-pointers in 2009.
Still, he is a threat—not as much of a threat as he used to be, but a veteran threat nevertheless. At $1.3 million, you really can't argue with the signing if it does happen. It's a low-risk, high-reward situation because Rashard might suddenly be able to turn on the jets again and figure how to shoot like he did in Seattle and Orlando.
Also, he fits into that idea of spacing the floor. Adding on another shooter will only allow more room for the Big Three to operate and those results could be scary. I'm talking Game 5 against the Thunder scary.
The Heat have finally found their shooter and they'll still have Shane Battier, Mario Chalmers and possibly even James Jones and Rashard Lewis. I must say, the Heat have truly set the standard for teams that want to create a successful Big Three.
Although it's disappointing that they'll most likely be without a true center to start the season, the fact that the offense is being run more fluidly only makes things easier for James, Wade and Bosh.
The Heat now not only have the reigning league and Finals MVP, a former Finals MVP, arguably the top mid-range shooting big man and one of the top perimeter defenders in the league, but they also have the best three-point shooter to ever walk the planet.
You call it unfair, I call it knowing how to manage your financial situation. The Heat aren't just out-spending every other team—they're convincing all these players to take less money in order to play for a team that knows how to win.
Who would have guessed that chasing titles over money would bring about so much scrutiny?
This article is
What is the duplicate article?
Why is this article offensive?
Where is this article plagiarized from?
Why is this article poorly edited?

Miami Heat: Like this team?