Breaking Down Mike Florio's Take That the Cleveland Browns Are the NFL's Worst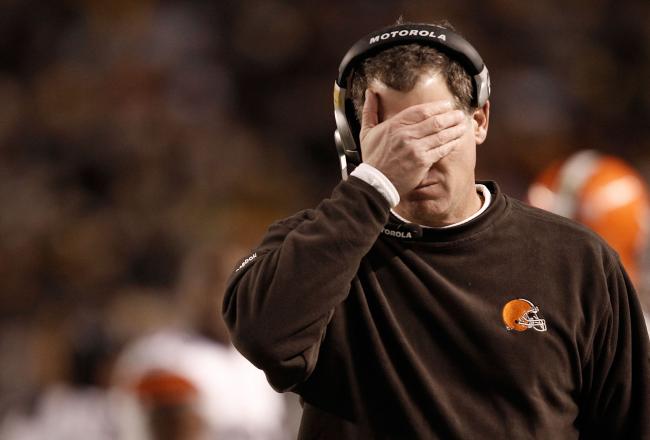 The Cleveland Browns weren't the worst team in the NFL last season and there's reason to believe we'll see improvement this year, but Mike Florio thinks they're the league's worst team right now.
Jared Wickerham/Getty Images
On Monday, Mike Florio of Pro Football Talk began his preseason power rankings series, detailing one team a day for 32 days. At the bottom of the heap, Florio places the Cleveland Browns—and though the team didn't perform well in 2011, that doesn't mean Florio's ranking is warranted.
Florio's argument is based around the fact that, yet again, the Browns needed to reboot the franchise this offseason in an attempt to stave off yet another losing season. But this isn't entirely the truth.
Every team in the NFL uses the offseason to assess areas of weakness and attempt to improve them. The fact that this also seems to include a quarterback for the Browns this year doesn't make this a reboot—this is still a continuing of the five-year plan that team president Mike Holmgren and general manager Tom Heckert embarked on three years ago.
The five-year plan is a philosophy of a franchise and doesn't rely particularly on specific players to complete it—there was no concept of "drafting Brandon Weeden" two years ago; just that they need a solid quarterback.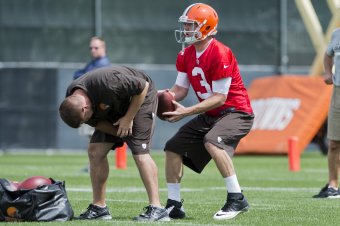 The offseason moves the Browns made aren't signs of panic—they are ways to practically address the issues they faced last year.
Jason Miller/Getty Images
Heckert, Holmgren and head coach Pat Shurmur spent this offseason gathering together pieces the team lacked in the last, and while some of their moves might be head-scratching, clearly they are adhering to a vision of a Browns team they believe they can mold into true contenders.
This isn't so different than any other team, but for some reason, Florio believes this indicates "the franchise collectively has pressed the button that falls between "panic" and "reset" for the coming season."
Florio's argument is rife with "if's," which is fine—it's July, training camps have not begun yet and teams can only be discussed with that modifier featured prominently. A sampling of Florio's remarks:
Though there's promise at the quarterback position, where 28-year-old rookie Brandon Weeden arrived via the first round of the draft, the depth chart remains an across-the-board liability unless and until Weeden shows he can perform at the NFL level.

Can second-round rookie Mitchell Schwartz step right in and take over for Tony Pashos at right tackle? Can receiver Greg Little make the kind of leap that will make the Browns feel even better about the Julio Jones trade? Can receiver Mohamed Massaquoi finally step up?

Childress knows a thing or two about running an offense with a workhorse tailback drawing safeties into the box; the challenge will be to unleash the passing game if/when Richardson becomes what the Browns expect him to be.
On and on Florio goes with this if-based commentary, which makes one thing startlingly clear: The Browns have an awful lot of questions, yes, but it also seems like they have more than a good shot of answering them.
In your preseason power rankings, where would the Cleveland Browns land?
What of the Indianapolis Colts? They have as many questions surrounding how well they'll perform this year, but clearly not enough for Florio to rank them 32nd. Is it simply because they landed Andrew Luck? It does take more than a quarterback to bring a team wins—and we all know it wasn't just because Peyton Manning didn't play last year that caused the Colts' collapse.
There are far more reasons for optimism about the Browns than there are reasons to worry. Florio claimed at the beginning of the article that "someone had to be No. 32," and that's true, but that team is not the Browns.
I'm not saying the Browns should properly be ranked in the top half of the league right now, and they are certainly closer to 32 than they are 16, but the sky is not falling for the Browns at the present moment.
Cleveland is one of a number of teams that right now have half a glass of water to their name. Florio, apparently, would rather perceive it as half-empty rather than half-full.
His opinion is his right, of course, but there's little evidence to back it up, aside from the myriad questions surrounding the team's quarterback, wide receiver and run defense situations. And these questions, I believe, aren't a liability—they are reasons for some very reasonable optimism.
This article is
What is the duplicate article?
Why is this article offensive?
Where is this article plagiarized from?
Why is this article poorly edited?