NHL Free Agency 2012: 10 Teams That Need to Make Moves, and Fast
Recently Split Duo of Ryan Suter and Shea Weber, Nashville Predators
Christian Petersen/Getty Images
The NHL free agency period has been a roller-coaster ride for some, but a slow moving log ride for others. While the Minnesota Wild reaped the benefits of Zach Parise and Ryan Suter hitting the market, the New Jersey Devils were able to keep Martin Brodeur right where he belongs. What about the rest of the NHL?
In the 2011-2012 NHL offseason, the Florida Panthers were faced with a challenge: meet the NHL cap floor. After signing a large crop of free agents including Kris Versteeg and Tomáš Fleischmann, they did just that.
Not only did they meet the cap floor, but they made the NHL playoffs. Not only did they make the playoffs, but they won the Southeast division too, beating out teams like the Washington Capitals and the Tampa Bay Lightning. With the Minnesota Wild making the biggest splash so far, will other NHL teams take up a similar strategy this summer?
Some have to.
With a new NHL cap floor of $54.02 million, teams will be forced to make the minimum salary cap this offseason. With the free-agent market being a one-stop shop to fill out cap space, there remains a good group of teams that will need to act similar to the Florida Panthers.
Here are the 10 NHL teams that need to start making some moves and spending some dough.
**A special thank you to CapGeek.com, visit their website for details on all NHL teams and their finances.
10. Dallas Stars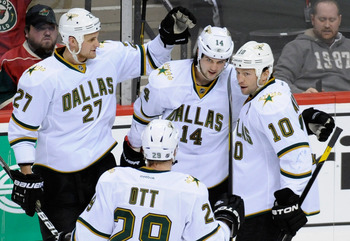 Stars fans will want Jamie Benn to stick around after this season
Hannah Foslien/Getty Images
2012-2013 Salaries + Bonuses = $51,376,111
Till Cap Floor = $2,643,859
The Dallas Stars have actually made a big splash in the 2012 offseason. Behind the Minnesota Wild, the Dallas Stars have arguably made the most significant transactions to build their team for next year.
Even though there isn't much money under the cap till they hit the floor, Dallas is in an interesting predicament come the 2013-2014 season, which should be considered this year.
Jamie Benn, Jaromir Jagr, Brenden Morrow, Derek Roy, Michael Ryder and Kari Lehtonen are all under contract for one more year. This accumulates to approximately $20 million in available cap space. On top of that, their best player in Jamie Benn is a restricted free agent this year, making his contract talks an interesting topic going forward.
The Dallas Stars seem poised to make a big impact in the coming 2012-2013 season. However, they should consider signing some depth players to avoid a complete overhaul the following season, since they will probably concentrate on signing the key pieces to their team.
Making only $821,667 in the coming year, look for Jamie Benn to get paid handsomely in the near future.
Possible FAs: Unnecessary. Must find ways to keep the current group to build around them.
9. St. Louis Blues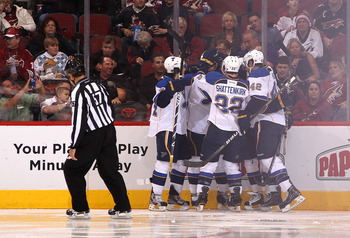 The defensive corps will require some money to stay in St. Louis
Christian Petersen/Getty Images
2012-2013 Salaries + Bonuses = $52,824,999
Till Cap Floor = $1,195,001
The St. Louis Blues clearly have something special.
Not only did the Blues win the Central division, but they were two points away from winning the Western Conference. These are incredible feats for a team that will only get better.
The cap space is slightly misleading as the Blues are paying $4.5 million in bonuses. To keep this group together though, they will need to start spending some cap space on the young players essential to the long term goals of the team.
On one side, the Blues have David Backes and David Perron locked in till the 2016-17 season. Alternatively, there are major contract issues that will hit the Blues in the very near future.
The most significant damage will be done on defence.
With only Barret Jackman and Roman Polak signed past the 2014-2015 season, the Blues organization will be spending money, rest assured. With the current price tag on legitimate top-two defencemen, Alex Pietrangelo and Kevin Shattenkirk will be in line for a very serious pay hike.
T.J Oshie is currently a restricted free agent while Chris Stewart and Patrick Berglund will join the party next year. With the departure of Jason Arnott and Jamie Langenbrunner, the St. Louis Blues could use some veteran experience to help Backes lead this team.
Possibe FAs: Shane Doan, Teemu Selanne, Brian Rolston, Mike Knuble, Daymond Langkow.
8. Florida Panthers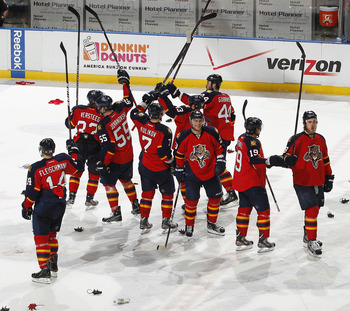 The Florida Panthers had a great season last year, but need to keep the wheels moving
Joel Auerbach/Getty Images
2012-2013 Salaries + Bonuses = $49,115,333
Till Cap Floor = $4,904,667
As mentioned, the Florida Panthers had a very successful season last year. This is why, even with almost $5 million available till the cap floor, they fall at No. 8.
The Panthers have very limited holes judging by their production last year. The goaltending will be taken on by Jose Theodore, Scott Clemmensen and, in the future, Jacob Markstrom.
They lost a large asset in Jason Garrison, but have tremendous up-and-coming defencemen that will be able to take over that role. Dmitry Kulikov is poised to become a great offensive defenceman and will help Florida create chances from the blue line for years to come, eating a nice chunk of their salary cap in the process.
With the defensive game looking bright for the next few seasons, the Panthers should concentrating on beefing up the offensive game. With Jonathan Huberdeau most likely making the jump to the NHL this year, a nice group of top-six wingers will become essential for their success in 2012-2013.
Possible FAs: Alexander Semin (should be the best option in their minds), Wojtek Wolski, Kristian Huselius, Andrei Kostitsyn, Niklas Hagman.
7. Ottawa Senators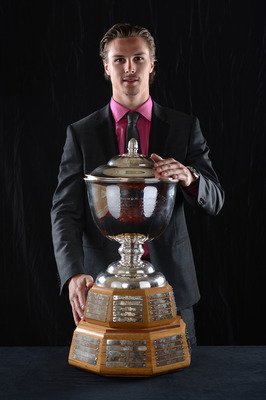 The best defenceman in the NHL last year, Erik Karlsson
Harry How/Getty Images
2012-2013 Salaries + Bonuses = $51,110,833
Till Cap Floor = $2,909,167
Like the St. Louis Blues, the Ottawa Senators are clearly moving in the right direction.
After realizing the capabilities of Erik Karlsson, the Senators were able to trade one of their high-end defensive prospects in David Rundblad for a future top-two center in Kyle Turris. Clearly, the Senators are putting together a great squad for the future.
With Karlsson locked in at $6.5 million till 2019, the Senators are obviously building around their superstar defenceman.
There were limited holes at both ends of the ice, and the team will only get better. Therefore, the Senators should concentrate on improving their bottom-six forwards.
The playoffs are not for the young and undeveloped. So for the coming season, the Ottawa Senators should capture some experience and grit for the post-season.
Possible FAs: Tomas Holmstrom, Mike Knuble, Jason Arnott, Jamie Langenbrunner, Daymond Langkow.
6. Phoenix Coyotes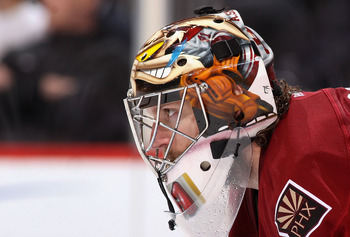 Mike Smith, grinding the high of a phenomenal season with the Yotes
Christian Petersen/Getty Images
2012-2013 Salaries + Bonuses = $45,120,833
Till Cap Floor = $8,899,167
Similar to the Florida Panthers, the Phoenix Coyotes have a significant amount of cap space, but are already a fairly successful hockey team. Not only do they have cap space, but the Yotes have the second most amount to spend to hit the cap floor.
So why do they fall in 6th place?
Well, it's hard to find reasons to criticize a team that not only won the Pacific division, but beat out the Stanley Cup Champion Los Angeles Kings to do so. With consistent success in a division that also includes the San Jose Sharks, the Dallas Stars and the Anaheim Ducks, it's hard to find problems with the Coyotes.
But losing their captain in Shane Doan is a big one.
Lauri Korpikoski and Mikkel Boedker will definitely be in line for pay increases. Their performances have not been on the level of other young well-known forwards, but they have definitely helped bring the Coyotes success. Also, it would be safe to assume that Oliver Ekman-Larsson and David Rundblad will eat a significant portion of the Yotes' salary cap for years to come.
With the defence and goaltending set for at least the next few years, the Yotes should address the issue of their top six forwards, which is hard to do with the current players available in the free agency market.
Possible FAs: Alexander Semin, Teemu Selanne, Kristian Huselius, Andrei Kostitsyn, Shane Doan (obviously).
5. Carolina Hurricanes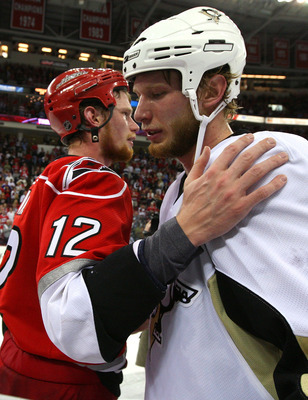 The Staal brothers, reunited by the Carolina Hurricanes
Jim McIsaac/Getty Images
2012-2013 Salaries + Bonuses = $50,142,500
Till Cap Floor = $3,877,500
Arguably, the Carolina Hurricanes made the best trade of the NHL off-season, acquring Jordan Staal from the Pittsburgh Penguins.
Jordan Staal happens to be the younger brother of Hurricanes' captain Eric Staal, making this a highly anticipated team to watch in 2012-2013.
The best part about the Carolina Hurricanes is they have youth, experience, and the players to make the playoffs in the coming season. The problem is: they need to fill out their roster with high end scoring to compete with the rest of the league, while ensuring the defence develops accordingly.
Even though the Staal brothers on the same line would be a sight to see, the Hurricanes would be better off splitting them up, balancing two good first lines. Having two elite level centres on on your top two lines is a luxury not all teams can experience. The Hurricanes' should definitely use this to their advantage, improving the productivity of their wingers.
Possible FAs: Alexander Semin, Shane Doan, Teemu Selanne, Kristian Huselius, Wojtek Wolski
4. Winnipeg Jets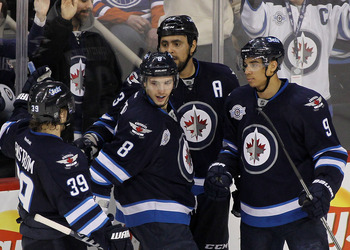 The young and talented Winnipeg Jets
Marianne Helm/Getty Images
2012-2013 Salaries + Bonuses = $50,181,459
Till Cap Floor = $3,838,541
The Winnipeg Jets have already made significant transactions by signing goaltender Ondrej Pavelec to a long-term deal while also inking veteran center Olli Jokinen to a two-year deal. Even after those signings, the Jets still have close to $4 million to play with till they hit the cap floor.
Sign Evander Kane.
This should be their No. 1 priority before they decide to spend money elsewhere. He is a restricted free agent this coming year, and considering his talent and lifestyle, he will be asking for top dollar.
With Dustin Byfuglien leading the charge on defence, there is definitely a good group on the blue line with Tobias Enstrom and Zach Bogosian in the mix. Watch out for Grant Clitsome. Being stuck in Columbus did not help his career, but he could be poised to have a breakout season with the Jets.
Like many teams on this list, the Winnipeg Jets are several pieces away from contender status.
Furthermore, the choice in free agents are slim pickings vis-à-vis their current needs. Nevertheless, some high-end scoring and veteran leadership could really help the young players in the coming season.
Possible FAs: Shane Doan (think about that one for a second, is there really a better fit?), Teemu Selanne (ditto), Jason Arnott, Kristian Huselius, Jason Blake
3. New York Islanders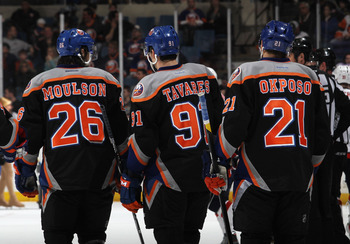 Top line in Long Island
Bruce Bennett/Getty Images
2012-2013 Salaries + Bonuses = $49,807,333
Till Cap Floor = $4,212,667
The New York Islanders have been building for the future for a long time, a very long time. With John Tavares signed through the 2018-19 season, the Isles have ensured the services of their elite captain for a long time.
But what about everything else?
The Islanders have been waiting for their young forwards to blossom into a dependable force in the NHL. Problem is, it hasn't happened.
While Tavares and Matt Moulson have developed some on-ice chemistry, the rest of the team is still finding themselves. Kyle Okposo, Michael Grabner and Nino Niederreiter will have to prove they can play in a top-six role in the coming season to stay there. While still in the development stages, Ryan Strome will also be a nice addition in the coming years.
In net, the Isles seem to be rolling more than three or four different goaltenders throughout the season even though Rick DiPietro is signed till 2021 at $4.5 million per year. The defence will be good in a few years with Calvin de Haan and Griffin Reinhart in the system, but the holes are more than evident at the NHL level today.
Lubomir Visnovsky and Brad Boyes are great additions, but the Islanders are far from a contending team, and will surely need more than just a few free agents to help their team succeed this year.
Possible FAs: Alexander Semin, Teemu Selanne, Jason Arnott, Michal Rozsival, Pavel Kubina.
2. Anaheim Ducks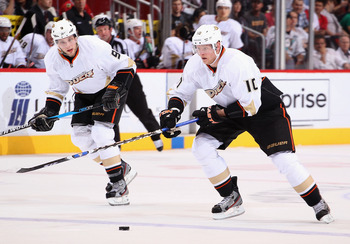 The best of the Ducks' wingers, Bobby Ryan (left) & Corey Perry (right)
Christian Petersen/Getty Images
2012-2013 Salaries + Bonuses = $48,504,167
Till Cap Floor = $5,515,833
Where to begin?
Bobby Ryan has been one of the most disgruntled players in the NHL this offseason while the entire team is coming off one of their worst career performances all around. Corey Perry went from a phenomenal 98 point season, winning the Hart Trophy and Marice "Rocket" Richard Trophy, to an abysmal 60 point showing this past year. Ryan Getzlaf and Bobby Ryan had just as bad of a season, leading to the firing of Randy Carlyle and trade rumors all season long.
Now that they have traded Visnovsky, the team will surely need to fill that void on the powerplay, which has been the Ducks' go-to means of scoring. Sheldon Souray and Cam Fowler will have to play a major role in filling the defensive responsibilities, hoping Hiller can stand on his head for the whole season and not just the second half.
With the contracts of Perry and Getzlaf ending after this season paired with the rumours surrounding Bobby Ryan, the Anaheim Ducks are in for a rough ride. Trading assets would be significantly more fruitful than signing any of the available free agents. In any case...
Possible FAs: Alexander Semin, Shane Doan, Peter Mueller, Wojtek Wolski, Eric Fehr
1. Nashville Predators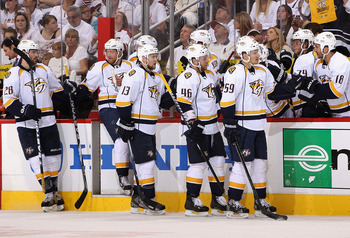 Nashville Predators must make due after losing Ryan Suter to free agency
Christian Petersen/Getty Images
2012-2013 Salaries + Bonuses = $41,389,167
Till Cap Floor = $12,630,833
Poor Nashville and poor Shea Weber.
The Predators have had the bad luck of losing their talented players to many different reasons, usually out out of their control. From Alexander Radulov playing in the KHL to Ryan Suter moving to Minnesota, the Preds need to make sure that this loss does not affect their success in the league.
The defensive game has always been good, especially playing in front of Pekka Rinne. With Shea Weber becoming a restricted free agent, the team will not only have to please him financially, but find the right pieces to make him stay.
Ryan Ellis will be a great offensive defenceman when his number is called, you can bet on that. Also, there are several young players that will be in line for new contracts, including Weber, which ensures that major chunks of the salary cap will be eaten by current players.
With that said, the Preds are not a bad team that need to make moves, but a rich team with very little options. They have the most money in the league before they hit the cap floor, and with limited talent in the free agency pool, approximately $12.5 million will be difficult to spend.
Here are some players they should consider, but be sure to know that most of this money will go back into the current team.
Possible FAs: Shane Doan, Alexander Semin, Kristian Huselius, Teemu Selanne, Eric Fehr
Keep Reading

Winnipeg Jets: Like this team?