Arsenal Tranfers News: Would Losing Theo Walcott Be All That Bad?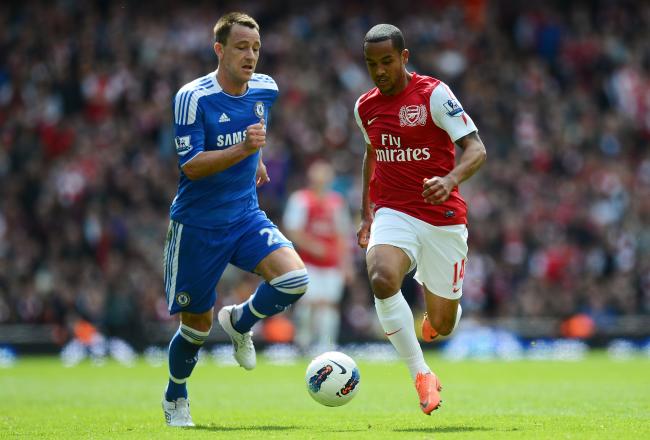 Mike Hewitt/Getty Images
Since Theo Walcott's arrival at Arsenal FC in January of 2006, fans have been hopeful that the young English forward would be the next big thing. Unfortunately for Arsenal fans, Walcott has been unable to be a consistent part of the Arsenal squad.
His astonishing pace is a problem for any defender on any given day, but Walcott struggles to use that pace to his advantage. One would think that Walcott would have developed a significant amount since his move to Arsenal from Southampton, but that hasn't been the case.
While it must be said that Walcott is good player, he also has struggled to find his comfort zone on the pitch. Arsene Wenger has opted to use the Englishman on the wing for majority of his appearances, but Walcott has also been placed in a more central role at times.
Walcott's pace loses some of its brilliance when he plays on the wing due to his lack of creativity. Unless the ball is played into space behind the opposing defensive line, Walcott is not very good at taking on defenders.
At times, Walcott has shown that even when he is into space with the ball, he is not the most consistent. He has repeatedly said that he would like to play a more central role, but his inconsistencies with, and without, the ball lead Wenger to grow frustrated with him.
After completing a £5 million transfer in January of 2006 with the possibility of rising to £12 million depending on appearances for club and country, Walcott has not made many significant changes. Although you can't teach speed, you can teach everything else, and Walcott continues to struggle to add to his bag of tricks.
Would losing Walcott be a significant loss for Arsenal FC?
In the past two seasons, Walcott has managed to find himself on the score sheet more often. Walcott had 13 goals and nine assists for the Gunners in the 2010-2011 season, and followed that up last season with 11 goals and 13 assists.
As Robin van Persie led the EPL and Arsenal with goals scored, Walcott was silently making his way up the scoring list as well. With Arsenal now facing the possibility of losing Walcott on a free move next summer, Arsene Wenger may feel pressured to offload the English International before the 2012-2013 season kicks off.
What would losing Walcott mean for Arsenal FC?
Well for starters, they would lose pace going forward. Looking at the Arsenal lineup, the only players with significant pace down the wings are Walcott, Oxlade-Chamberlain and Gervinho. Ryo Miyaichi can also be put into that group, but it is still uncertain whether he will get a chance in the Arsenal squad this season.
On the defensive side of the ball, Walcott was capable of being an absolute pest for opposing players due to his agility and ability to move quickly off the ball. At times, Walcott was seen dropping deep into the Arsenal defensive third to help defend.
So now we are left to ask if Walcott's absence would be noticeable in Arsenal's football. In my opinion, Walcott does bring pace to the side which can result in many different advantages, but overall, he has not developed his game enough since arriving.
There have been a number of times where Walcott has had the opportunity to play centrally and has wasted a number of clear scoring chances. He not only lacks the killer instinct in front of goal, but he also can't take on defenders, making him a one-dimensional player.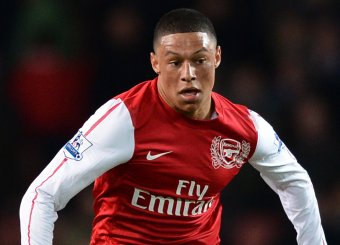 Laurence Griffiths/Getty Images
If you eliminate the space behind your defense and force Walcott to stay in front of you, defending him becomes much easier. Now I'm not saying that Walcott can't get around defenders because he has shown on some occasions that he can, but he has no creative footwork at all.
For a winger with Walcott's pace, how many times do you see him do a stepover or a simple creative piece of skill that allows him to avoid a defender and get in behind the defense? I can't think of many. He has become very predictable and that has shown time and time again in his time at Arsenal.
Losing Walcott would hopefully bring in a significant amount of money for Arsenal (rumored to be in the range of £15 million). With that money, Arsenal could look to bring in a player with pace who could not only take on defenders, but who also has more experience.
Without Theo, Arsenal can lean on Gervinho and The Ox to bring pace to their offensive game, and possibly give Ryo a shot in the main squad.
What do you think would be the advantages or disadvantages to losing Walcott?
Follow Me: @MikeGoncalves10
This article is
What is the duplicate article?
Why is this article offensive?
Where is this article plagiarized from?
Why is this article poorly edited?

Arsenal: Like this team?