AFC South Fantasy Watch: Titans' Training Camp Issues to Monitor Pre-Draft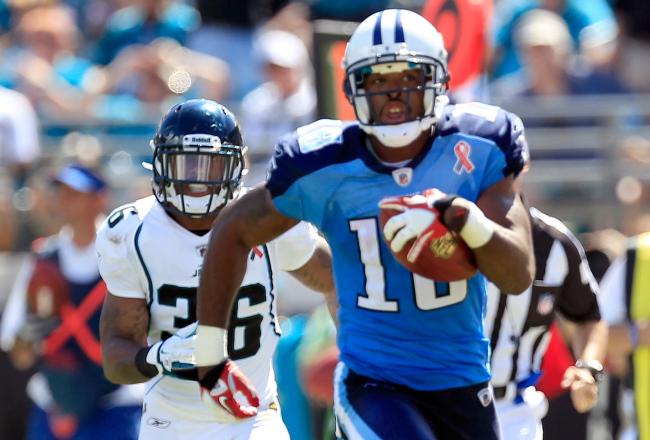 Britt could help you run away from the competition
Sam Greenwood/Getty Images
It's easy to get excited about the return of fantasy football.
The temptation is to get all your friends together on August 1, have a huge party and draft to your heart's content.
Don't.
I can't speak for the rest of the NFL, but if it's anything like the AFC South, there are too many questions that will be answered in training camp for you to draft that early.
Waiting until after the third preseason game gives you more time to get the first wave of injuries accounted for. Beyond that, every team has unknowns that won't be clear for a few weeks at least.
The Titans are no exception.
Here are three major fantasy questions that training camp and the preseason could answer.
Will Kenny Britt Be Healthy?
How would you like 15 to 20 points a week from your top wideout?
Yeah, me too.
While it's probably not totally realistic Kenny Britt could hit that level, he looked to be headed in that direction for before getting hurt last season. In two games, he put up 25 and 19 points before being lost for the season.
Now there are two questions.
The first is whether he's healthy. For that, wait for the preseason to play itself out. If you draft too early, you'll be rolling the dice on Britt.
The second is what kind of production he can sustain.
He had four 10-point games in his rookie season, and another eight games of at least eight points in an injury-shortened 2010. With the Titans rebooting as a pass-first team, Britt's production should climb even higher.
Britt could be a sleeper No. 1 wideout if he's 100% and can stay that way for 16 weeks.
Which Chris Johnson Will We See in 2012?
There are two versions of CJ2K.
The first is a Hall of Fame back with the potential to carry your team.
The second is the one you spend a top-five pick on only to have him bury your season.
In 2011, Johnson was both at the same time. He had seven 10-plus-point weeks, including 23 against Carolina, 19 against Tampa and 27 against the Bills.
He also had seven weeks with six points or less, and I hope you didn't need him for your playoff push, because he put up 56 yards rushing in Week 16 against Jacksonville.
There goes that trophy.
It's hard to win consistently in fantasy if you have to worry about your RB1 position.
Wait and see how Johnson does in training camp and the preseason. If he looks strong, don't hesitate to spend a first-round pick on him.
If he grumbles or seems unhappy in any way, run the other direction as fast as you can.
Should You Draft Matt Hasselbeck or Jake Locker as a Second Quarterback?
If you are in a ten-team league with two quarterback spots, you'll have to look long and hard at Hasselbeck and Locker at some point in your draft.
Obviously, neither will be a QB1 this season, if for no other reason than no one can be certain who will win the starting job. Beyond that, however, does either player have value to your team?
If Locker rises up to steal the starting job, he's definitely an option for your second quarterback spot. He'll be a starter in a pass-heavy offense with plenty of receivers. If he wins the job, he's unlikely to lose it.
If he does play, you can expect some decent running numbers to go with his pass totals. In all, he put up five total touchdowns in just three games' worth of significant snaps.
Hasselbeck is less certain. Even if he does what everyone expects and wins the starter's role, there's no guarantee he'll hang on to it for more than a month or so.
Last season, he put up just three 300-yard passing games and threw more than one touchdown pass just five times.
Unless he absolutely crushes Locker into oblivion with an great camp and preseason, Hasselbeck is probably a "stay away" player no matter what.
This article is
What is the duplicate article?
Why is this article offensive?
Where is this article plagiarized from?
Why is this article poorly edited?