Are the San Antonio Spurs Still Equipped to Challenge the NBA Elite?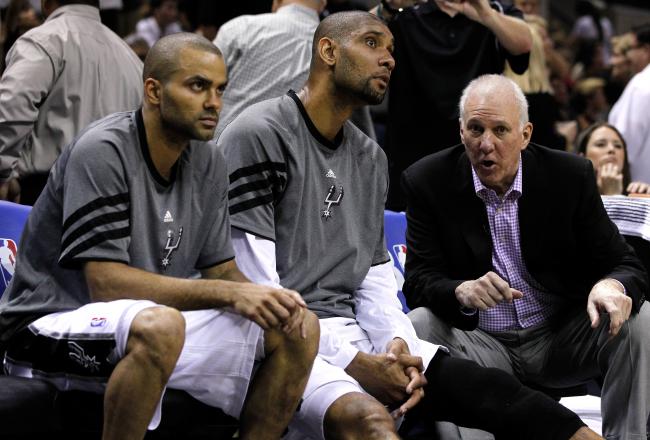 Tom Pennington/Getty Images
In the midst of a flurry of offseason activity, the San Antonio Spurs have been characteristically quiet. However, they are still extremely well-equipped to challenge the elite teams of the NBA.
The Spurs offered qualifying sheets to both Patrick Mills and Danny Green, the only two restricted free agents on the team. Outside of that, San Antonio GM R.C. Buford has done literally nothing in the way of offseason trades or transactions (at least nothing we've heard about).
With the Los Angeles Lakers acquiring Steve Nash, the Miami Heat grabbing Ray Allen and the Oklahoma City Thunder standing pat, it appears at first glance that the Spurs have gotten left behind by the other elite NBA squads. Oklahoma City's young players, who beat out the Spurs in the playoffs, continue to get better, while other high-end teams add more veteran talent.
However, this team is still able to challenge these teams for three reasons.
Veteran Leadership
There are virtually no other NBA teams that can match the experience the San Antonio Spurs have on their side. It is this leadership that allowed them to sustain a 20-game winning streak and have the best record in the NBA last season.
In Tim Duncan, Tony Parker, Manu Ginobili, Boris Diaw and Stephen Jackson, you have a unit of older players who have a combined 11 championship rings.
No other team can claim that number among its veteran core of players. When you add coaching legend Gregg Popovich to the mix, you have all the ingredients for a championship recipe.
Of those 11 combined rings, there have been four team championships, and they all have been won under the coaching of Popovich. He has a strict system, and this veteran core knows it by heart. They are arguably the best veteran unit in the NBA when it comes to knowing and understanding their coach.
Those players and this coach lead this team unquestionably. Any players that can't cut it or cause problems are cast to the end of the bench and booted from town soon after. This team is top-notch when it comes to the veteran leadership it takes to compete at the highest of levels in the NBA.
Justin Edmonds/Getty Images
Youth
Another big advantage this team has is the youth it can combine with that veteran leadership. The Spurs have drafted better than any other NBA team during the reign of Popovich and Buford, and the young talent they have is a testament to that.
Kawhi Leonard started a majority of the season as a rookie who many seemed to think would struggle to translate his game to the NBA after starring at San Diego State. DeJuan Blair literally has no ligaments in either of his knees and has been a huge steal for them, considering they drafted him in the second round of the 2009 NBA draft. Danny Green is young another player who seems like he could never fit on another team, yet he does so pretty seamlessly on this San Antonio team.
The common misconception attached to this Spurs team is that it is too old to compete. However, the Spurs have eight players who are under age 30 signed to play for them during the 2012-13 NBA season.
This team is nowhere near being too old to contend because they have young players who have bought into the system and can take the pressure off their aging superstars.
Starpower
Right now, we are in the superstar era of the NBA, where teams mortgage their entire futures on getting that one superstar (or two) who can take them to the tippy-top of the NBA. This Spurs team has shunned that approach, yet still has the starpower to match other elite NBA teams.
Parker was arguably the best point guard in the league last season. Ginobili has been one of the best sixth men in NBA history over the past decade. Duncan has already secured his place as one of the best big men the game has ever seen.
Can San Antonio compete with the NBA's elite teams?
The talented Miami trio of LeBron James, Dwyane Wade and Chris Bosh has been lauded, hailed, celebrated and watched more than any other in NBA history. Yet the quieter trio in San Antonio has won four times as many titles.
They may not be as flashy as that group or the ones in Oklahoma City, Los Angeles or New York, but they have gotten the job done more times than any of them.
They know how to consistently win and know what it takes to win the big trophy at the end of it all. That counts more than anything else.
This team can still compete with the NBA's elite, and it most certainly will in 2013.
This article is
What is the duplicate article?
Why is this article offensive?
Where is this article plagiarized from?
Why is this article poorly edited?

San Antonio Spurs: Like this team?