Alabama Football: Why A.J. McCarron Can't Afford to Get Cocky after BCS MVP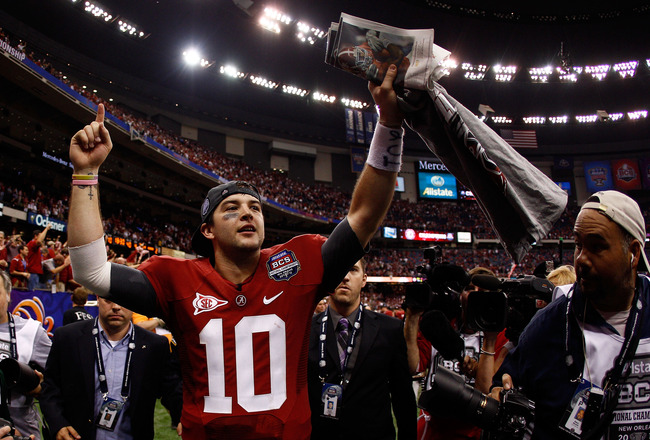 Alabama QB AJ McCarron still has plenty of room for improvement despite leading the Crimson Tide to a national title in his first year as the team's starter at quarterback.
Chris Graythen/Getty Images
After winning a national title in his first season as Alabama's starting quarterback, the assumption could be made that A.J. McCarron has little to prove in 2012.
The last time we saw McCarron in game action, he put on a show—carving up LSU's vaunted defense (23-for-34, 234 yards passing) en route to being named the Offensive MVP of the BCS National Championship Game in Alabama's 21-0 victory over the Tigers.
The 6'4", 205-pound junior will once again lead a Crimson Tide squad that is loaded and prepared for another run at the school's third crystal football in the last four years.
However, there are several reasons that the 6'4", 205-pound junior cannot afford to rest on his laurels.
Here are five reasons AJ McCarron shouldn't get cocky heading into 2012.
5. Lack of Experience behind Him at QB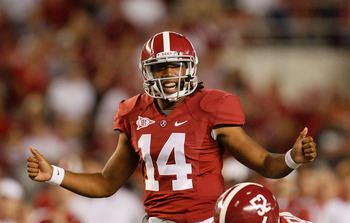 The transfer of Phillip Sims leaves the Crimson Tide without a QB who has taken a college snap behind McCarron.
Kevin C. Cox/Getty Images
When sophomore backup quarterback Phillip Sims decided to transfer to Virginia after spring practice, the situation behind McCarron became a huge question mark for Nick Saban to deal with.
The Crimson Tide will play this season with three true scholarship quarterbacks (plus running back Blake Sims could play under center if necessary this season).
However, neither redshirt freshman Phillip Ely nor incoming true freshmen Alec Morris (nor Blake Sims for that matter) have taken a snap in a college game.
It is imperative for McCarron to stay focused and healthy—and for him to play at a high level because there will be a lot of nervous energy emanating from Tuscaloosa if the Tide are forced to turn to their other quarterback options this season.
4. Leadership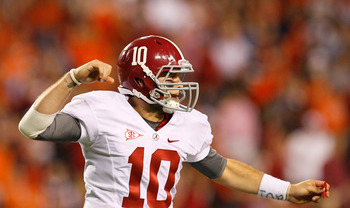 Opposing defenses will key in on slowing down McCarron this fall.
Kevin C. Cox/Getty Images
Last season, running back Trent Richardson was the alpha male for the Crimson Tide offense—with the team relying on him to carry a heavy load.
With Richardson off to the NFL and a largely new cast of skill players stepping up for other departed veterans, McCarron will be counted upon to help guide the offense until the newcomers get settled.
McCarron will have the luxury of being protected by the nation's best collection of offensive linemen, but ultimately, he will be the team's unquestioned leader on offense this season.
3. New Offensive System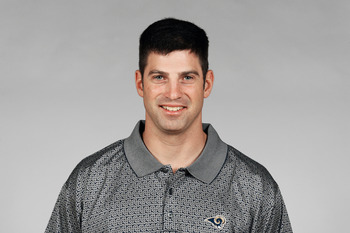 Nussmeier and McCarron must work to get the offense on the same page before the season opener against Michigan.
Getty Images/Getty Images
With former offensive coordinator Jim McElwain leaving in the offseason to take over as the head coach at Colorado State, McCarron spent the spring getting adjusted to working with his replacement—former Washington offensive coordinator Doug Nussmeier.
While the fundamentals of Alabama's offense likely will not change, the biggest task for McCarron—and the offense as a collective unit—is getting in sync with Nussmeier before the season begins.
Nussmeier is similar to his predecessor in the fact that he doubles as the quarterbacks coach—which means that McCarron's relationship with him is vital to helping the offense run smoothly and efficiently.
Their ability to develop a comfort level quickly—and avoid the miscues suffered in the spring game (where McCarron threw three interceptions)—will be one of the biggest challenges facing Saban's squad before the season opener against Michigan on Sept. 1.
2. New Skill Weapons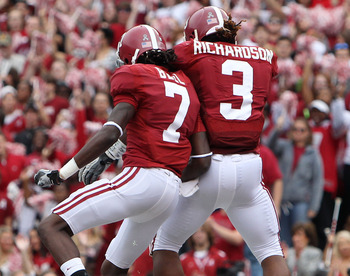 Bell will be one of several new starters who will try to help offset the loss of departed stars like Trent Richardson.
Mike Zarrilli/Getty Images
McCarron will only have one returning skill player that started last season—senior tight end Michael Williams.
While players like running back Eddie Lacy and receivers Kenny Bell and Kevin Norwood all have plenty of experience (all are juniors), none of them have had to be the primary options in their respective segments.
McCarron was in that same position entering last season, which should help him lend his experience to his teammates going through similar transitions.
McCarron's ability to help them adjust will go a long way in determining the success of the Crimson Tide's offense this season.
1. All Eyes on A.J.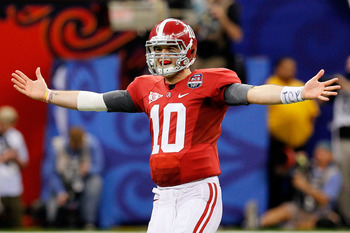 With several stars gone from last year's team, McCarron will be the Tide's most recognizable player this season.
Kevin C. Cox/Getty Images
Even though he enters this season buoyed by his flawless effort against LSU—one that frankly most observers from around the nation did not believe he was capable of—McCarron will still have to battle the perception that he is more than just a caretaker of the Crimson Tide offense.
After all, McCarron's role in the Crimson Tide's success as a team took center stage in last month's Twitter controversy, sparked between him and LSU corner Tyrann Mathieu.
Whether or not that label applies, McCarron will have to deal with increased attention from fans, media and opposing defenses, considering he is the focal point of the offense this season.
McCarron's ability to navigate the space between being cocky and being confident—something that he has been able to balance admirably thus far in his college career—will be a key factor in helping the Crimson Tide stay on course in their quest to repeat as national champions.
Keep Reading

Alabama Crimson Tide Football: Like this team?