Minnesota Vikings' Backup Plan If Adrian Peterson Misses the First 6 Games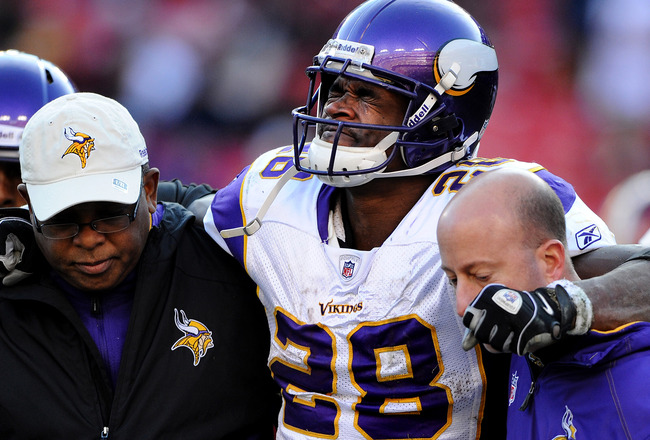 Patrick Smith/Getty Images
The Minnesota Vikings need to make sure Adrian Peterson is completely recovered from the knee injury suffered last season before they put too much on the best running back in the NFL. They also better be prepared with contingency plans if Peterson suffers any setbacks during training camp.
By now just about everyone has seen the images of Peterson being helped off FedEx Field in Washington after suffering tearing both his ACL and MCL in his left knee. The injury occurred in a meaningless game against the Redskins in Week 16 last season.
With the pained expression on his face, as head trainer Eric Sugarman and linebackers coach Mike Singletary assisted Peterson off the field, went the concerns of Vikings fans as to how long it would take him to return to the field.
He finished the game with 38 yards, leaving him a mere 66 yards short of becoming the Vikings all-time leading rusher. The record is currently held by Robert Smith, who rushed for 6,818 yards in his eight years in Minnesota from 1993 to 2000.
Peterson, known for his heroic work ethic, has accelerated his rehabilitation with the hopes of being ready for the Vikings' home opener in Week 1 against the Jaguars on September 9th. In a report from USA Today posted on Rotoworld.com, head coach Leslie Frazier has indicated the team will be smart and take their time in bring back Peterson.
Even if Peterson's knee is fully healed by Week 1, it could be weeks before the four-time Pro Bowl running back is effectively playing at full speed.
Look at Chris Johnson, who held out of training camp and missed the entire exhibition season. Johnson agreed to a new contract just 10 days before the Titans' first game last season. The lack of training camp showed as Johnson finished the season with his lowest rushing total (1,047 yards), the fewest rushing touchdowns (four) and lowest average of 4.0 yards per carry.
In the first six games of the season Johnson only rushed for 268 yards on 83 carries and one touchdown. He did not exceed 100 yards rushing until Week 10—and Johnson was not coming off a devastating knee injury like Peterson.
Yes, the Vikings better be fully prepared to open the season with a less-than-effective Peterson at best, and most likely without him.
Here's a look at several backup plans the Vikings should be evaluating.
Keep Reading

Minnesota Vikings: Like this team?