Georgia Football: What You Need to Know About the Bulldogs' Depth at Linebacker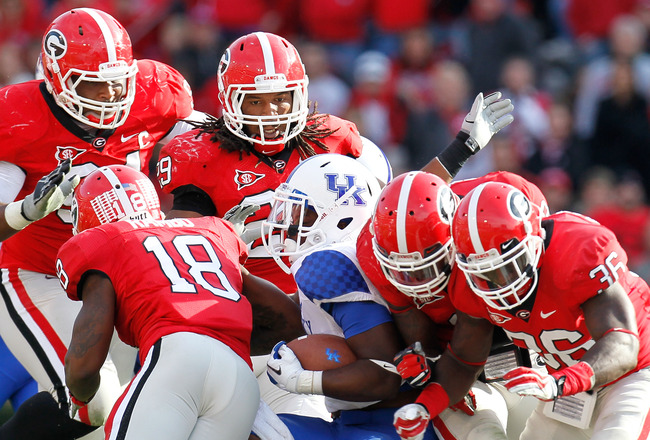 Kevin C. Cox/Getty Images
In order to have a successful 3-4 defensive scheme, a team has to have talented linebackers.
For the Georgia Bulldogs, they have a very talented set of linebackers in Jarvis Jones, Chase Vasser, Alec Ogletree and Michael Gilliard.
But to be that elite team, a team has to have depth at that position, because you never know when a starter will get injured or suspended. Fortunately, the Bulldogs have plenty of depth at inside and outside linebacker, which will pay dividends during the later stages of the season when players are nursing injuries.
Here's what you need to know about the Bulldogs' depth at linebacker.
Christian Robinson Provides Senior Leadership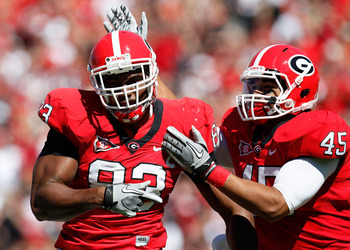 Kevin C. Cox/Getty Images
Christian Robinson may not be the starting inside linebacker, but he does have a lot of experience and provides leadership, as he and Gilliard are the only senior linebackers on the depth chart.
Robinson has started 15 games and played in 37 during his college career. He is very reliable and is always around the football.
Because of the suspension to Alec Ogletree, Robinson will take his spot in the first two games of the year. Losing Ogletree does hurt, but because Robinson can do everything defensive coordinator Todd Grantham asks him to do, the defense won't miss a beat.
Ramik Wilson Could Have a Breakout Year
Ramik Wilson will back up Chase Vasser at outside linebacker this year, but he could see a lot more action than expected.
Last year, Wilson played in eight games, but tallied only four tackles. This past spring, he was one of the standout players on the team and was even named Most Improved Player on Defense at the conclusion of spring practice.
Vasser does have more experience and did produce well last year, but if Wilson is able to improve during fall practice, he could take the starting spot away from Vasser.
Amarlo Herrera Will Be the Next Big Star
Due to some early injuries last year, Amarlo Herrera was thrown into the starting lineup as a freshman and did not disappoint.
Herrera played in all 14 games last year and started in eight of them. He racked up 37 tackles, forced one fumble and broke up two passes. For his efforts, Herrera was named one of the team's Newcomers of the Year.
He is slated to back up Gilliard, but with Ogletree out of the lineup the first two games, there's a chance Herrera could start if they want Robinson to play somewhere else.
Who Will Replace Jarvis Jones?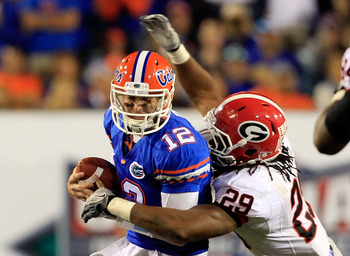 Sam Greenwood/Getty Images
Jarvis Jones may only be a junior, but odds are this will be his final year in a Georgia uniform.
So, it's not too early to ask the question, who will replace the All-American linebacker?
T.J. Stripling is the No. 1 backup for Jones, and he is nearly two years removed from a leg injury he suffered against Colorado. Stripling appeared in nine games and tallied two tackles in limited action last season.
Two other candidates to replace Jones are Reuben Faloughi and Dexter Morant. Faloughi appeared in eight games last year and recorded three tackles. Morant was with the Bulldogs in 2010, but decided to leave before the season began.
Overall Analysis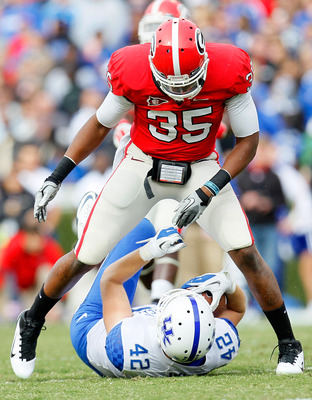 Kevin C. Cox/Getty Images
The linebackers for the Bulldogs are as talented as you will find in the country. We know what Jones, Ogletree, Gilliard and Vasser can do, but it will be players like Stripling, Robinson and Hererra who will be the reason why the defense will be one of the best in the country.
The Bulldogs did lose a linebacker recently, as Brandon Burrows decided to transfer. But because of the way the Bulldogs have recruited the last two years, they won't have a problem finding replacements at inside and outside linebacker.
Because of the depth the Bulldogs have at linebacker, could this be the best unit in the country?
Follow me on Twitter
Keep Reading

Georgia Bulldogs Football: Like this team?