10 Reasons to Believe the Mets' Amazin' Run Will End in the Second Half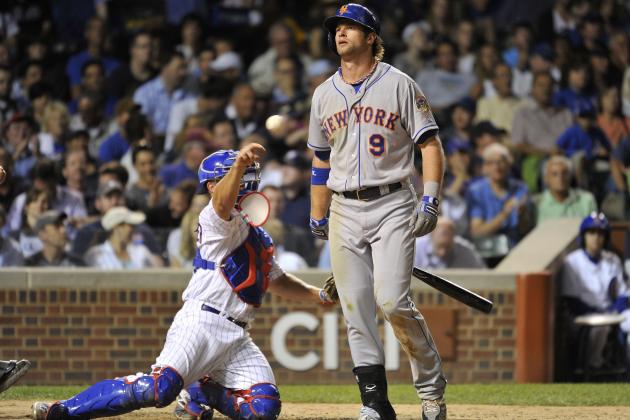 Brian Kersey/Getty Images

Last week, I wrote this piece on why the New York Mets will continue to surprise the National League and battle for a playoff spot through September.
While those reasons were all valid, here is the eternal pessimist's view on the Mets' second-half of the season and why they will fall flat come September.
If you are faint of heart, look away, because the Mets have spent 2012 erasing the negative feelings towards the organization.
Here are 10 reasons the Mets will not make the playoffs.
Begin Slideshow

»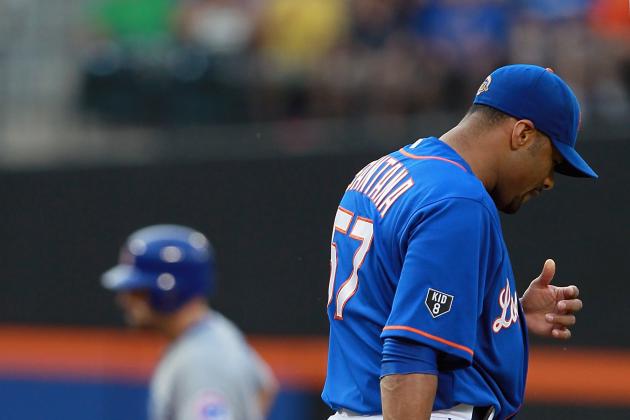 Mike Stobe/Getty Images

Not taking anything away from his above-average first half, which featured a 6-5 record with a 3.24 ERA, 1.17 WHIP and 8.64 K/9, but Johan Santana may not be able to continue his stellar performance as the season progresses.
He has not compiled 30 starts or 200 innings pitched since 2008, and it would be unrealistic to assume he can remain healthy and effective for the entire season.
Thus far he has performed admirably, but he has shown some chinks in the armor, notably his starts against the New York Yankees and Chicago Cubs.
Santana is the Mets' most accomplished pitcher and has plenty of experience in big games, but this is a matter of his health and whether he can remain durable coming off his major shoulder surgery, which took 18 months to return to the Major Leagues.
Johan has had a bit of an unconventional season as he has experienced the peaks (no-hitter on June 1) and the valleys (five outs recorded and six runs on April 17).
Johan ERA by month:
Month Innings Earned Runs ERA
April 24 6 2.25

May 35 12 3.09

June 39 12 2.77

July 4.2 7 13.50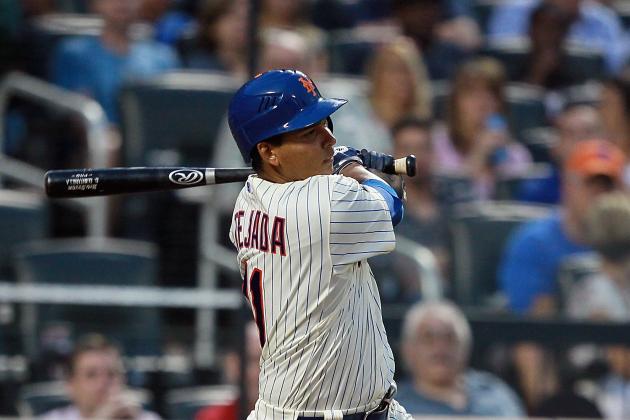 Mike Stobe/Getty Images

Right now, the Mets are relying on a lot of players that are either before or after their prime.
The average age of their positional players on the 40-man roster is 27. Out of their typical starters, Ike Davis, Ruben Tejeda, Josh Thole, Lucas Duda and Kirk Nieuwenhuis all have fewer than four seasons of experience.
While they have all shown flashes of possessing staying power, it is only natural that these first- and second-year players will hit extended slumps as Nieuwenhuis has.
None of the Mets' position players, aside from David Wright, have even experienced playing meaningful games during a pennant race.
It will be a challenge for manager Terry Collins to keep his players focused and playing efficiently through the dreary days of August onto September.
Even more of a concern than their bats is the defense. The Mets have been charged with 63 errors, which is the sixth-worst mark in the MLB.
Here are the fielding percentages for their players so far.
Player Fielding Percentage
Ike Davis .991
Josh Thole .990
Justin Turner .990
Scott Hairston .984
Ruben Tejeda .978
Daniel Murphy .974
Kirk Nieuwenhuis .974
Lucas Duda .969
David Wright .961
Mike Baxter .947
Jordany Valdespin .941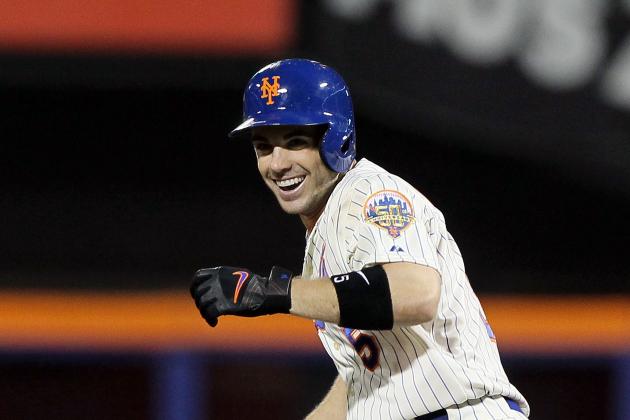 Jim McIsaac/Getty Images

David Wright is in his ninth MLB season and is having arguably his best one to date. He is on pace to not only break several of his personal records, but also some of the Mets' franchise records.
He essentially carried the offense during April, May and June while Ike Davis and Daniel Murphy were struggling to find their consistencies.
Lately, he has been sharing the slugging with Hairston, who is tied with Lucas Duda for the team lead with 12 home runs.
While Wright has been playing at an MVP level, he will not continue to produce at this rate if the pitchers are able to pitch around him to face the following hitter.
Wright is batting .351 with more walks than strikeouts, but his history shows us that he has never batted above .325, struck out fewer than 113 times (in a full season) or walked more than 94 times.
Has he become a better hitter? Perhaps. But without the protection of Carlos Beltran and Carlos Delgado as he had in 2005-2008, Wright is unlikely to maintain a torrid pace with little or no protection.
That puts the onus on Ike and Co. to force pitchers to give Wright pitches to handle.
Here are Wright's best single-season numbers based on On-base Plus Slugging percentage (OPS).
1. 2012: 1.004
2. 2007: .962
3. 2008: .924
4. 2006: .912
5. 2005: .911
Even in the seasons in which he finished Top-5 in the MVP voting, he did not approach this level of production. The Mets will need other bats to cushion the blow during his slide.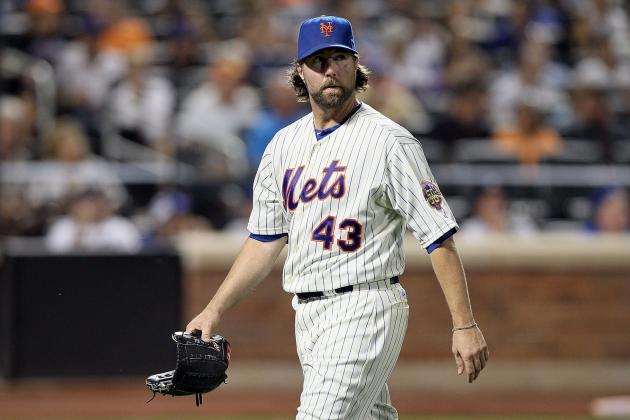 Jim McIsaac/Getty Images

Every baseball fan has a tremendous amount of respect for not only R.A. Dickey as a baseball player but as an incredibly humble and selfless person.
He has put up fantastic numbers thus far, putting himself at or near the league lead in virtually every significant pitching statistic.
While the Mets have counted on him to be a stopper so far, it would be unfair to expect him to maintain numbers that have only been compiled by pitchers such as Randy Johnson and Pedro Martinez in their primes.
Either the Mets will need to receive dominating starts by Chris Young and Jon Niese or they will regress towards .500.
The Mets lead the MLB in quality starts, naturally led by R.A. Dickey. Here is the breakdown of their quality starts.
Quality Starts No.

R.A. Dickey 14
Dillon Gee 12
Jon Niese 11
Johan Santana 10
Chris Young 4
So, Dickey has thrown a QS in all but three of his starts. Unless he is going to have a 1985 Dwight Gooden season (who recorded 33 in 35 outings) the Mets will need to have one of the other starters pick up the eventual slack.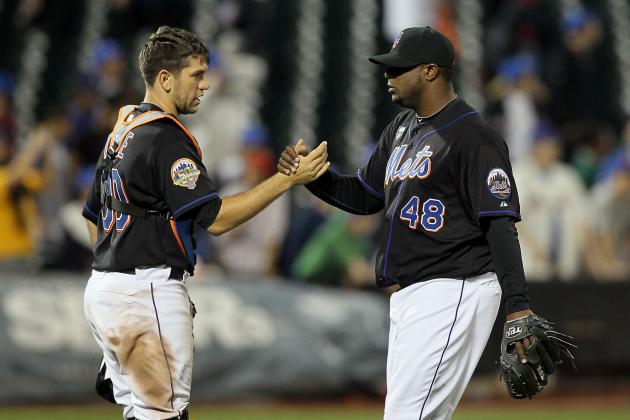 Jim McIsaac/Getty Images

According to ESPN New York, Mets' closer Frank Francisco will attempt to pitch in a rehab game this Wednesday as he prepares to come back from his stint on the 15-day DL.
Even once he comes back, however, the Mets' bullpen issues will not be solved.
Francisco, despite his 18 saves, has a 4.97 ERA and a 1.59 WHIP. Those numbers are extremely elevated for a man who is relied upon to secure small leads.
Can Francisco become more dominant as the season progresses, or will the Mets bullpen continue to rank last in the National League with a 4.94 ERA?
The bright spots have been Tim Byrdak and Bobby Parnell, but the Mets must receive a boost in performance from Jon Rauch and Francisco if they are to jump in front of the Atlanta Braves and Washington Nationals in the division.
The Mets have not had a dominating closer since Billy Wagner; here are the statistics of their saves leader since their last postseason berth in 2006
Year Name Save Total ERA
2011 Francisco Rodriguez 23 3.16
2010 Francisco Rodriguez 25 2.20
2009 Francisco Rodriguez 35 3.71
2008 Billy Wagner 28 2.30
2007 Billy Wagner 34 2.63
2006 Billy Wagner 40 2.24
Having a dominating closer at the end of the game makes it much more comforting for a manager and allows the general manager to focus on acquiring a bridge to that fireman. The Mets are still searching for their stopper.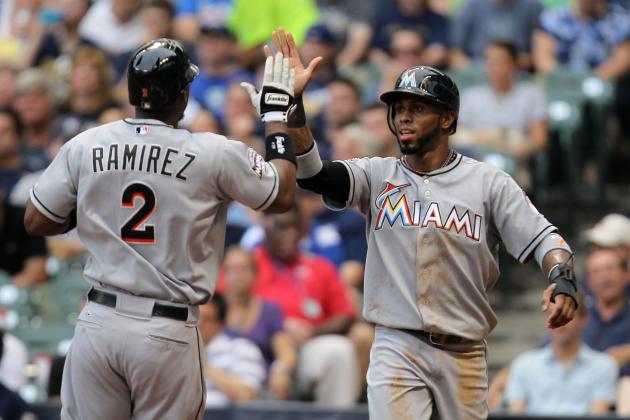 Mike McGinnis/Getty Images

There is no need to remind anybody what the Marlins did to the Mets on the final day of the 2007 and 2008 seasons.
Well, the schedule makers apparently want to test fate once again as the Mets and Marlins will conclude the 2012 season with a three-game series during Oct. 1-3.
It is clear that neither team likes each other, but the Marlins were the ones that poured salt on the Mets' collective wounds by winning two of three both seasons.
The bench-clearing brawl that took place on the second-to-last game in 2007 really provoked the Marlins and created bad blood between the two clubs.
If the Mets are to complete their run to the playoffs in 2012, they must figure out a way to eliminate the ghosts of their September collapses and bully the Marlins once and for all.
2007
Sept. 28th Marlins 7 Mets 4 W: Kim (10-8) L: Perez: (15-10) SV: Gregg (32)
Sept. 29th Mets 13 Marlins 0 W: Maine (15-10) L: Seddon (0-2)
Sept. 30th Marlins 8 Mets 1 W: Kensing (3-0) L: Glavine (13-9)
2008
Sept. 26th Marlins 6 Mets 1 W: Volstad (6-4) L: Pelfrey (13-11)

Sept. 27th Mets 2 Marlins 0 W: Santana (16-7) L: Nolasco (15-8)
Sept. 28th Marlins 4 Mets 2 W: Nelson (3-1) L: Schoeneweis (2-6) S: Lindstrom (5)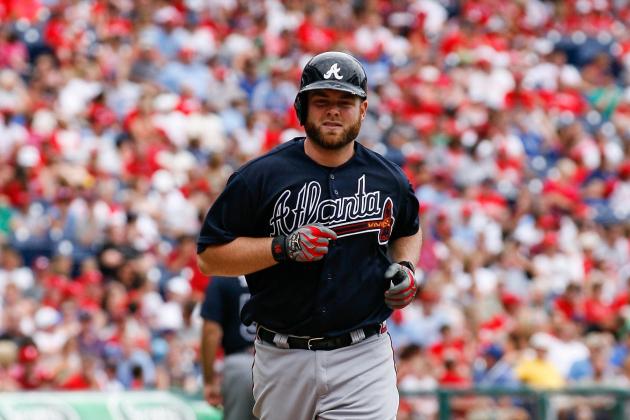 Brian Garfinkel/Getty Images

Entering the season, the Mets were the heavy-favorites to finish in the cellar of the extremely balanced NL East.
Thus far, the Mets have been lucky that the Philadelphia Phillies and Miami Marlins have not performed anywhere near their ceiling.
While both teams may not have enough time to recover and reach the postseason, you can fully expect them to have significant hot streaks at some point.
The Phillies just activated Ryan Howard and Chase Utley from the disabled list. Roy Halladay is not far behind; he has been injured since May 27.
Their first half has been pitiful, but even the most conservative of predictions will have them finishing the season at or around .500.
The Marlins have not been struck with the injury bug as much as the Phillies but have not received the expected production-levels from several of their key players, notably Hanley Ramirez, Jose Reyes and Heath Bell.
Even if only two of those three get on a tear, then the Marlins instantly become a more dangerous team.
The Mets will face the Marlins 12 more times, the Phillies six more times, the Atlanta Braves 12 more times and the Washington Nationals 12 more times. That's 42 games remaining against quality opponents.
Needless to say, the second half will not be a walk in the park for the Metropolitans.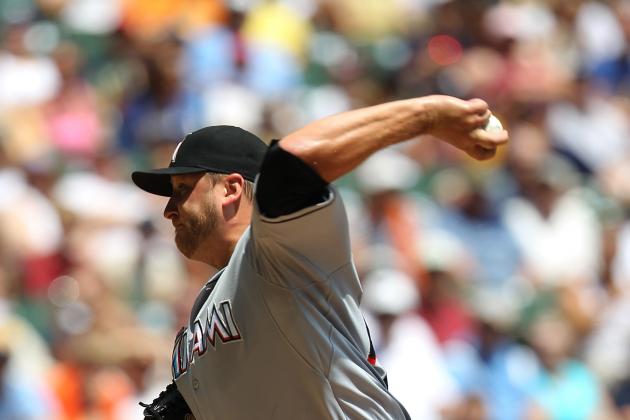 Mike McGinnis/Getty Images

The Mets have an extremely left-handed-heavy hitting lineup. For that, they have struggled against southpaw pitchers mightily.
They have only won 12 games this season against lefties in 32 contests. That is the fifth-lowest win total in the National League.
The NL East happens to have several impact southpaws, which is not good news for the Mets in the second half.
They will need a way to mitigate the effect of having Lucas Duda, Ike Davis, Josh Thole, Daniel Murphy and Kirk Niuewenhuis all neutralized by lefties.
Collins does not have many options, aside from starting Justin Turner, Andres Torres and Scott Hairston in their places.
Down the stretch, pitchers such as Cole Hamels, Cliff Lee, Mark Buehrle, Gio Gonzalez and Mike Minor can give the Mets trouble in critical NL East match ups.
Lowest Win Totals Against Left-Handed Starting Pitchers (NL)
San Diego 8-20 ,285
Colorado 8-17 .320
Chicago 8-17 .320
Philadelphia 9-18 .333
Houston 11-12 .478
New York 12-20 .375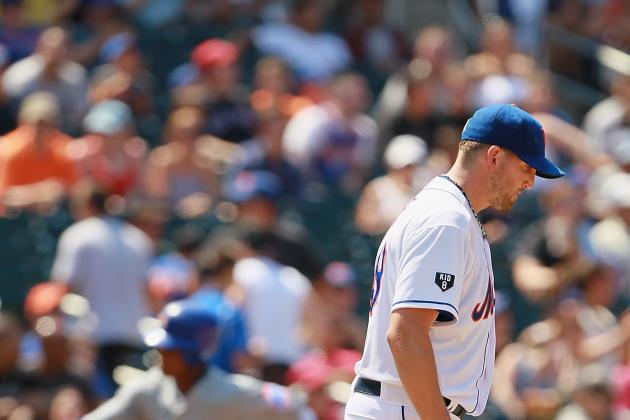 Mike Stobe/Getty Images

According to Fan Graphs, aside from six teams in MLB history, if a team has a negative run differential, they will not make the playoffs.
For the season the Mets are +20 which means they should be struggling to stay over .500. They have the tendency to get blown out occasionally, while they rarely win by large margins so the differential is a bit skewed, but the principle applies.
The Mets are unlikely to make the playoffs with a run differential near neutral.
The San Francisco Giants are actually tied with the Mets in the standings, yet they have been outscored by eight runs this season.
They may actually be the exception to this rule because the Giants are so reliant on one-run wins that their losses may impact their run differential much more than their victories.
With that being said, look for the St. Louis Cardinals, owners of a +70 differential, to make a big second-half run.
Generally, the teams with the largest run differentials are the ones playing until the end of October.
Top 10 in Run Differential
1. Texas Rangers +79
2. St. Louis Cardinals +70
3. New York Yankees +65
4. Chicago White Sox +63
5. Washington Nationals +58
6. Los Angeles Angels +44
7. Boston Red Sox +43
8. Cincinnati Reds +42
9. Atlanta Braves +34
10. Pittsburgh Pirates +32
If the season were to end today, eight of these ten teams would be in the postseason. It is simple to figure out, consistently outscore the opponent and you will play October baseball.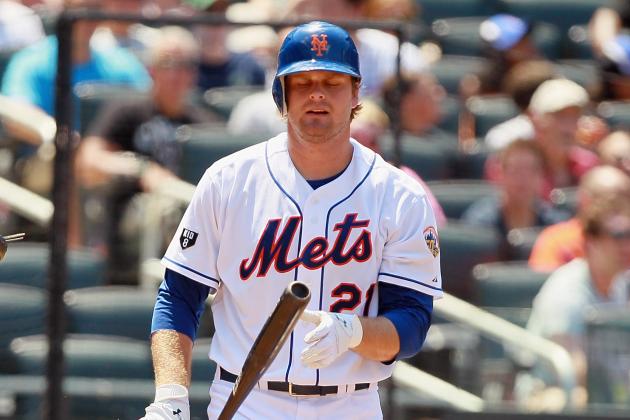 Mike Stobe/Getty Images

The New York Mets have scored 48 percent of their season run total with two outs. That may sound staggering, because it is.
That number is unsustainable, and the Mets must find a way to score their runs before they are left with one out remaining in the inning.
They are batting .285 as a team with runners in scoring position and two outs, and have scored 158 runs, while the Major League average is 110 runs.
Is it possible that they possess some of the best clutch hitting ability in the majors? Yes, but that would be more valid if their overall team average was higher than .259.
It reveals to me that the Mets have been the beneficiaries of luck over a small sample size. As the season progresses, perhaps some balls will not fall in and suddenly, their offense would suffer severely as a consequence.
Here are the top batting averages in the MLB with runners in scoring position and two outs.
1. Texas Rangers: .287
2. New York Mets: .285
3. Colorado Rockies: .267
4. Toronto Blue Jays: .266
5. Washington Nationals: .264
MLB Average: .234
As can be seen, it is basically the Rangers and the Mets way above everybody else. The Rangers are batting .280 as a team, however, and lead the MLB in runs.
The conclusion can be drawn that the Mets are driving in two-out runs at an unsustainable rate and it will regress as the season progresses.