New York Mets: Why 2012 Will Not Feature a Second-Half Collapse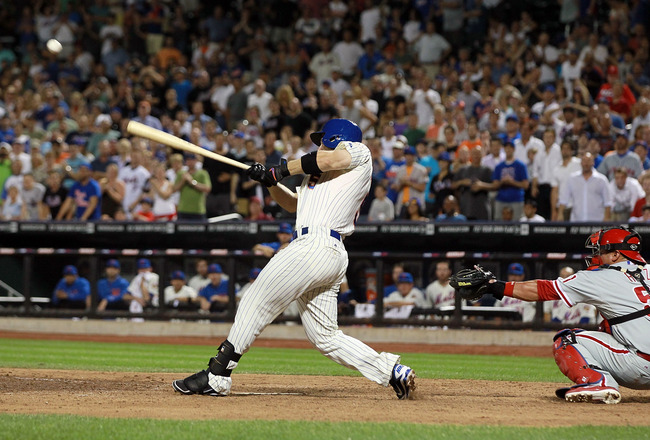 Jim McIsaac/Getty Images
The New York Mets are no strangers to lurking near the top of the standings in the first half of the season.
In fact, the 2010 Mets—who ended with 79 wins—were actually nine games over .500 at the halfway point in the season.
With that being the case, it is hard to get truly excited about the first half of this season. On the other hand, however, this club is different than previous seasons.
There will not be a second-half letdown and the Mets will ultimately be playing for their playoff lives until the last weekend of the season.
Here are five reasons to support that claim.
5. Alderson Will Improve the Bullpen Via Trade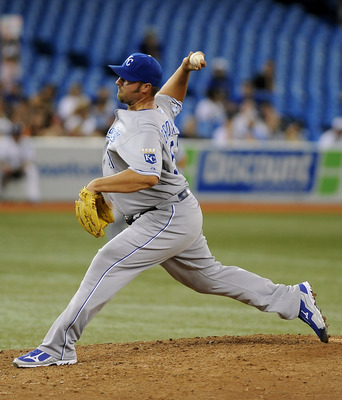 Brad White/Getty Images
The Mets' bullpen has not been effective to this point, and that is definitely a concern.
Help is on the way, though.
According to Jon Paul Morosi of Fox Sports, the Kansas City Royals are beginning to shop closer Jonathan Broxton, who is putting up a tremendous season thus far.
Out of all the available arms, I think the Mets should be most interested in Broxton.
He is only 28, he is familiar with many of the National League batters and he has posted better numbers than any of the other available arms.
If the Mets were to acquire Broxton, the bullpen is immediately upgraded and the late innings would not be as concerning.
4. Terry Collins' Demeanor
J. Meric/Getty Images
What is not to like about Terry Collins?
He is old-schooled, even-keeled, he is knowledgeable of the game and he holds his players accountable for their mistakes.
Collins has gotten the most out of his players and keeps his bench players fresh by giving them ample playing time.
It is no coincidence that the Mets have avoided significant losing streaks and bounce back from tough losses.
Their general is in charge and he keeps the team focused and motivated.
The Mets have already made it through difficult stretches in their schedule and they will be able to keep this pace as the season progresses.
3. David Wright Is Having His Best Season Since 2008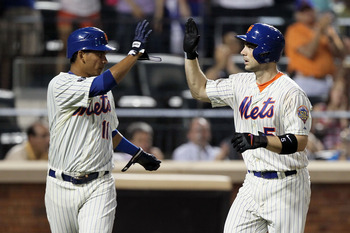 Jim McIsaac/Getty Images
David Wright began his career by compiling four consecutive seasons in which he finished in the top-20 of the MVP voting.
He batted .311 and averaged 29 home runs and 112 RBI with 22 stolen bases and 106 runs scored.
His career was dealt a big blow once Citi Field began knocking down several would-be home runs. 2009 through 2011 were not friendly to David Wright, featuring two serious injuries and way too many strikeouts.
Wright has altered his career yet again as he is at or near the league-lead in several offensive categories and is just behind Joey Votto with a 4.7 WARP.
He virtually carried the offense while Ike Davis and Daniel Murphy struggled in the first half, and now that some other bats have woken up he will begin to see more fastballs.
It is scary to think how much more he can produce if pitchers cannot pitch around him. With Scott Hairston swinging the way he has, Wright may approach his 2008 production numbers which put him in the MVP talks through the final week of the season.
2. The NL East Is Without a Powerhouse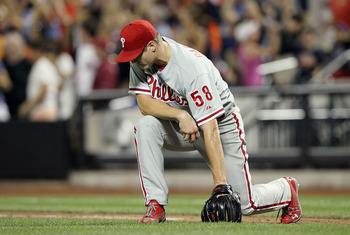 Jim McIsaac/Getty Images
Since the days of Glavine-Smoltz-Maddux controlling the NL East, there has been a perennial powerhouse in the division.
When the Braves began to disband, the Philadelphia Phillies took over the reigns and have won five consecutive division titles, increasing their win total every season.
That will not continue this season.
The Phillies fell to 10 games below .500 last night, and despite activating Ryan Howard and Chase Utley from the DL, their chances remain slim to return to the postseason.
The NL East leading Washington Nationals have never been to the playoffs, and are relying on a very inexperienced team to lead them to October baseball.
The other teams—Atlanta Braves and Miami Marlins—both have their deficiencies and neither are locks for postseason berths.
The Mets picked the right year to make a run, as they may have the most balanced attack in the division.
With 12 second-half games remaining between the Mets and Nationals, the division may come down to the last month.
1. Top Three Starters Have Combined to Go 25-8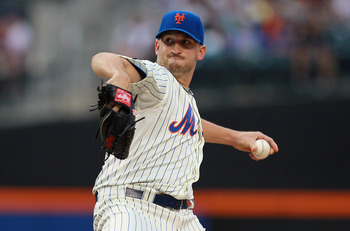 Mike Stobe/Getty Images
Entering the season, Johan Santana was a question mark due to his recovering left shoulder. R.A Dickey and Jon Niese were career .500 pitchers who have never won more than 11 games in a season.
Well, that has changed extremely quick.
Santana, Dickey and Niese have performed better than anybody could have predicted and are the primary reason the Mets have a solid 3.91 team ERA.
Niese was roughed up in Toronto, but since then has been one of the most consistent pitchers in baseball and has made the Mets' front office pleased with extending him to the five-year, $25 million extension.
Johan and Dickey have simply been magnificent and they have been able to end losing streaks and perform as aces should.
The Mets will remain in contention as long as they receive terrific production from their top-three pitchers.
Keep Reading

New York Mets: Like this team?