Dallas Cowboys: Stat Predictions for Key Offensive Players in 2012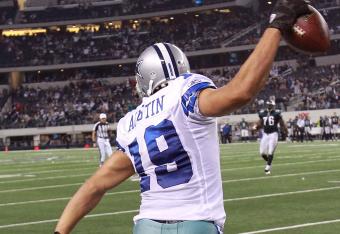 Ronald Martinez/Getty Images
The Dallas Cowboys have consistently fielded potent offensive teams for some time now, and 2012 will prove to be no different. Although the cliché has always been and will continue to be that defense wins championships, it's offenses that usually generate the excitement and buzz that accompany a new season.
The 2011 season saw a mixed bag of offensive results from the Cowboys' key personnel. Tony Romo played through injury, displayed extreme mental toughness and had one of the best statistical seasons of his career. Felix Jones, although once again showing flashes of talent, continued his streak of injury and disappointment which allowed DeMarco Murray to begin his ascent to stardom.
Murray gave Cowboy fans a glimpse of the present and future with his electrifying play in a short period of time that included a 250 yard rushing performance. His season was cut short by injury, but his future is so bright it's blinding. I look for him to pick up where he left off and be the focal point of the offense in 2012.
Jason Witten displayed again why he continues to be one of the NFL's top tight ends and delivered yet another consistent season. Not only does he put up solid offensive numbers, but his leadership and toughness can never be measured. I'll take a dozen Jason Witten's on this team any day.
The wide receiver corps, which on the surface appeared to be a nightmare for defensive backs, didn't quite live up to expectations. Miles Austin battled injury and an apparent lack of conditioning but must bounce back in 2012. Dez Bryant, perhaps on the verge of superstardom, disappeared one too many times in the second half of games for my taste. Is it conditioning? Running wrong routes? Confusion? I don't know, but I'm confused.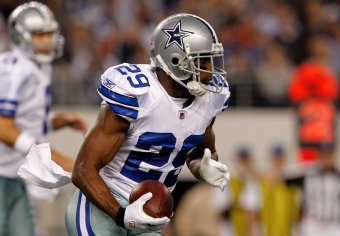 Tom Pennington/Getty Images
The Laurent Robinson highlight show that has now left town was nothing short of miraculous for this team. His price was too steep, but so too is the challenge that lies ahead to replace him.
A new season is now just months away and with it comes a chance to wipe the slate clean of the disappointment of 2011. The Cowboys will be relying heavily on their key offensive components once again, but hopefully some new ones will arise as well.
Maybe its wishful thinking to hope that Kevin Ogletree, Danny Coale, Philip Tanner or John Phillips will emerge as key offensive contributors, but I just see it as a bonus for this team if they do. Let's focus on the sure bets for the Dallas Cowboys as we look at what can be expected in 2012.
Tony Romo
Expect the same production if not better from Romo as not only his protection should be better, but so will his evolving maturation process. Romo is clearly the leader of this team, and he realizes that his time is now. The critics will always be there, win or lose, but Romo is simply a talented and underrated football player. I anticipate a stat line that reads 4,500 yards passing, 37 touchdowns, 15 interceptions and a completion percentage greater than 60 percent.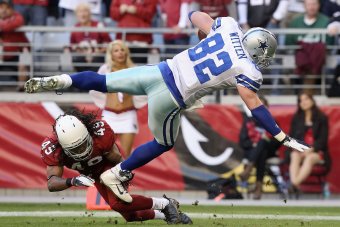 Christian Petersen/Getty Images
DeMarco Murray
The Cowboys will have Murray for a full season and opponents will have their hands full as a result. Murray will be the focal point of this offense as he is able to create his own yardage and take on eight man fronts. By doing this, he will allow Romo to dissect defenses and set up big plays on the outside, the slot and vertically.
I expect big things from Murray to the tune of 1,300 yards and 14 touchdowns, while also being utilized as a dangerous receiver out of the backfield. The key will be keeping him healthy and monitoring his touches. Paging Felix Jones.
Jason Witten
With Witten, what you see is what you get. Consistency, production, leadership and solid all around play. 75-80 receptions, 1,000 yards and 6 touchdowns are what Cowboy fans can expect from Witten. But what really makes him valuable to this team are his intangibles. For that, you simply can't quantify what he means to this team.
Miles Austin/Dez Bryant
I group these two players together because they should arguably be the difference makers on this team and possibly the division. They simply need to realize what type of impact they can have in this offense. With only so many possessions and footballs to go around, they may not be able to replicate the same set of statistics, but two things must happen:
Bryant needs to put all of the off-the-field drama behind him and grow up, and Austin needs to reintroduce himself to this offense. It might be a little unrealistic to expect a stat line from a few seasons ago, but he's getting paid like a No. 1 receiver. He needs to play like one.
Bryant needs to crack the 1,000 yard mark, and I believe he will. He's dangerous from anywhere on the field, and so is Austin for that matter. I envision Austin regaining his true form and compiling at least 80 plus receptions, 1,200 yards and 10 touchdowns. Miles, come back to us!!
Felix Jones
Despite the trade rumors and disappointing 2011 season, Jones is still a key contributor to this team for a few reasons. The key for him, obviously, will be to remain healthy enough to be a key contributor. When Jones is on his game, he has that rare home-run ability most running backs covet. The problem is there hasn't been enough of it.
In 2012, Jones will have to be a key contributor for this team to succeed. He will have the dual responsibility of not only spelling Murray but providing the same type of attacking, productive style. To put it mildly, it's put up or shut up time for Jones. Realistically, I believe Jones will be playing for a lot this season, and his stats will dictate that.
I see Jones producing somewhere around 1,200 all-purpose yards between rushing and receiving to go with eight touchdowns.
Conclusion
For the Dallas Cowboys, 2012 will be a pivotal year in the Jason Garrett era. The core group of key offensive contributors should benefit from their continuity, but they must take additional steps to separate themselves from a very tight NFC.
It's always comforting for the coaches and fans to rely on the dependable contributors, but the question that remains goes beyond these players. If players such as John Phillips, Philip Tanner, Danny Coale, Kevin Ogletree or perhaps Cole Beasley seize their opportunities, this offense can simply be dangerous.
It will at least allow the key contributors to be even more productive.
This article is
What is the duplicate article?
Why is this article offensive?
Where is this article plagiarized from?
Why is this article poorly edited?

Dallas Cowboys: Like this team?