7 Most Important Backups on the Detroit Lions Roster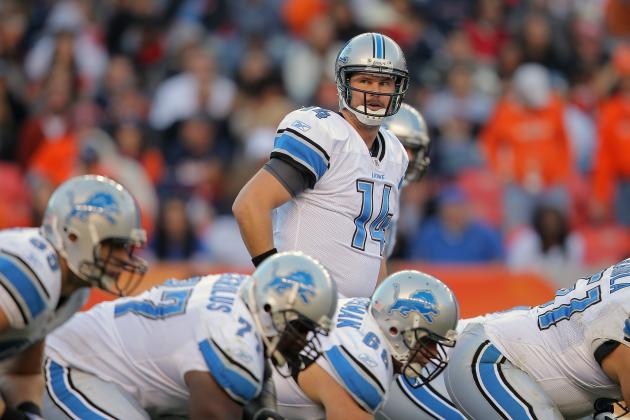 Doug Pensinger/Getty Images

The 2012 offseason has not yielded a lot of change in the Detroit Lions starting lineup.
In fact, the Lions have made many moves to prevent changes among the starters. They have also been focusing on improving the quality of their depth players. As a result, the Lions have acquired not only good starters, but invaluable backups.
Which of those players is most valuable to the Lions' success?
The Lions have backups who are of starting-quality, and they have backups who are just solid backups—but at exceptionally important or oft-injured positions.
All of those players are important to the Lions this season. There's no such thing as an NFL season without injuries, so backups are going to come in from somewhere at some point this season.
These are the guys who offer the Lions the best insurance policy if that happens.
Begin Slideshow

»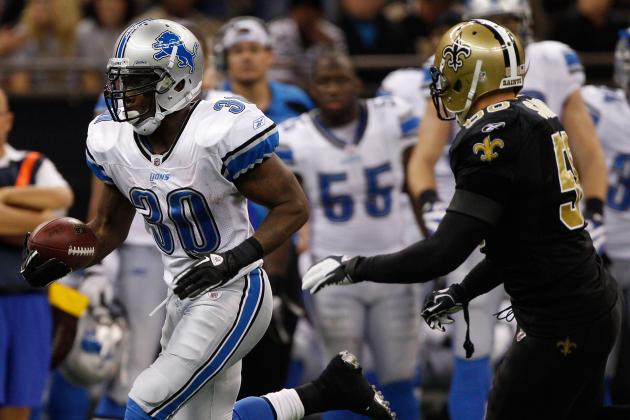 Chris Graythen/Getty Images

Mikel Leshoure and Jahvid Best are indisputably the Detroit Lions' top two running backs.
Between the two, they have a combined three seasons of experience. And 15 games started.
So yes, there are some concerns about health among the running back. Kevin Smith, actually, is part of those concerns. That's kind of what makes him so important.
Since Best, Leshoure and Smith all have an injury history (Leshoure just has the one injury, but it was the most physically severe), they're pretty much relying on one another to share the load and to keep the wear and tear relatively low between them.
Ideally, Smith won't need to play too much. But that's true of everybody on this list
Given the amount of damage running backs take on in a yearly basis, somebody is almost certain to get at least a little banged-up.
If that happens, Smith is a much better backup plan than Maurice Morris, especially in terms of top-end ability.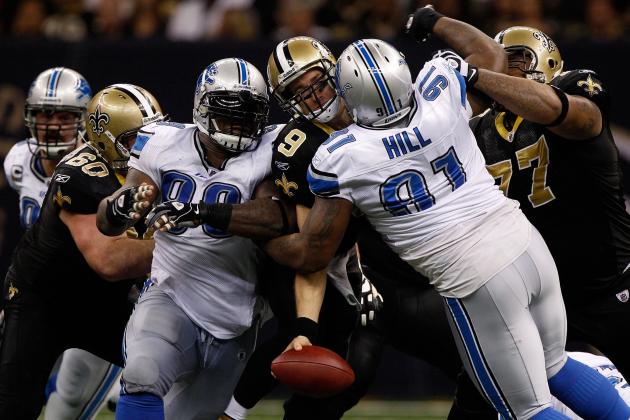 Chris Graythen/Getty Images

As touted as the Lions' defensive line is, Sammie Hill often remains an unsung hero in that group.
Sure, he was only a fourth-round pick in 2009, and he was (however misguidedly) suggested as potential trade bait last year after the Lions took Nick Fairley.
Sure, Hill isn't a game-changer at defensive tackle. He's just good. And try telling a guard in the fourth quarter who has spent the last three hours trying to block Ndamukong Suh and Corey Williams that the 330-pound Hill with fresh legs isn't a challenge.
Hill isn't a stat machine, partly because he generally absorbs and fills gaps more than he runs through them. The ability to rotate him in at any time keeps constant pressure on the offensive line.
Also, consider this. When Ndamukong Suh was out with a suspension and Nick Fairley aggravated his foot injury, the Lions were left with Williams and Hill.
That's a far preferable lineup to Williams and Andre Fluellen.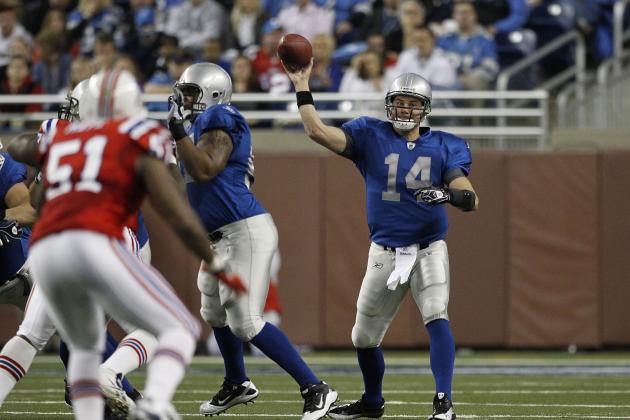 Leon Halip/Getty Images

Shaun Hill is the antithesis of flashy.
He's quiet, humbly paid, not terribly athletic and more or less solid on the field when his number is called.
In other words, he's the perfect backup quarterback. Good enough to keep the team in the game. Not so good that he causes quarterback controversy or trade rumors.
In 2011, Matthew Stafford proved his value to the Lions.
But before Stafford's 5,000-yard season made everyone forget about any other quarterback, Hill performed admirably in 2010, demonstrating the value of a good backup quarterback.
Hill didn't (and won't) pass for 500 yards in a game as Stafford did last year, but he stands in the pocket and makes good decisions. That's valuable for a quarterback.
Even though the best-case scenario for the Lions is for Hill to play only in the fourth quarter of games they're winning by 35 points, he's a valuable insurance policy to have in case the worst happens (again).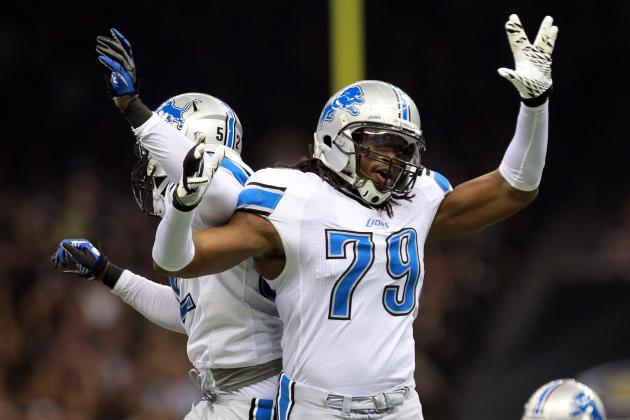 Ronald Martinez/Getty Images

Willie Young isn't likely to be an every-down starter for the Lions anytime soon. He doesn't get a lot of reps as it is.
Young is a pure pass-rusher, so he plays on passing downs.
But when he does get in there, his blazing speed and agility off the edge, combined with a (generally) gassed right tackle and a quarterback he knows will be there, make him one of the most dangerous situational pass-rushers in the game.
Not to mention, this is only his second year.
Considering how much Young has developed between his first and second years, it seems only logical to think that he will get even better in his third year.
If that happens, he may get his wish.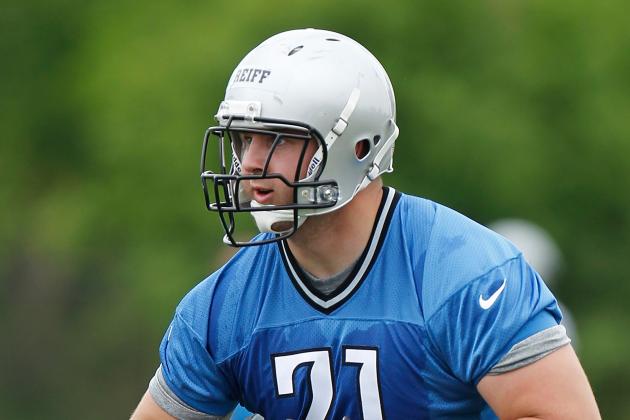 Gregory Shamus/Getty Images

Yes, I'm coming around to the idea that Riley Reiff will be a backup player in 2012, and no, I don't like it.
As for now, it doesn't look like Reiff is going to play anywhere but tackle, and it doesn't look like either tackle is going to easily relinquish his spot.
If Gosder Cherilus had a build that was in any way suited to play guard, this issue would already be resolved. But he doesn't. He's too tall and too long.
Reiff has a good build for guard, but the Lions don't want him there.
So despite what Scott Linehan says, I think Reiff's place is on the bench for at least half a season or so. It's a waste to keep him there any longer (and probably even that long), but if Reiff isn't quite ready, the absolute worst thing for him is to be thrown into the starting lineup and then benched.
As a result of his talent, upside and draft status, I'm calling Reiff to be a very highly-touted reserve player for much of this season.
The difference between him and most of the other players on this list is that once he makes it onto the field, he likely won't come off anytime soon.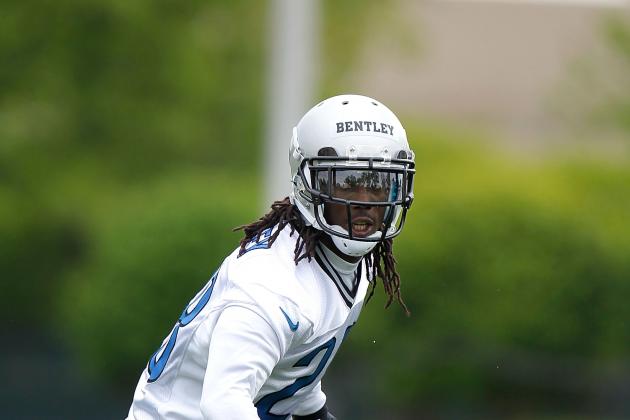 Gregory Shamus/Getty Images

Given the Lions' history with rookie cornerbacks, it seems likely that Bill Bentley won't be one of the starting cornerbacks when training camp breaks.
Nickel corner? Maybe. Aaron Berry did it as a rookie UDFA, so Bentley certainly can.
But in a base defense, nickel corner is a reserve position (even though it's likely to get more snaps than the third linebacker in today's NFL), so bear with it.
Bentley is like Reiff: loaded with potential, expected to do big things eventually, but maybe not quite ready by September.
Most likely, every passing day is one that will bring Bentley closer to a starting corner position (unless that day involves a torn ACL), and it will be interesting to see if he cracks the lineup in 2012 through some combination of personal development, injuries and inconsistent play from those ahead of him on the depth chart.
The Lions had so many injuries in the secondary last season that receiver (and special teamer) Rashied Davis had to take reps at cornerback.
If the Lions have to give corner reps to somebody they're uneasy with this year, it will at least be a young player like Bentley, Chris Greenwood or Jonte Green.
Not just emergency players who barely make sense, these players will develop from the experience.
Hopefully.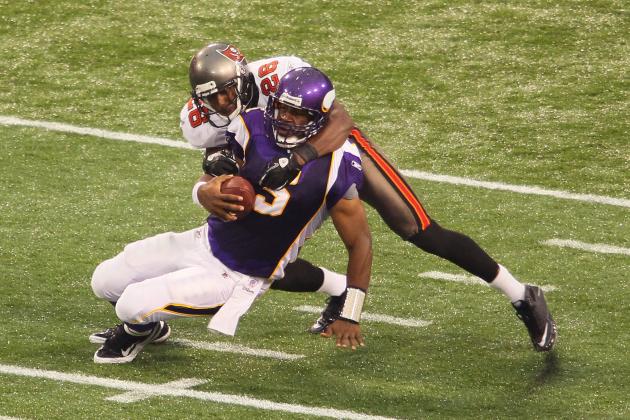 Adam Bettcher/Getty Images

I am making a lot of assumptions here, so please bear with me.
First and foremost, Sean Jones makes the team out of training camp.
Second is that he performs well enough to supplant Erik Coleman as primary backup safety.
Thirdly, he does not outperform Amari Spievey and instead remains relegated to a backup role.
Got all that?
So assuming things turn out exactly as said, Jones will be one of the most valuable backups on the team.
At one point last year, the Lions safety position was so badly decimated by injuries that they were trotting out the likes of Chris Harris and John Wendling.
That can't happen again this year. Still, the fact remains that both Louis Delmas and Amari Spievey have had issues with injuries in their young careers. The Lions hope that this doesn't become a trend, but they need to be prepared just in case.
Jones provides stable depth and should remain healthy all season—something Coleman was unable to do in a similar role last year.