San Francisco Giants Trade Rumors: Latest Updates and Reaction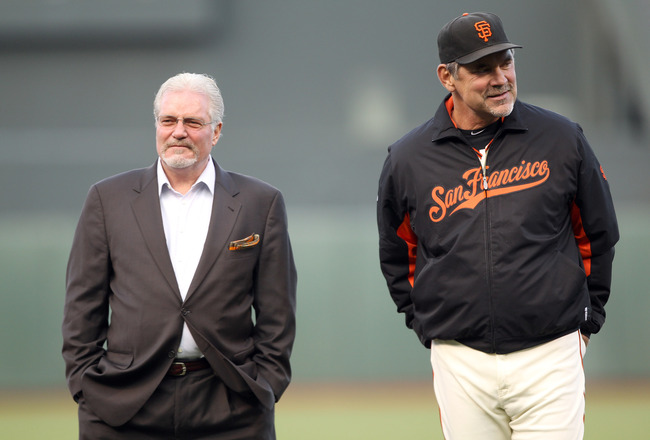 Giants GM Brian Sabean (L) and manager Bruce Bochy (R).
Ezra Shaw/Getty Images
The San Francisco Giants are now roughly a year and a half removed from their World Series win in 2010.
This season, the team is looking to go back to the Fall Classic, but things haven't exactly gone according to plan.
Tim Lincecum has not been himself this season, while Brian Wilson has been lost for the year after undergoing Tommy John surgery. As is their custom, the Giants rank towards the bottom of the league in runs scored.
Considering the circumstances, you wouldn't think that the Giants would be right in the thick of the NL West race, but they are. The postseason is within their reach. If they acquire some reinforcements at the trade deadline, their chances of playing in October will be even stronger.
However, that's the tricky part. General manager Brian Sabean will be active this deadline season, but there are no obvious answers to the Giants' various problems. Therefore, he's going to have to get creative.
The rumor mill is going to have much to say about the Giants in the weeks and days leading up to MLB's July 31 trade deadline. For all the latest rumors and reaction, check back here periodically for updates. The latest news will be right up front.
Keep Reading