Miami Heat: 5 Reasons Dwyane Wade Must Play More Like Kobe Bryant Next Year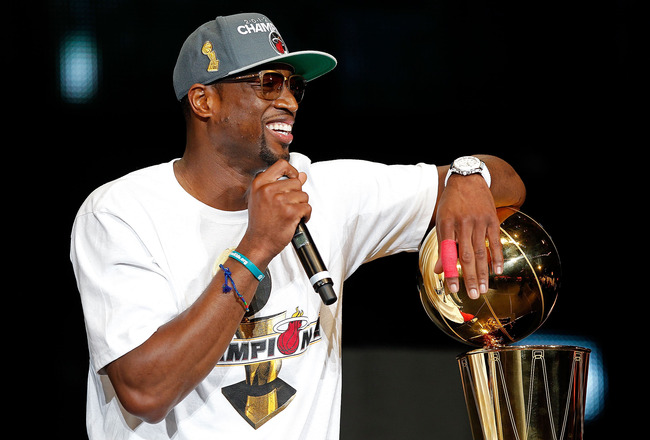 Mike Ehrmann/Getty Images
It may be a bit unexpected for Dwyane Wade to have tips for improvement thrown his way when he's still washing the residue of victory champagne out his clothes, but Wade could take his game to even higher heights by following an example.
An example set by an arch nemesis.
While Wade was an integral part of the Miami Heat's success, the following five tweaks to his game could turn the Miami Heat from a championship team to a dynastic juggernaut that runs roughshod over the entire National Basketball Association.
The example Wade needs to follow?
Kobe Bryant's example, of course.
Overlap Reduction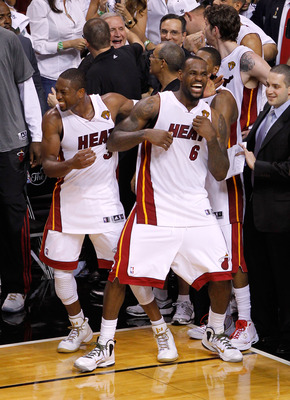 Mike Ehrmann/Getty Images
While LeBron James and Dwyane Wade can be breathtaking to watch when firing on all cylinders, the undeniable fact remains that a good portion of their skill sets overlap. Both are virtuoso isolation players and can create their own shot at will. Both require the ball in their hands for maximum efficiency.
Early on in the new Heat era, it was apparent James and Wade were struggling to adjust to playing alongside another alpha dog. Any semblance of an offense was replaced by James and Wade awkwardly taking turns creating the offense while everyone else stood around and watched.
Wade taking the more dominant offensive role and more closely resembling the Black Mamba is a logical decision. Aside from scoring, James can facilitate the offense on par with any point guard in the league, and is continuing to develop a nice low-post game.
By changing his role, Wade would reduce overlap, and the fluidity and overall improvement of the team would be immediate.
Adjust for Age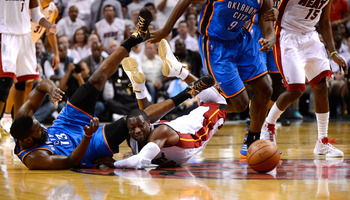 Ronald Martinez/Getty Images
Wade's knack for deftly maneuvering between huge bodies in the paint to get high-percentage shots has a considerable downside. For every time Wade sneaks through untouched for an easy two, there is at least once when a bulky shoulder or muscular forearm sends him crashing to the hardwood.
While Wade's body was adept at taking punishment when he was a young phenom fresh out of Marquette, he surely remembers each collision more painfully than the last. Wade's 30th birthday this past January marked the slow but sure erosion of his athleticism.
Kobe Bryant has been there and done that.
Showing that his basketball I.Q. is only surpassed by his competitive drive, Kobe smartly started relying more on a post-up, non-contact based game, a move sure to add weeks if not years onto Kobe's playing career.
Favoring a back-to-the-basket, jump shot-oriented game over flying to the rim and suffering an inevitable collision is a veteran tactic Wade needs to learn quickly if he wants to come close to fulfilling LeBron's prophecy.
Killer Instinct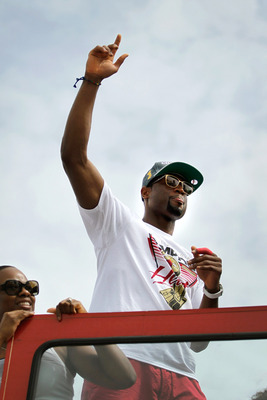 Joe Raedle/Getty Images
You don't get two NBA championship rings by having a lax attitude toward your profession.
It's hard to criticize Wade's personality, but he does seem a little too nice and cordial at times. Wade has undeniable charisma and an obviously healthy sense of self-confidence, but there still seems to be a gap between Wade's persona and the ruthless assassin that Kobe Bryant utilized to perfection in his successful quest for multiple championships.
If Wade harnessed the ruthless aggression that Kobe has and Michael Jordan had before him, he could take his game and his team to a whole new level.
Vocal Leader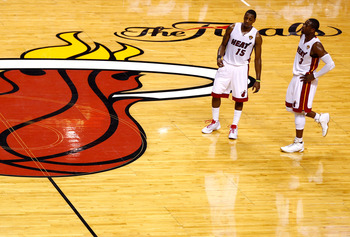 Mike Ehrmann/Getty Images
While LeBron established himself as the undisputed on-court leader for the Heat in the finals, he still maintained his relatively demure demeanor outside of the confines of the game.
Meanwhile, in L.A., there is absolutely no question about who the leader is on or off the court.
But while Kobe wears both hats for the Lakers, it makes perfect sense for James to be the general on the court and for Wade to be the commander-in-chief off the court.
Divvying up the alpha dog responsibilities this way would be a smart way to ensure both men get the alpha dog treatment without either one getting overwhelmed.
He's Simply the Best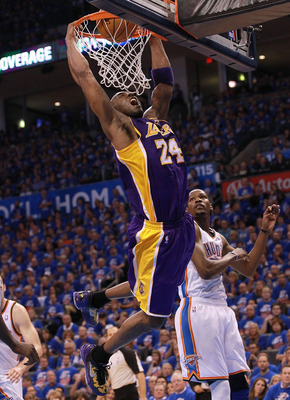 Ronald Martinez/Getty Images
The slide title says it all.
Who better to pattern your game after than the most successful player at your position in the league?
Kobe's game has certainly slipped a little bit due to age and a lot of mileage on his odometer, but history will show Bryant to be one of the best to have ever played the game.
If Wade wants to be the best, he should look to the best. It's as simple as that.
Keep Reading

Miami Heat: Like this team?