Arsenal FC: Forming the Gunners' Starting XI Without Robin Van Persie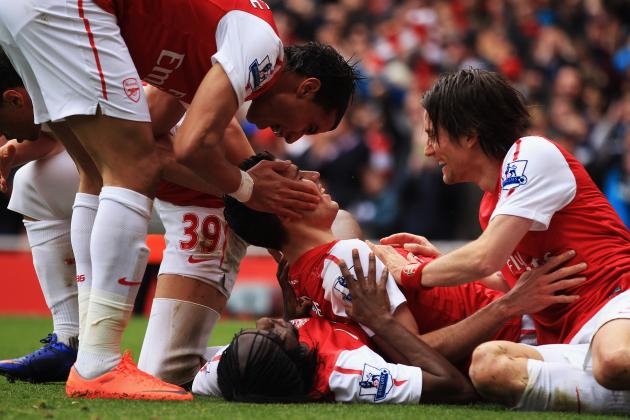 Bryn Lennon/Getty Images

It's amazing how a few words from a single man can defile the emotions of so many people. In this case, the man is Robin van Persie, and the people are all wearing red.
Van Persie's decision to leave the Emirates has stunned many people, devastated many, but at the same time, it has opened a small window of hope in the hearts of Manchester City, Juventus and Barcelona fans.
But if Arsenal can't move on from the hangover of Van Persie's loss, it's highly unlikely that they can finish in the top four next year.
They have already prepared for his departure with the signings of German Lukas Podolski and Frenchman Olivier Giroud.
So using only players whom Arsenal still have (no rumored summer signings included), I will create my ideal starting XI in a 4-1-2-3 formation.
Begin Slideshow

»
I don't think there's any debate about this one.
Wojciech Szczesny has already cemented a place as the top Arsenal goalkeeper. Playing in every single one of Arsenal's Premier League games in '11-12, Szczesny has shown everyone just why he deserves to be the No. 1 keeper.
With his really quick reflexes and athletic abilities (not to mention his show Wojciech Versus), Gooners love him.
He has the talent, but he sometimes makes mistakes of charging too early or not being on his line. But that will come in time.
He is a lock here.
Substitute: Lukasz Fabianski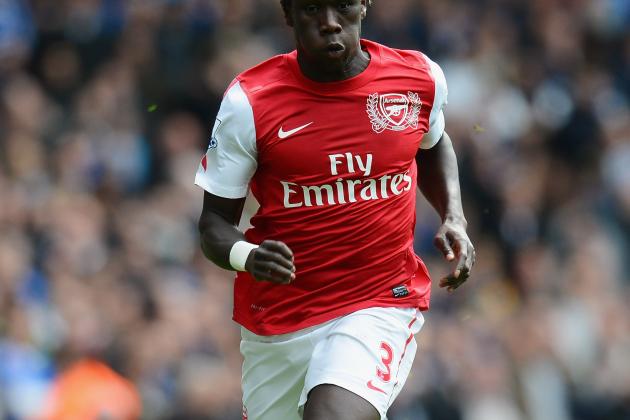 Mike Hewitt/Getty Images

Despite his injury, I think the right-back should be Bacary Sagna.
He may have had surgery twice on the same leg, but I still think that he can come back almost as solid as he was before.
The other option is Jenkinson, who has proved to be quite error-prone. But there's always the option of buying a right-back.
The left-back should be Kieran Gibbs, despite his slight lack of experience.
He has been solid on defense, and even though he doesn't pose much of an crossing threat, he still overlaps Gervinho or Oxlade-Chamberlain well on that left wing.
Of course, there is the possibility of playing Vermaelen here, but I don't think that that will be necessary next year, provided Gibbs stays healthy.
Substitutes:
LB Andre Santos
RB Carl Jenkinson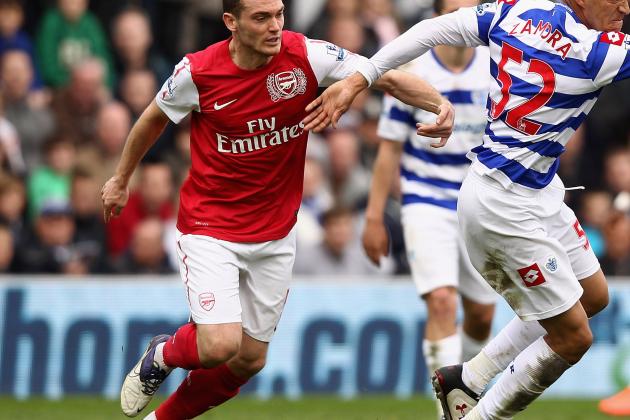 Ian Walton/Getty Images

The pair of Koscielny and Vermaelen has flourished in the past season.
While Vermaelen came into the Premier League and was shockingly solid, that wasn't the case for Laurent Koscielny, whose first season was a bit shaky, as he started his first ever Arsenal game with a red card.
However, the Belgian and the Frenchman have formed a formidable partnership lately, as both are strong. Vermaelen possesses the quality of fearlessness, while Koscielny is deceptively quick, and together they play well.
In the '11-12 season, they weren't playing together the entire time, because Per Mertesacker came in at center back and Vermaelen was shifted over to the left.
But now that the pecking order of those three is established, we are sure that Mertesacker is at the bottom and will come of the bench.
Substitutes:
Mertesacker
Johan Djourou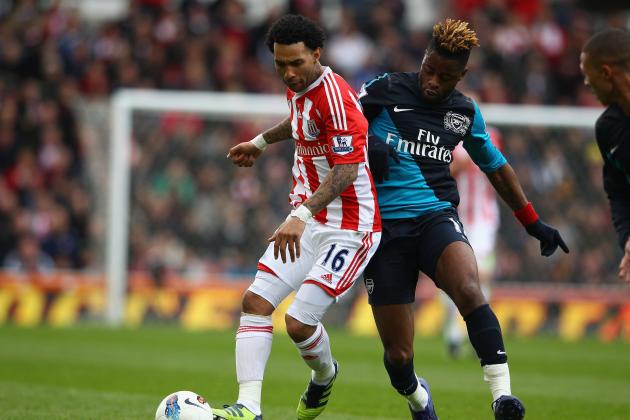 Clive Brunskill/Getty Images

Alex Song broke out as one of the Premier League's best holding midfielders in the past two seasons.
His strength was always there, but he started being more smart with it in the past season, and though he picked up more fouls than last year, there were fewer needless ones.
Plus, the Cameroonian international emerged as the player with the second best vision on Arsenal after Mikel Arteta.
Time and time again he put Van Persie through on goal, one of the best examples of it being the Dutchman's goal against Everton.
Substitute: Francis Coquelin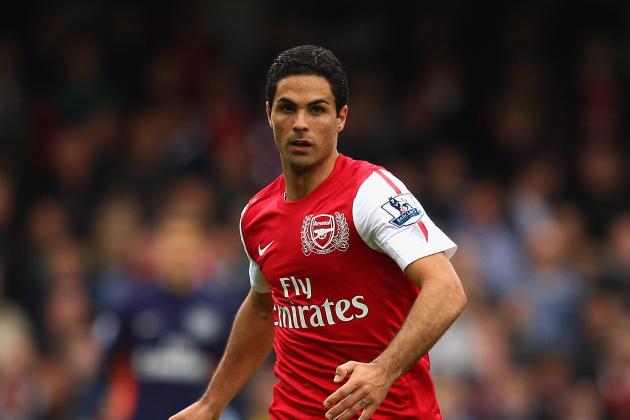 Richard Heathcote/Getty Images

If Jack Wilshere comes back from injury successfully, I think he is a great option for an attacking midfielder alongside Mikel Arteta.
While Arteta would provide the great distribution and the finesse, Wilshere's qualities of strength and toughness would immensely help the attack next season.
Yes, I know that Wilshere played more defensively two seasons ago, but he said himself that he would like to play further up and go forward more often. He be more like the box-to-box midfielder in the Arsenal squad.
Arteta has to be there.
Last season, Arsenal won only one game without the Spaniard: the final game against West Brom, which wasn't such a great performance.
He scored a few nice goals, like against Villa or City, and hopefully he can provide more of those next season.
Substitutes:
Tomas Rosicky
Aaron Ramsey
Martin Rose/Getty Images

Theo Walcott may not be the most consistent player or the one with the best touch, but one thing's for sure: His speed is an enormous asset for Arsene Wenger.
Walcott had a good '11-12 season, probably his best one for Arsenal, as he and Robin van Persie partnered up well. Walcott scored eight goals and had eight assists.
New signing Lukas Podolski should be used on the left wing.
He is more used to playing centrally at Cologne, but for Arsenal, Mikel Arteta is invaluable, so Podolski should be played elsewhere.
Podolski isn't the fastest player, but he can certainly cut in well and provide quality crosses for men in the middle. He is also good at finding a cutting player from the wing, which in Arsenal's case could be Gibbs or Wilshere.
Substitutes:
Gervinho
Oxlade-Chamberlain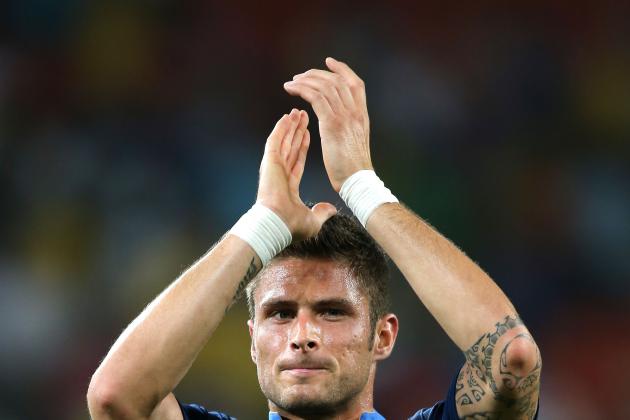 Ian Walton/Getty Images

Another signing.
Olivier Giroud has a reputation for being a classic English No. 9. This will be key for the Gunners' attack, which lacks threats in the air.
Giroud may not mesh in immediately with the squad, but he can bully defenders in the same way that Didier Drogba did for Chelsea in the Champions League.
Arteta and Song will both probably be able to put Giroud through on goal a few times, and the Frenchman will probably be able to finish the chances he gets, as he is a pure scorer.
His dribbling past defenders needs improvement, but right now, he can still shoot from distance and get his head on the ball.
Expect to see a few goals from this guy.
Substitutes:
Marouane Chamakh
Nicklas Bendtner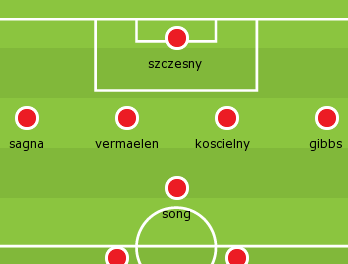 So here it is. The final lineup.
As far as summer signings go, I think Arsenal should target a right-back, a left-back and maybe even a striker to help out Olivier Giroud.
I think Arsenal will finish fourth next year.
Please leave your comments and feedback.