UFC 148 Fight Card: Can UFC 148 Top UFC 100 in PPV Buys?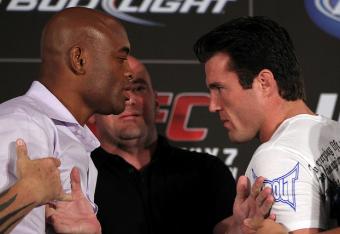 Photo by Josh Hedges/Zuffa LLC/Zuffa LLC via Getty Images

UFC 148 is set to feature the best MMA fighter in the world squaring off against his biggest rival when Anderson Silva meets Chael Sonnen for a second time.The title fight is set to be the biggest rematch in UFC history and could make or break the UFC's summer schedule.
Fans have been on the edge of their seats in anticipation for the two men to step in the Octagon on July 7 and UFC President Dana White is expecting some good numbers in PPV buys.
Actually, great numbers would be a better way to describe White's forecast.
"There's no doubt that we expect over one million buys here. We expect UFC 100 numbers," White said during the UFC 148 conference call (via mmamania.com).
Although PPV sales will be up from the recent numbers we've seen this year from UFC PPVs, White is out of his mind if he's expecting UFC 148 to draw like UFC 100.
There are a number of differences in the card that separate UFC 100 from UFC 148.
The first being the easiest to point out, UFC 100 was the 100th PPV put on by the promotion. It was a spectacle on it's own despite who was on the card. Much like UFC 129 and UFC 134 (or UFC Rio if you prefer), the event became much more than a night of MMA fights.
UFC 148 does have a special feel to it, due to the rivalry between Silva and Sonnen, but that pales in comparison to the feeling fans had about UFC 100.
I know some may not grasp the comparison, but UFC 100 had a Wrestlemania-type feel where fans knew they would be getting entertainment for the entire night. Fans watching UFC 148 would likely rather fast forward until the main event.
That brings me to the next area of comparison, the card lineups.
mmaweekly.com
At UFC 100 Brock Lesnar and Frank Mir met in a climatic rematch that settled their heated rivalry. Much in the way Silva and Sonnen have grown to despise each other, that could be said of Lesnar and Mir.
However, there is one glaring difference between the intense rivalries.
Lesnar and Mir are both heavyweight fighters, while Silva and Sonnen are middleweights. Americans, in particular, always have had a soft spot in its heart for heavyweight clashes. A carry over from the glory days of boxing, it's clear MMA fans love their heavyweight battles as well.
Moving on from the main event, the co-main events are completely different as well. At UFC 100 Georges St. Pierre defended his belt against Thiago Alves. GSP is widely considered the top PPV draw in the UFC and Alves is a pretty popular fighter in his own right.
In the UFC 148 co-main event, Tito Ortiz bids farewell by taking on Forrest Griffin in a rubber match. Although the first two fights have been entertaining to watch, this isn't what one would call a true co-main event. Both men are popular fighters with the fans but with little interest in this fight, it's not even close to matching a GSP-Alves fight.
Already you can see the drawing power UFC 100 has compared to UFC 148. UFC 100 featured the top two PPV draws in the company (Lesnar, GSP) along with a trash talker of it's own (Mir). UFC 100 also has something UFC 148 doesn't; reality television.
In the weeks leading up to UFC 100, Dan Henderson and Michael Bisping spent weeks opposing each other as coaches on The Ultimate Fighter: USA vs. UK. The show validated Bisping's place as one of the most despised men in the UFC and the fact he was fighting the prototypical American in Henderson only increased the need for fans to see the Brit get dropped.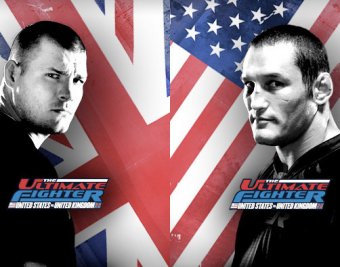 cagepotato.com
Henderson vs. Bisping was the third big fight of the evening at UFC 100, while Cung Le vs. Patrick Cote fills that role for UFC 148. Is there anyone who can say with a sane mind that they are as excited for Le-Cote as they were for Hendo-Bisping?
Didn't think so.
UFC 148 will be a good day for PPV buys and will likely be the event in 2012 for the promotion. At the very least it will hold fans over until the fall when a series of title defenses by Junior dos Santos, Jon Jones, Jose Aldo, Carlos Condit and GSP are set to take place.
Very few UFC PPV's have cracked the one million mark and I don't see UFC 148 being one of those. It will do good numbers, due to Sonnen and Silva's rivalry, but doesn't have much else to build upon it for fans to drop hard earned money to see.
This article is
What is the duplicate article?
Why is this article offensive?
Where is this article plagiarized from?
Why is this article poorly edited?