Dallas Cowboys: Why Tony Romo Can Enter NFL's Top 5 QB Class in 2012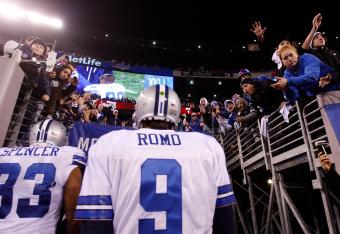 Rich Schultz/Getty Images
When an NFL quarterback makes the leap to claim a spot among the top five players at that position, it's usually accompanied by a high-profile achievement like winning a Super Bowl or shattering a statistical record. For Tony Romo, that hasn't been the case.
Since taking over the reins from Drew Bledsoe in 2006, he has only one career playoff win to his credit, he's never thrown for 40 touchdowns or passed for over 4,500 yards and he's also never been named to an All-Pro team.
The lack of certain achievements, the mishandled snap, the back-breaking interceptions and the inability win big games in December and January has led to the general perception of where Romo rates in the NFL passing hierarchy. But the truth of the matter is that there is some evidence that shows that he can and will enter that coveted top five group.
In order to say Romo can enter top five status, you need to define what criteria is required. In the simplest of terms, elite is probably best defined as being one of the best or possessing a high-skill level among a group of individuals. Romo has certainly proven himself to be a very talented player, but most will argue that it takes more than a few key characteristic to be considered elite.
Is he a good passer? Does he make people around him better? Is he capable of making plays when the pocket breaks down? Does he possess leadership and winning qualities?
I think we can answer yes to these questions. A recurring argument is usually made about Romo not having those winning qualities when it comes to big games, and I see it as fair game.
The bottom line is that Tony Romo does have an 11-21 record in December and January. When you look at Eli Manning, Ben Roethlisberger and Tom Brady and how they perform in crunch-time, late-season games, it's easy to make the argument of leaving him out of the top five quarterbacks. That record is perhaps the most compelling part of the equation.
That riveting statistic is usually what leaves Romo out of the top group of quarterbacks and most see it as the one key element lacking in his game. The object is to win at the most opportune times, isn't it?
But I see something brewing in a positive way for Romo. While some may have given up hope that the Cowboys can win a Super Bowl with Romo, I am not one of them.
In 2011, Romo was fourth in the NFL in terms of overall quarterback rating. He passed for over 4,000 yards and threw for 31 touchdowns with 10 interceptions to go with a 102 quarterback rating. Outstanding numbers, but what happened in December? Hence, the lacking of the key element. That's what fans remember the most.
If Tony Romo is to enter the elite group of top quarterbacks, it will come from the elements not lacking in his game—the intangibles and athletic ability.
Just look back at the 2011 season and it's quite clear the answer is right in front of us. He was able to play through a punctured lung and displayed mental toughness, he often made plays when nothing was there and he handled a revamped offensive line the best way he could.
Athletically, Romo has a unique skill set. He can elude defenders, has an accurate arm and utilizes all of his weapons. In 2012, not only will he have a dangerous arsenal of weapons at his disposal, but he can now hopefully rely on a defense that has the potential to seriously impact the outcome of games and wreak havoc.
He can easily put up better numbers in 2012 simply by having better protection. I also believe Romo will break through the usual December and January tornado of terrible and lead the Cowboys on a serious playoff run. He has the skills, the intangibles, the defense and the belief from his teammates that he can accomplish both individual and team goals.
For the Cowboys, this means more wins and fewer collapses.
Tony Romo is one of the most scrutinized players in all of sports. His accomplishments are often overlooked, and what he fails to accomplish is usually over-maginified. Throughout his journey as quarterback of the Cowboys, he either leaves you speechless or scratching your head. That is not up for debate.
What is up for debate is where he ranks among the best quarterbacks in the NFL. For Romo, and most importantly the Cowboys, the time has arrived for getting back to the days of the early '90s where postseason berths and titles were done with regularity.
When the Cowboys reach that level, Tony Romo will be under center.
That will start in 2012 when he becomes a top five quarterback.
This article is
What is the duplicate article?
Why is this article offensive?
Where is this article plagiarized from?
Why is this article poorly edited?

Dallas Cowboys: Like this team?