Wisconsin's Failed Attempt to Play Alabama Shows Scheduling Arms Race Has Begun
July 3, 2012
David Purdy/Getty Images
Last Friday, Wisconsin head coach Bret Bielema made waves by effectively calling out Notre Dame for a 2018-2019 home-and-home series, seeing as how Michigan and Notre Dame were taking a hiatus during those two years. That's commendably aggressive enough, but according to reports, Bielema's shooting even higher than just the Fighting Irish.
Per the Wisconsin State Journal (via CBSSports.com), Bielema tried to get a home and home series scheduled with Alabama—but those talks started with an interesting third party:
[Wisconsin athletic director Barry] Alvarez disclosed this week that there were recent discussions, orchestrated by ESPN, about matching the Badgers against defending national champion and Southeastern Conference power Alabama at a neutral site.
Alvarez, who handled scheduling when he coached the Badgers from 1990 to '05, said Bielema countered with an offer to play a home-and-home series with the Crimson Tide — no specific years were discussed — but that Alabama coach Nick Saban declined.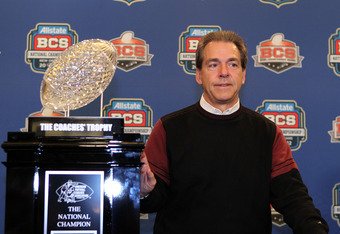 Andy Lyons/Getty Images
On one hand, of course ESPN would want to bring two teams like Wisconsin and Alabama together for a game. Wisconsin's vaunted rushing attack against Alabama's famously stingy defense would be a ratings bonanza, and doing it at a neutral location would give the game even more of a vibe of spectacle.
That all said, Wisconsin's reaction was understandable, since playing two regular-season games against Alabama and not letting the home crowd at Camp Randall play any role is outright foolish. Alabama's reaction is understandable too: the series wasn't Bama's idea, and Nick Saban doesn't owe ESPN or Wisconsin any games.
What this is really about, though, is an absolutely welcome development: teams viewing tough opponents as not only a benefit, but an outright necessity.
As it stands right now, there is very little on-field incentive for a team to schedule difficult non-conference opponents. There's a nebulous concept of preparation for conference play, but unless that preparation results in multiple extra conference wins, a non-conference loss does not have a positive effect on a team's bowl standing.
Introduce schedule strength as something a selection committee will actively consider, however, and all of a sudden non-conference schedules like Wisconsin's in 2011 (UNLV, Oregon State, Northern Illinois at Soldier Field and FCS South Dakota) will absolutely not fly anymore. Bret Bielema knows that, and now if Wisconsin wants a shot at that crystal football, simply going 12-0 is not good enough.
As Barrett Sallee noted, Alabama has the luxury of turning this game down. It plays in the SEC West, and the Tide's willingness to schedule at least one tough non-conference game per year should be more than enough to impress committee members.
Wisconsin doesn't have that luxury—especially with a non-conference slate that's historically been pretty weak—so its approach has to be different. Similarly, there are tons of programs that have no incentive to schedule tough, because they're not serious title contenders. Indiana isn't going to shoot for four SEC non-conference games. Heck, Northwestern probably shouldn't be looking for schedule strength yet, and Northwestern's decent now.
But for perennial title contenders, the days of just scheduling to get to 12-0 by any means necessary are over. Finally.