7 Bold Predictions for Tim Lincecum's Second-Half Performance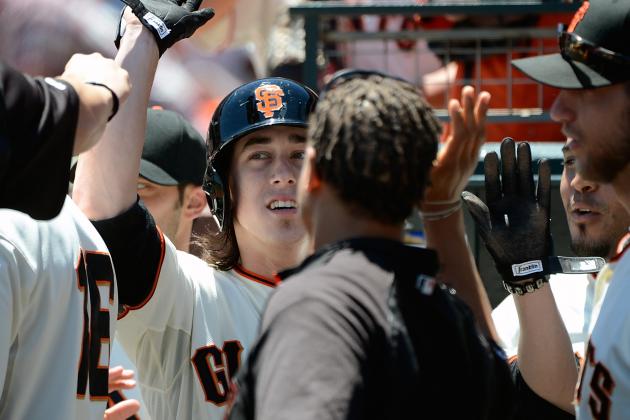 Thearon W. Henderson/Getty Images

Even though Tim Lincecum has been nothing short of terrible for the San Francisco Giants, the team is poised for a second-half run.
Granted, the Giants are 4-12 when the two-time Cy Young Award winner pitches, making their one-and-a-half-game lead over the Los Angeles Dodgers that much more impressive.
After struggling mightily over the first two and a half months, Lincecum has pitched better of late, including an impressive seven-inning start against the Dodgers where he gave up four hits and no runs—not bad considering the Dodgers were without Matt Kemp.
Still, Lincecum has a ways to go before he is "back," but a second-half transformation looks promising.
Here are seven predictions for Lincecum as the Giants try to make another run at a World Series title.
Begin Slideshow

»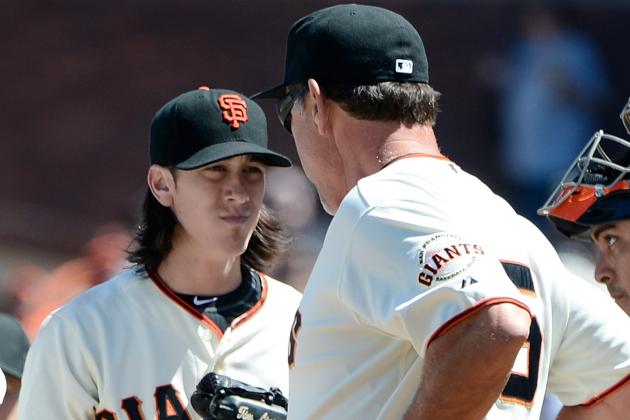 Thearon W. Henderson/Getty Images

Sitting at 3-8 right now, Lincecum will need to have a great second half to end the year with more wins than losses.
Last year, he struggled during the first half, especially in June, when he posted a 1-2 record with a 4.84 ERA in six starts. In the last three months, Lincecum found his form, and despite a losing record, he pitched July and August with sub 2.00 ERAs.
Although Lincecum traditionally struggles during the "Dog Days," 2012 looks to be a different year. It's hard to think he would continue to start if he keeps on pitching poorly.
With two starts before the All-Star break, he can continue to build his confidence with a couple of wins against good teams.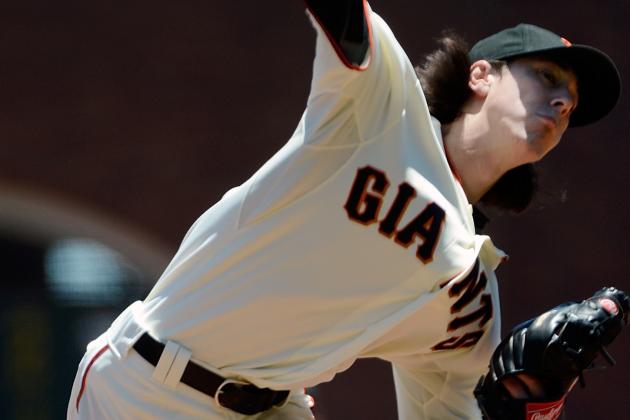 Thearon W. Henderson/Getty Images

Yes, Tim Lincecum will finish the year with a ERA north of 4.00, despite climbing back to a winning record.
This may be hard to fathom considering the Giants don't always score runs.
Since his ERA sits at 5.60, unless he puts together a Cy Young-worthy second half, he will have a 4-plus ERA at the end of September.
That would mark the first time Lincecum finished the year with an ERA of 4.00, since his rookie year.
It's possible that he will blow everyone away and go 10-1 with a 2.00 ERA, but more realistically, he will improve on his first-half mark and help the Giants to a division title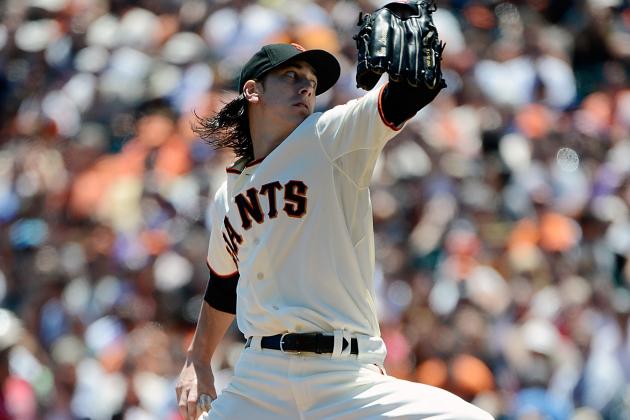 Thearon W. Henderson/Getty Images

Even though Lincecum has been terrible this year, he has been a whole lot better at home, and his record speaks for itself.
Although he has given up more walks—26 to 21—in the eight games split home and away, he has posted a 3.99 ERA and opponents are batting only .227 against him.
Lincecum has only given up only one home run in his home starts. Whether that's because the park is very pitcher-friendly or he has changed his approach, he has been able to avoid the big mistake.
Look for Lincecum to give a few vintage performances this summer at AT&T.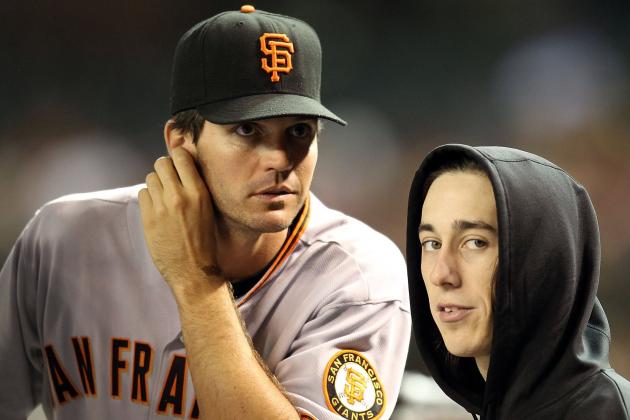 Christian Petersen/Getty Images

This year, Barry Zito has had the year most people thought Lincecum would have. After starting the year with a complete-game shutout of the Colorado Rockies, Zito has settled into a productive season.
The former Cy Young winner is 6-6 with a 3.84 ERA and is on pace to have his first winning season as a member of the Giants.
Although Zito is pitching well, he has been inconsistent at times and has been prone to giving up the long ball.
Zito should have a solid second half, considering he is 77-53 with a 3.65 ERA after the break. Although a lot of that success was with the Oakland A's, Zito has the game to get to 12 or 13 wins.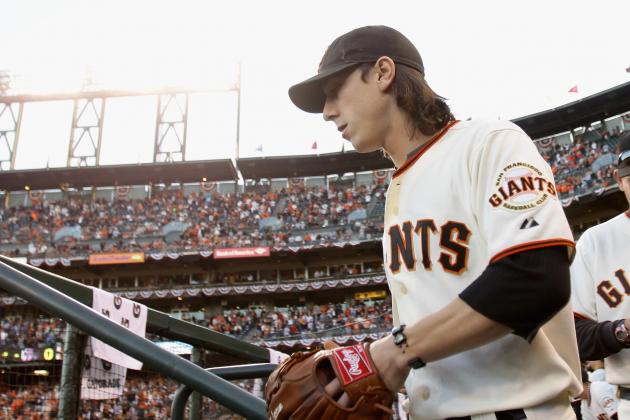 Ezra Shaw/Getty Images

When the Giants won the World Series in 2010, Lincecum was the ace of their staff. Now with a perfect game under his belt, Matt Cain has taken over that role.
At this point, Lincecum isn't even the third-best pitcher on his team, with Madison Bumgarner and Ryan Vogelsong delivering All-Star-worthy years.
If they make the NLDS, the Giants will only pitch three starters, and it's very unlikely Lincecum will get the opportunity to match his masterful 14-strikeout performance in 2010.
The only way I see him getting a start is if Vogelsong and Bumgarner struggle down the stretch.
Ezra Shaw/Getty Images

Despite a terrible year, Lincecum is still top-10 in the National League in strikeouts. Considering he won the NL strikeout crown from 2008-10, it's not a big surprise.
Normally a dominant strikeout pitcher, Lincecum has lost his ability to get the punch out. After recording 31 10-strikeout games in his career, it's been 22 starts since he had one.
Right now Lincecum sits only 13 Ks out of fifth place and 15 behind his teammate Matt Cain.
He actually ranks third in strikeouts per nine IP with 9.9, his highest total since 2009. So as long as he can stay in games, look for Lincecum to rack up the Ks.
Christian Petersen/Getty Images

After making four-straight All-Star games, Lincecum will not make the trip to the mid-summer classic.
Although, like any player, he would be honored to make the team, it will give Lincecum a chance to rest for the stretch run.
In 2008, he actually missed the game because of flu-like systems. Considering he would be heading to hot Kansas City, staying in comfortable San Francisco can only be a benefit.
If anything, it makes him more driven to match his All-Star caliber teammates Cain, Bumgarner and Vogelsong.