MLB All-Star Game: Fans Should Be Stripped of Right to Vote
July 3, 2012
Jim Rogash/Getty Images
MLB fans need to be stripped of their right to vote for who they believe should play in the MLB All-Star Game.
Every year, there seems to be one or two players "snubbed" and one or two starters that leave me scratching my head.
This year is especially bad.
Which All-Star starters are not deserving of the honors?
Dan Uggla was the second-leading vote-getter in the NL this season. The Atlanta Braves second baseman is hitting .234 with 11 HR, 43 RBI and has a .361 on-base percentage.
He's tied for the NL lead in home runs among second basemen, but ninth in batting average. He's made eight errors in the field and has a fielding percentage of .978. Do those sound like true all-star numbers to you?
A guy who could be left off the roster completely (unless voted for by the fans in a final vote) is the Arizona Diamondbacks' Aaron Hill.
Hill is second among NL second basemen with a .300 BA, 11 HR, 38 RBI and a .359 OBP. Oh yeah, and he hit for the cycle twice in June—a feat performed by only four men in major-league history.
Add to it his .989 fielding percentage and we're looking at one off the all-time all-star snubs.
Pablo Sandoval has played in only 45 games as of Monday, and in that time is batting .300 with six HR, 25 RBI and has a.362 OBP. All solid numbers. But because of his time on the DL, he doesn't even qualify to be included on the statistical leaderboard.
David Wright, who plays in New York and should have had plenty of the vote, leads NL third basemen in batting average (.354), on-base percentage (.447), slugging (.560), OPS (1.006), RBI (50), base-on-balls (48) and doubles (26).
How fans feel Sandoval is better is beyond me.
Matt Kemp is also slated to start the All-Star game and is one of two captains of the Home Run Derby. The thing is, he's been on the DL most of the season, and actually is still on the DL.
Naming a currently injured player to the starting lineup of an all-star team is not only foolish, it shows just how naïve baseball fans are.
The fact that Kemp is batting .355 with 12 HR, 28 RBI and an OBP of .444 in only 36 games is irrelevant. He's an injured player who won't participate in the game. Why waste a vote on someone who can't take the field?
Andrew McCutchen should have been getting votes instead of Kemp. He has scorched pitchers all season to the tune of a .354 BA, 15 HR, 52 RBI and a .407 OBP. He's still on the team, as he was named an alternate by Tony LaRussa, but now another candidate for the final vote, Michael Bourn, may miss his opportunity at being an all-star.
Bourn has played a tremendous center field all season and is batting .304 with seven HR, 29 RBI and a .352 OPB from the leadoff spot.
Jose Bautista is last among AL right fielders with a .243 batting average, but he hits a ton of home runs (27), leading to a ton of RBI (52). Both latter stats lead his position—he leads the majors in home runs.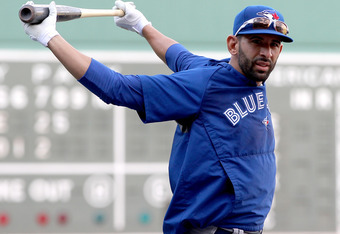 Jim Rogash/Getty Images
Sure, home runs are sexy, but that's all he does. How many times have you thought to yourself: self, why is Jose Bautista continually voted to the All-Star Game?
My answer is "popularity."
He's a career .253 hitter, and his best season (2011, when he hit .302) was a fluke. His next-best season was the year prior, when he hit .260.
Now, a guy like Austin Jackson is left out completely. The Detroit Tigers CF is hitting .322 this season with eight HR, 35 RBI and a .404 OBP. He's also played a perfect center field in the process, not committing a single error as of yet.
My conclusion to this madness?
Strip fans of their right to vote and instead leave it up to the men who manage the game. Who better to evaluate who is deserving of an all-star appearance than the very people who pick the lineups every day?
Since the fans vote in the biggest home run hitters anyway, I say allow them to vote on who will participate in the Home Run Derby instead (leaving them out completely would be silly).
Then, perhaps players wouldn't be snubbed of the honor to participate in their home ballpark—Justin Upton last season; Billy Butler this season.
–Was your favorite player snubbed from the roster this year? Tell me why he should have been an All-Star in the comments section below.