Auburn Tigers Football: 5 Bold Predictions for the Tigers' 2012 Season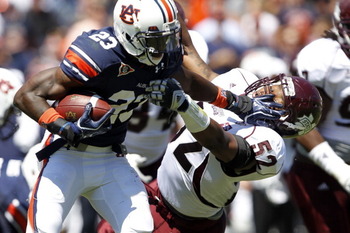 Experienced Offensive Weapons Will Help AU in 2012
Butch Dill/Getty Images
Every few college football seasons, a team emerges that shocks audiences and achieves well past its talent level.
In 2005 this team was the West Virginia Mountaineers, in 2008 it was Utah Utes, and even as recently as 2011, a relatively unknown Kansas State team seriously shocked sports fans—could the 2012 Auburn Tigers be next on this long list of overachievers?
Auburn players, coaches and all those fond of the phrase "War Eagle" definitely hope so—but seasons like these can't happen without some shocking performances along the way.
The following details five bold predictions for the 2012 Auburn Tigers that can help the team achieve the success that many doubt they are capable of—and add their names to the list of teams that have shocked the masses.
Lutz to Hoist Hardware?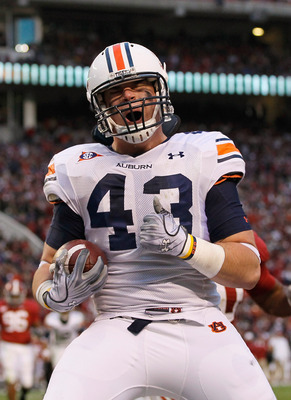 Expect Big Things from Lutz
Kevin C. Cox/Getty Images
One of the more well-known members of Auburn's 2012 football team is TE Philip Lutzenkirchen.
"Lutz's" popularity is surely warranted, based on his 39 catches and 12 TDs over the past two seasons.
If the talented TE can continue to demonstrate his knack for finding the end zone and serve as a reliable check-down option—for a young QB (likely Kiehl Frazier) in a new system—Auburn fans will see Lutz have his best season yet.
Over the past 12 seasons, Mackey Award winners (Nation's best TE) have averaged around 55 receptions and five TDs in their award-winning seasons. Though these reception numbers are significantly higher than Lutz's have been in the past, he should have no problem amassing award-worthy TD numbers.
Fans should expect to see more balls thrown Lutz's way in Scot Loeffler's new pro-style offense and should not be surprised to see some new hardware in the Auburn University trophy hall soon.

Bold Prediction: 34 receptions, nine TDs for future Mackey Award winner Philip Lutzenkirchen
AU to Lead the SEC in Rushing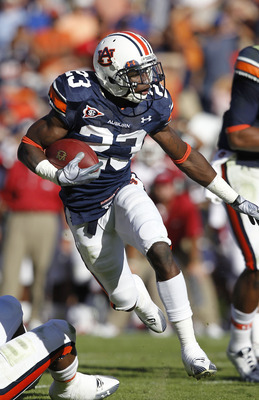 Versitle RBs Will Pay off for the Tigers
Mike Zarrilli/Getty Images
Since the departure of Michael Dyer, days before last season's Chick-Fil-A Bowl, Auburn has not had one standout running back in the backfield.
Though this could be detrimental to other SEC teams, the running-back-by-committee approach will undoubtedly be successful in Auburn's new pro-style offense.
When other schools see their rushing numbers take a hit because they feature unproven or injury-prone backs, the combination of different styles that Onterio McCalebb, Tre Mason, Mike Blakely and Corey Grant offer will prove to be effective each and every week.
Ultimately, in this case, bigger is better, and Auburn has the biggest stable of competent running backs in the league.
When injuries and inexperience limit other SEC schools, fans will watch one of four Auburn running backs pick up yards behind holes created by All-American fullback Jay Prosch and a talented offensive line.

Bold Prediction: 224 yds/g for the SEC's leading rushing team—the Auburn Tigers
This Defense Will Be Better Than the 2010 National Championship D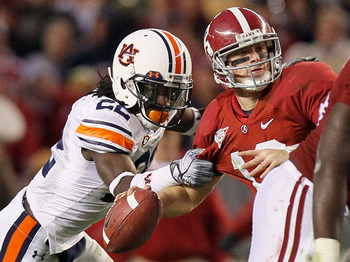 T'Sharvan Bell Will Provide Leadership in the Secondary
Kevin C. Cox/Getty Images
Auburn's 2010 National Championship defense was clearly a serviceable unit—but it was far from great.
The secondary was vulnerable, the linebackers were inconsistent and, going into the season, the defensive linemen were almost all unproven.
Though this group came together to produce on the field, they were not as talented or experienced as the unit that will take the field for the Tigers in 2012.
All levels of the 2012 Auburn defense should be highly talented, but fans should expect to see an especially intense pass rush from three very quick and strong defensive ends in Corey Lemonier, Nosa Eguae and the defensive MVP of Auburn's spring game Dee Ford.
This infusion of talent, combined with Brian VanGorder's new defensive system, will surely confuse some SEC foes and bring back a more traditional hard-nosed SEC defense to the Plains.
Bold Prediction: No more than 295 yds/g will be given up in 2012 (368 yds/g in 2010)
Kiehl Frazier Lives Up to Expectations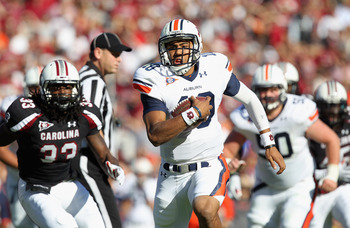 Cam Part Two?
Streeter Lecka/Getty Images
Sure, Kiehl Frazier only threw three more completions than interceptions last season, and sure, he played way, way worse than the 2010 high school offensive player of the year should play—but that is all in the past, and instead of seeing a sophomore slump, Frazier will experience second-year success for the Tigers in 2012.
Last season, Frazier was subbed into several games for only two or three plays at a time in an attempt to change things up and get some tough rushing yards.
Though some of these attempts at early playing time were successful, most of them were not, and that is because Frazier was unable to develop a "feel" for the game in such a short time.
After spending most of the spring as the starter, Frazier undoubtedly already feels a rhythm and connection with the game—and his teammates—that he did not feel at any point last season.
This added comfort combined with an offense made to suit him, and not using him as a "relief QB" will make it easier for Kiehl Frazier to live up to the hype surrounding the nation's second-best QB recruit a year ago.

Bold Prediction: 55-percent completions, 2,200 passing yds, 700 rushing yds, 24 total TDs (Not quite Cam Newton numbers, but pretty good for a sophomore)
Freshmen Will Make Significant Contributions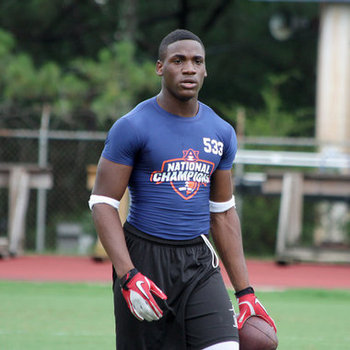 Opportunities May Be Offered to Young Ricardo Louis (Photo courtesy 247Sports)
In 2011, freshman center Reese Dismukes made a name for himself on the Plains as the starting center on a talented offensive line.
This season, there will likely be more first-year players making Dismukes-like contributions to the team.
Two freshmen who look to have the best chances of starting early on are Ricardo Louis and Jordan Diamond.
Louis could see some balls thrown his way early in his career if he can prove to be the best receiving option opposite Emory Blake.
The other frontrunners for this No. 2 receiver spot are senior Travante Stallworth and sophomore Trovon Reed.
In addition to Ricardo Louis, Jordan Diamond is a freshman who has the potential to see a lot of early playing time. Many recruiting analysts have said that Diamond is the most talented of all seven of Auburn's 2012 offensive line signees.
This talent, combined with an immediate need on the Auburn O-line, may offer a huge opportunity for the freshmen this season.

Bold Prediction: One or both of these players will start for the Tigers this season
Keep Reading

Auburn Football: Like this team?