Counting Down the Top 10 Players in the NFC East: No. 8, LeSean McCoy
July 11, 2012

Patrick McDermott/Getty Images
We're counting down the top 10 players in the NFL's most popular division. This is based mainly on what went down in 2011, but we've projected a little as well. Whittling it down to two handfuls of guys was no easy task—it felt as though a couple dozen Dallas Cowboys, New York Giants, Philadelphia Eagles and Washington Redskins were worthy of the top 10. 
No. 8: LeSean McCoy, Running Back, Philadelphia Eagles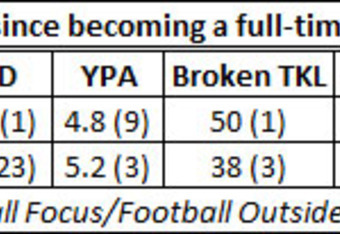 The NFL's 2011 touchdown king is only 23 years old.
Not only is McCoy quite clearly the best running back in the NFC East, but an argument can be made that he's actually the best back in the league. Of course, fans of Ray Rice and Maurice Jones-Drew would probably fight you pretty hard on that, but it's not out of the question.
Considering how young he is and how fresh he appears to be, I'm thinking that if I were starting a franchise today and had my pick of the NFL litter at that position, McCoy would almost certainly be my starting running back.
He's not a great blocker—Pro Football Focus ranked him 64th out of 67 eligible backs in that category last year—and he ran for losses of three-plus yards twice as often as any back in the league except Chris Johnson last year (according to Aaron Schatz of Football Outsiders).
But he also managed to break more tackles than every other running back in the NFL (per Schatz) while picking up a league-high 14 runs of 20 yards or more.
That's why he's already become one of the most heavily worked and highest-paid backs in NFL history. McCoy is already one of the most dangerous players in football, and it appears as though he's only getting better.
So why is he all the way down in the No. 8 spot on this list?
Well, that goes to show you a) how many great quarterbacks and pass-rushers there are in the NFC East and b) how devalued running backs have become.