Chicago Bulls: Should Bulls Offer Luol Deng and Joakim Noah for Dwight Howard?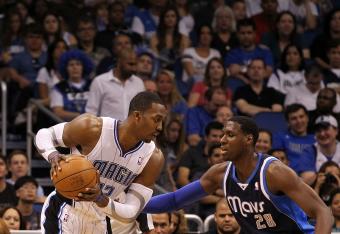 Sam Greenwood/Getty Images
The Chicago Bulls face a major trade dilemma this off-season: Should they enter the feeding frenzy and offer Luol Deng and Joakim Noah for Dwight Howard?
There are two parts to the question that need answering: Should the Bulls try and acquire Howard at all, and should they offer Deng and Noah to get him?
Howard, the Orlando Magic's 26-year-old franchise center, is desperately trying to get out of Orlando, but his future status is hazy after a flurry of news in the last few days.
The Magic center reportedly limited his initial trade list to one team: the Brooklyn Nets. But New Jersey, leery of Howard's intentions ever since he unexpectedly signed a one-year extension with the Magic back at the March trade deadline, went ahead and acquired star shooting guard Joe Johnson from the Atlanta Hawks. This eliminated most of the Nets' cap flexibility and effectively took them out of the Howard trade and 2013 free-agency sweepstakes.
Leaving aside the of Nets' inexplicable decision to give up on acquiring Howard the same week he announced he only wanted to go to their team (and giving it up for the right to overpay a declining star, Johnson, to the tune of $90 million over four years no less), Brooklyn's decision completely changes Howard's future.
Do the Bulls have a role to play in this new situation, and is Noah or Deng part of the equation to acquire Howard and pair him with Rose to create a new dynasty?
Chicago might, particularly because it's unclear why any of Howard's other destinations are preferable to the Bulls. SI.com suggests that Howard has now made the Dallas Mavericks his team of choice, but Mark Cuban's team has little to interest Orlando. Dallas has neither great cap flexibility (with expiring contracts) nor great, young players and draft picks (Rodrigue Beaubois is best), so the Magic may just prefer to keep Howard for a season or rent him at the deadline in a deal with Dallas.
So, if Dallas is out, Howard may finally decide to turn to the Bulls.
Chicago has by far the best roster and is one of the few strong, big-market teams with the assets to entice Orlando. Howard is notoriously mercurial, and his trade saga has been a public relations disaster, but he is still a championship-level difference-maker on the court. Paired with Rose, he could win multiple titles.
So, if Howard appears to be running out of options, Chicago should try and jump into the fray.
However, the Bulls should not offer both Deng and Noah for Howard; instead, they should offer Noah, Taj Gibson, Jimmy Butler and future draft picks. That deal is still more attractive than anything the Los Angeles Lakers, Chicago's main big-market rival for Howard's services, can offer since Andrew Bynum will be a free agent next offseason and would be unlikely to re-sign with Orlando.
The Houston Rockets can offer a stronger deal, but they won't put all their assets on the table just to rent Howard for one season.
Right now, the Bulls are quietly sitting on the sidelines of the Howard sweepstakes, blissfully watching this saga fast unfold into a train wreck. But if Howard's options continue to dwindle and the Magic begin to get desperate, the Bulls may be able to get involved and secure their center of the future—for the right price.
This article is
What is the duplicate article?
Why is this article offensive?
Where is this article plagiarized from?
Why is this article poorly edited?

Chicago Bulls: Like this team?