NHL Free Agency 2012: 5 Reasons Carolina Hurricanes Need to Sign Ryan Suter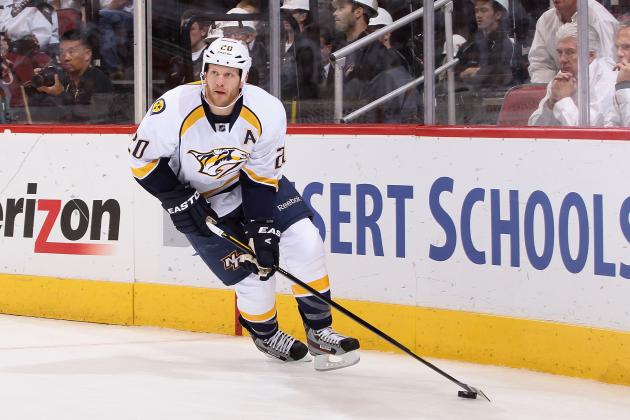 Christian Petersen/Getty Images

If the Carolina Hurricanes want to be title contenders again, they will need to lay down the money to pick up Ryan Suter.
Six years have passed since the Hurricanes hoisted the Stanley Cup, and much has changed in Carolina.
Since posting 112 points in the 2005-2006 season, they have had three head coaches and just one playoff appearance. The Hurricanes now find themselves in a three-year postseason drought—their longest since back when they were the Hartford Whalers.
After finishing 33-33-16 last season, Carolina has had an aggressive offseason, acquiring Jordan Staal from the Pittsburgh Penguins and bringing in Joe Corvo for his third stint with the team.
The signs point to the Hurricanes continuing to make a splash this offseason. Free agency has only just begun and they have plenty of cap space to work with.
If they really want to set themselves up for a playoff run in 2013, the Hurricanes will need to loosen the purse strings and sign a top-flight defenseman like Suter.
Here are five reasons why Carolina cannot afford to let him slip away.
Begin Slideshow

»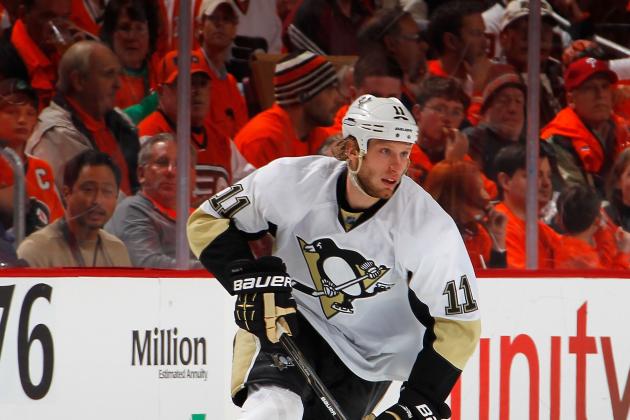 Paul Bereswill/Getty Images
Jordan Staal
Jordan Staal will give Carolina an offensive punch it was sorely lacking last season.
Outside of Jordan's older brother, Eric, only two other Hurricanes scored more than 40 points last season. As a team, the Hurricanes scored 216 goals last year, 16th in the league and 70 shy of the explosive output from their championship season.
GM Jim Rutherford gave up Brandon Sutter, prospect Brian Dumoulin and the eighth pick in the 2012 draft to get a guy who could rejuvenate the Carolina offense. Jordan posted 25 goals and 25 assists in 62 games with Pittsburgh. With a larger role in Carolina, he has the potential to improve on that.
Jordan's arrival marked a short-term improvement, but his 10-year, $60 million contract extension signaled that Carolina is serious about contending once again. If the Hurricanes want to play deep into the playoffs again, they will have to address problems on the defensive end, too.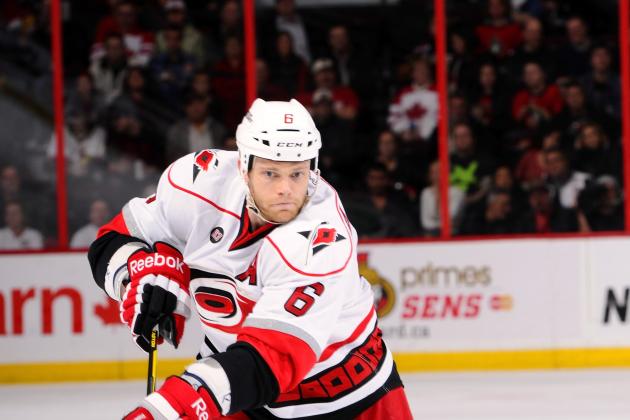 Phillip MacCallum/Getty Images
Tim Gleason
If the Hurricanes want their reloaded offense to make a difference, they must make an effort to shore up their defense as well.
Of the blueliners currently under contract in Carolina, only Tim Gleason was a plus defender for the team in 2011-2012. Of the six signed defensemen, only Gleason had a positive plus-minus rating, posting a 12 while playing all 82 games.
Though Justin Faulk and Jay Harrison are improving, and Corvo is now in the fold, there is still work to be done. If the Hurricanes trust their young guns to develop (Faulk is only 20), they would still benefit greatly from the addition of an All-Star-caliber player to lead the defense.
Looking at the available free agents, the pickings are slim. Justin Schultz and Jason Garrison have already signed with other teams, leaving Suter as the only option left on the market.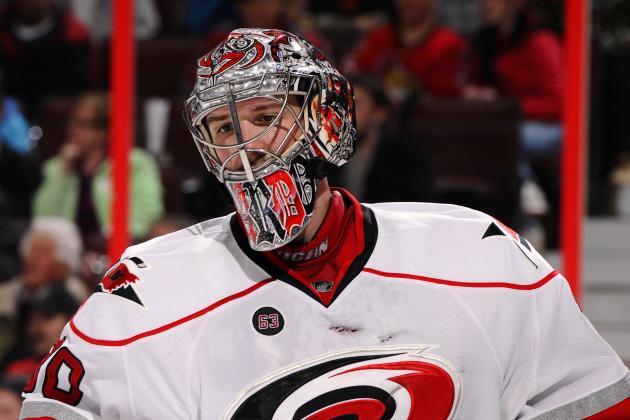 Phillip MacCallum/Getty Images
Cam Ward
As a franchise defenseman in Carolina, Suter would provide an instant boost to the Hurricanes penalty kill.
It is not surprising that a team that got bombarded with shots struggled when down a man. The Hurricanes were 23rd in the league in penalty-kill percentage at 80.5, and the blame falls squarely on the skaters.
Goalie Cam Ward is not the issue. His .915 save percentage was solid, but his goals-against average was an unseemly 2.74 due to the amount of shots he faced. What this shows is that without the skaters in front of him to limit shooting chances, Ward is very beatable, especially on the penalty kill.
Over in Nashville, Ryan Suter was a part of a penalty-kill team in Nashville that ranked 10th in the NHL with a penalty-kill percentage of 83.6.
A guy lauded for doing the little things to keep the puck away from the net, Suter would transform the Carolina penalty kill from one of the worst in the league to a defensive force.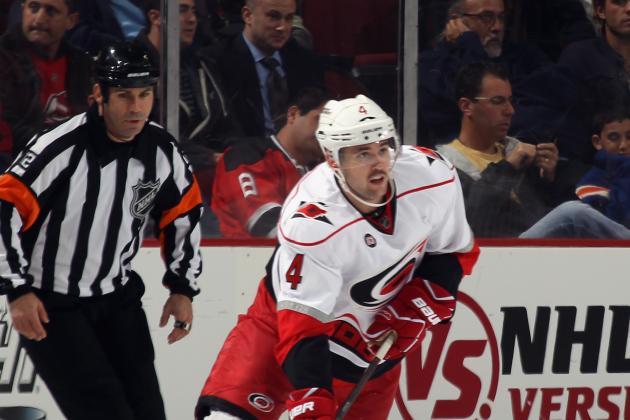 Bruce Bennett/Getty Images

Perhaps Suter's greatest contribution to the Hurricanes would be his ability to create in the offensive zone.
When it comes to quarterbacking a power play, few defensemen are Suter's equal. He had 22 power-play assists last season, third most amongst defensemen and tied for fourth most of any player in the NHL.
With Suter at the helm, Nashville sported the most effective power play in the league with a 21.6 percentage.
The story was not so pretty for Carolina, as the Hurricanes lacked a defenseman who could spearhead their attack with a man advantage.
Faulk led the defensemen in power-play assists with a paltry seven, and Staal led the team with 16. With no blueliner capable of setting up the Carolina scorers, the Hurricanes scored on just 16.7 percent of their power plays, tied for 18th in the league.
Suter is just the piece Carolina is missing on the power play. Only a player like him could get Staal and the Hurricanes attack to reach their full potential.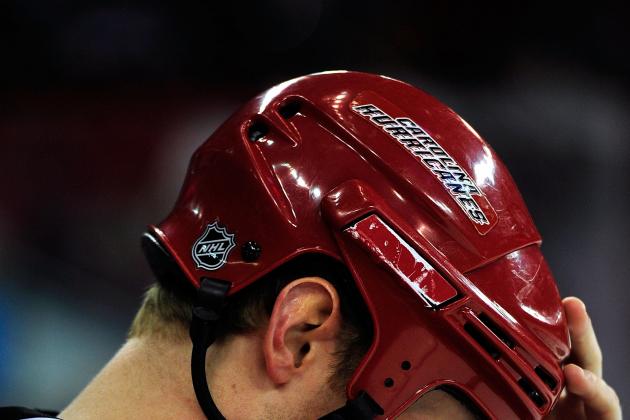 Grant Halverson/Getty Images

Eric Staal knows better than anyone just how long it has been since the Hurricanes won the Stanley Cup.
Carolina's captain is one of just two holdovers from that championship season, along with Ward. That team had six players who scored at least 50 points, with a 21-year-old Staal leading the way with 100. Their goaltending was spotty, but the Hurricanes held the fort on defense when it mattered to take home the Cup.
As the Hurricanes have gotten weaker, Staal's numbers have dropped accordingly. Last season, his 70 points tied for his fewest since his rookie year, and his 24 goals were his least since then.
He may only be 27, but Carolina needs to rebuild a winner around its captain while he is young. The return to prominence might not happen immediately, but the Hurricanes won't get there until they can jumpstart the offense and lock down on defense.
With Jordan Staal in town, they have already taken steps to improve their scoring. Now Rutherford needs to find an elite defenseman to be the point man at both ends.
Suter is the only player on the free-agent market who fits that mold, and Rutherford must pull out all the stops to ensure he is a Hurricane for years to come.