NASCAR Sprint Cup: 5 Good, 5 Bad at Kentucky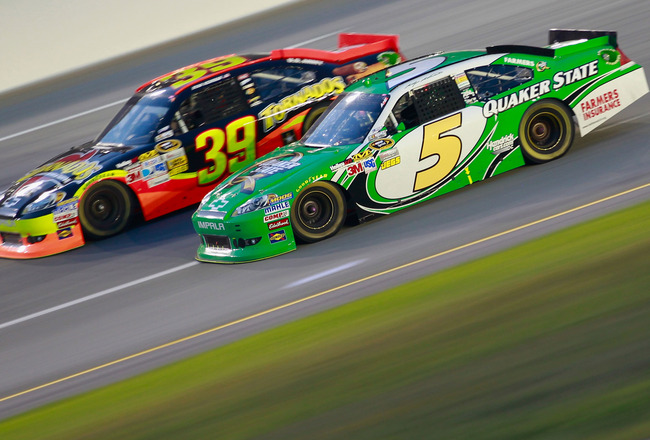 Kasey Kahne(5) had a good night at Kentucky while Ryan Newman(39) did not
Geoff Burke/Getty Images
The boys of NASCAR were in the Bluegrass State for a primetime special under the lights Saturday night at Kentucky Speedway.
The second annual Quaker State 400 had its share of winners, including one driver who has solidified himself as one of the best in the sport, as well as a team that placed four cars in the top six.
But, as always, not everyone went home with a good result. One powerhouse team struggled Saturday night, while a pair of Wild Card contenders turned in rough outings.
Who was good and who was bad at Kentucky? We've got you covered!
Good: Brad Keselowski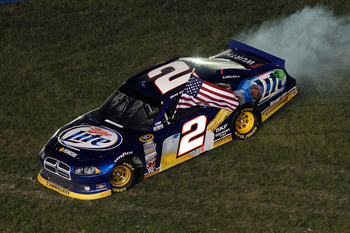 Brad Keselowski won for the third time in 2012 Saturday night
Tyler Barrick/Getty Images
Has Brad become the best in the biz?
That's the question everybody seems to be asking after the Blue Deuce won for the third time in 2012 on Saturday night at Kentucky, and the answer may just be yes.
Keselowski has more wins than anybody so far in 2012 with three. His latest came after his team had to overcome some adversity, which included a crash on the first lap of practice and a broken steering wheel just before Saturday night's race began.
Keselowski just cracked the top 10 in points a few weeks ago at Pocono, but if not for some issues outside the driver's hands, Keselowski could be in the mix for the Sprint Cup points lead.
If the Chase started today, he'd have sole possession of it.
Bad: Ryan Newman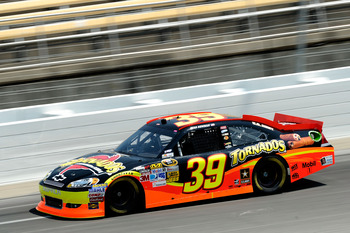 Ryan Newman had an awful night at Kentucky, finishing 34th
Jared C. Tilton/Getty Images
Ryan Newman may have had the worst night of everybody Saturday at Kentucky.
Rocketman ran in the teens for most of the night before punting fellow Chase Wild Card contender Joey Logano into last week's winner Clint Bowyer, making two enemies in one fell swoop.
To make matters worse, Newman's engine would blow up with just under 60 laps to go, sending his No. 39 machine into the wall along with Regan Smith, relegating him to 34th on the evening.
Newman's nightmarish night dropped him two spots in the standings, placing him in a tie with Kasey Kahne and Joey Logano for the second and final Wild Card slot.
Things aren't looking up for Newman as the circuit heads to Daytona, where he's failed to finish better than 20th in his last eight starts.
Good: Hendrick Motorsports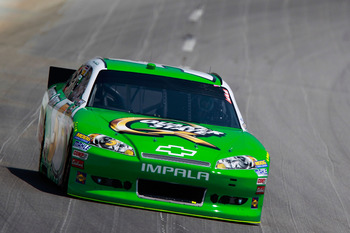 Kasey Kahne lead the Hendrick charge at Kentucky
Geoff Burke/Getty Images
Hendrick Motorsports reminded the rest of the field just who was boss Saturday night at Kentucky.
The powerhouse team placed all four of its cars inside the top six in Saturday's 400-miler, led by Kasey Kahne and his runner-up finish.
Kahne moved into a three-way tie for the second Chase Wild Card berth with Ryan Newman and Joey Logano, but currently owns the tiebreaker based on the number of second-place finishes.
Dale Earnhardt Jr. rebounded from a rough Sonoma race to finish fourth, while Jeff Gordon and Jimmie Johnson each continued a solid stretch of races, finishing fifth and sixth, respectively.
Bad: Roush-Fenway Racing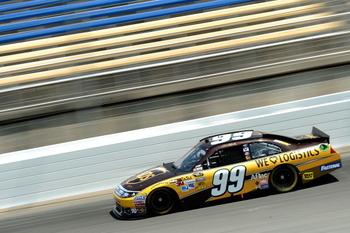 All three Roush-Fenway cars underperformed at Kentucky, including Carl Edwards
Jared C. Tilton/Getty Images
With Hendrick taking up almost half the spots in the top 10 at Kentucky, there wasn't much room available up front for the Roushkateers.
No matter, they didn't need it.
Carl Edwards and crew chief Bob Osborne strategized themselves right out of a top five, finishing 20th and virtually losing touch with 10th-place Brad Keselowski in the standings. Greg Biffle pitted for a flat tire that wasn't flat and finished 21st.
Points leader Matt Kenseth was the team's lone bright spot with his seventh-place finish, but even he wasn't that impressive in his first race since announcing his departure from RFR after the 2012 season.
For an intermediate track where Roush-Fenway cars often dominate, Saturday night's performance was very lackluster.
Good: Denny Hamlin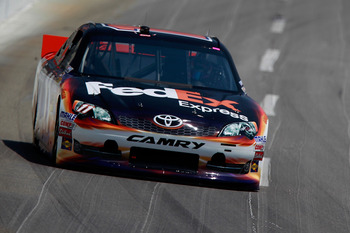 Denny Hamlin rebounded from two DNFs to finish third at Kentucky
Geoff Burke/Getty Images
The best medicine for an ailing driver often seems to be a good finish.
Such was the case for Denny Hamlin, who rebounded from a pair of ill finishes to take home a third-place run Saturday night at Kentucky.
Hamlin looked at times as though he was capable of winning Saturday night, but fuel mileage and a quickly deflating tire caused him to settle for third.
Still, the effort was his best since his runner-up finish in the Coca-Cola 600, and moved Hamlin from eighth to fifth in the standings after a pair of consecutive DNFs.
Bad: Joey Logano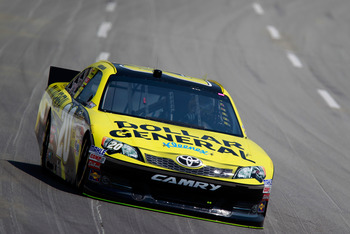 Joey Logano was a victim of circumstances Saturday night at Kentucky
Geoff Burke/Getty Images
Sometimes, you're the victim.
Such was the case for Joey Logano Saturday night at Kentucky after his night was ravaged by the Tornado's car, driven by Ryan Newman.
Midway through the race, Newman punted Logano coming out of Turn 4, sending Logano's car into Clint Bowyer's car and effectively ruining both their nights.
Logano suffered the most damage and finished off the lead lap in 22nd, dropping him into a three-way tie with Newman and Kasey Kahne for the final Chase Wild Card slot.
Logano now must hope to survive Daytona...and for better Tornado's warning systems.
Good: Martin Truex Jr.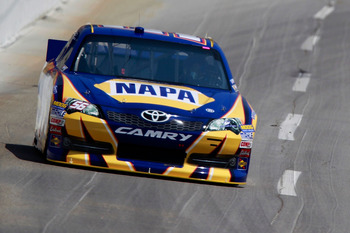 Martin Truex Jr. rebounded from a rough Sonoma to finish eighth
Geoff Burke/Getty Images
Perhaps no driver in the top 10 in points needed a good run at Kentucky more than Martin Truex Jr.
Following a rough finish at Sonoma, Truex dropped to ninth in the standings and faced the possibility of dropping out of the top 10 with no win to use as a safety net for a Wild Card slot.
But Saturday night, Truex got the job done. He may not have driven the race he wanted, but he got the finish he needed, as he ended the night in eighth.
Truex's finish marked his first top 10 since Dover and just his third since he nearly won at Kansas.
Truex now sits eighth in the standings with a 53-point cushion over 11th-place Carl Edwards.
Bad: Clint Bowyer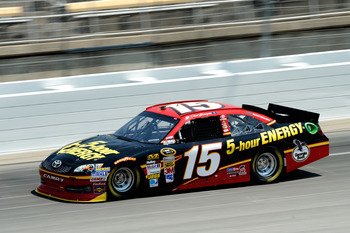 Clint Bowyer could not back up his Sonoma win with a good run at Kentucky
Jared C. Tilton/Getty Images
Things went downhill fast for Clint Bowyer at Kentucky.
After starting sixth, Bowyer ran in the top five for a good portion of the race before a bad pit stop put him in the middle of the pack.
If you don't know what happens next, see the section on Joey Logano and/or Ryan Newman.
Bowyer had to pit to fix the damage, dropping him off the lead lap. He mustered a 16th-place finish.
Bowyer's rough night didn't cost him in the standings, as he stayed put in seventh, still safely in Chase position.
Good: AJ Allmendinger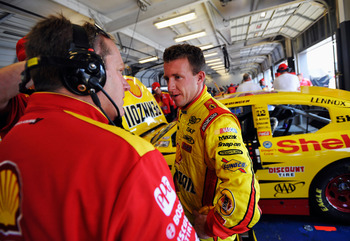 AJ Allmendinger has back-to-back ninth-place finishes
Rainier Ehrhardt/Getty Images
Slowly but surely, the Dinger is getting it together.
After managing just one top 10 in his first 15 races with Penske Racing, Allmendinger has now notched back-to-back top 10s, with each coming in the form of a ninth-place effort.
Saturday night, Allmendinger looked solid as he hung tough between seventh and 12th through the majority of the race before finally closing the deal with his second-straight top 10.
Though ninth may not be impressive to some, it's a far cry from the three finishes of 31st or worse Allmendinger had in the five races leading up to this mini-streak.
Allmendinger is still well outside Chase contention at 23rd in the standings, but these last two races are a good sign for him moving forward.
Bad: Tony Stewart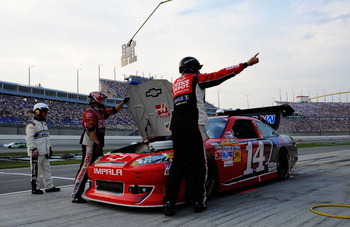 Tony Stewart spent several laps in the garage Saturday night
Jared C. Tilton/Getty Images
Just when it seemed like Tony Stewart was getting on a roll, it all went up in smoke.
Stewart didn't make it 30 laps Saturday night at Kentucky before he dropped off the pace and headed for the garage to replace the throttle body.
Smoke would return to the race only to watch teammate Ryan Newman blow up and wreck with 59 laps to go.
Overall, it was a rough night for Stewart and his race team.
The No. 14 dropped four spots to ninth in the standings, though he still has a healthy lead over 11th-place Carl Edwards and two wins that would help him earn a Wild Card berth should he need it.
Keep Reading